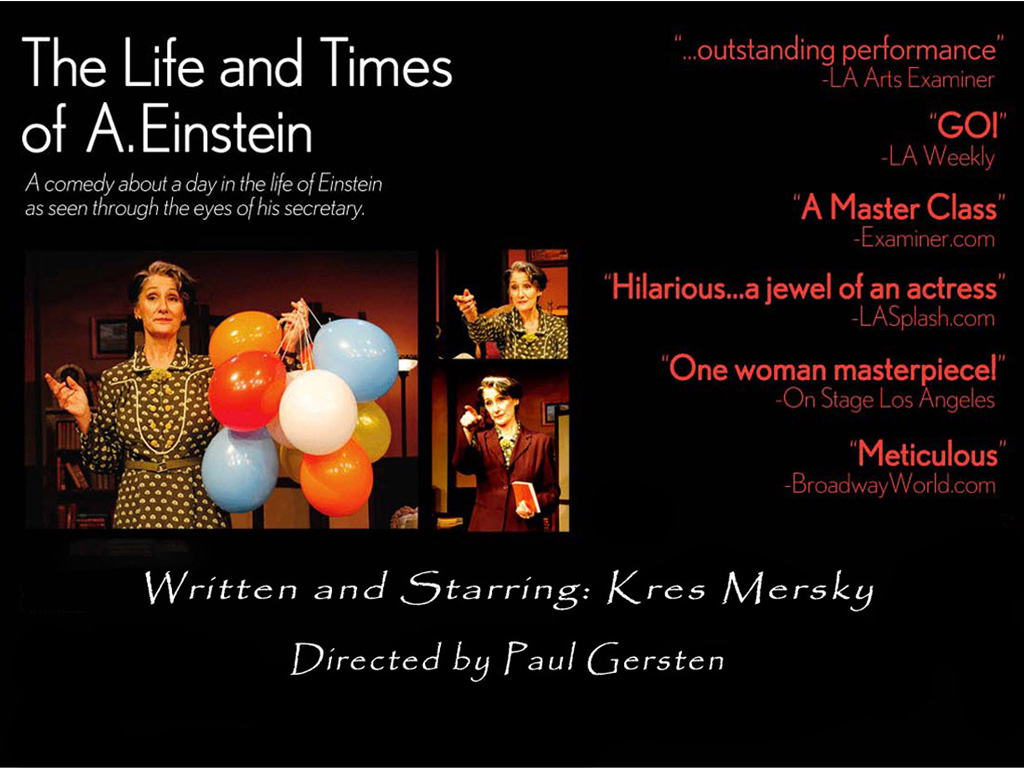 The Life and Times of A. Einstein
A comedy about a day in the life of Einstein as seen through the eyes of his secretary.
Sunday, June 26, Matinee 3pm
*Covid Policy:
Currently we require proof of full vaccination and a booster along with wearing a mask while inside the theatre.
Keep an eye on our website or your show reminder email for any updates.
Written and performed by Kres Mersky
Directed by Paul Gersten
"A clever and hilarious one-woman show about Albert Einstein told through the voice of his long-time secretary Helen Dukas."
-- Jim Gilles, The Hollywood Times

This delightful play presents a day in the life of the great scientist as seen through the eyes of his secretary. The scene is Princeton, New Jersey, 1934. A group of journalists has gathered to interview Einstein in his living room at his home on his 55th birthday. As usual, the scientist is running late. His devoted secretary, Ellen, stalls by fielding questions, placating and humoring the reporters while attempting to keep the chaotic household running smoothly. In addition, she tries to explain his Theory of Relativity, the Theory of Simultaneity, the concept that Light is Matter and other scientific thoughts of the time that she knows nothing about, making for a very humorous evening. This is a science story, a woman's story, a love story, and a history story, all rolled into one.
Running time: 75 minutes | Suitable for: Family Friendly | Genre: Comedy
Part of SOLOpalooza 2.022

---
Kres Mersky hails from Altadena and lives with her husband / director Paul Gersten.
As an actress, Kres has performed widely in film, theatre and television, appearing in such shows as "Charlie's Angels" to "The Practice." With an early and passionate interest in the life of the celebrated dancer, Isadora Duncan, Kres created a one-woman set piece on Isadora's life, which she is currently performing extensively at colleges, universities and theatres on the West Coast and in Canada. She also created another evening, "At The Codfish Ball"; a collection of characters written and adapted from contemporary fiction.
Her first full length play, "The Life And Times Of A. Einstein", in which she also starred, is an off-beat comedy about a day in the life of the great scientist as seen through the eyes of his longtime "secretary/watchdog", Ellen.
A.Einstein has had several productions in Los Angeles; its second production was with the Mark Taper Forum. Kres has been nominated by the Mark Taper for The Susan Smith Blackburn Prize in playwriting. Her second full length play, "Algerian Romance" was work-shopped at the Mark Taper Forum, and produced at Primary Stages in New York.
Kres is currently in rehearsal with her third full length play, "Flag Day", a comedy about an American family and their unexpected dinner guest. Her numerous one-acts are currently being performed in and around the U. S..
She also has been a regular contributor to the new political magazine, "Country Connections", writing film, theatre reviews and political commentary. Kres is also a painter and has had numerous solo and group exhibitions of her work. In addition, Kres has taught creative writing, acting and art in the L.A. Unified School district. Kres is a member of Theatre West, the Dramatist's Guild and The Alliance of Los Angeles Playwrights.
Paul Gersten directs. He has directed commercials for thirty years in addition to directing at Theatre West. He is also directing Kres in her Isadora Duncan piece.