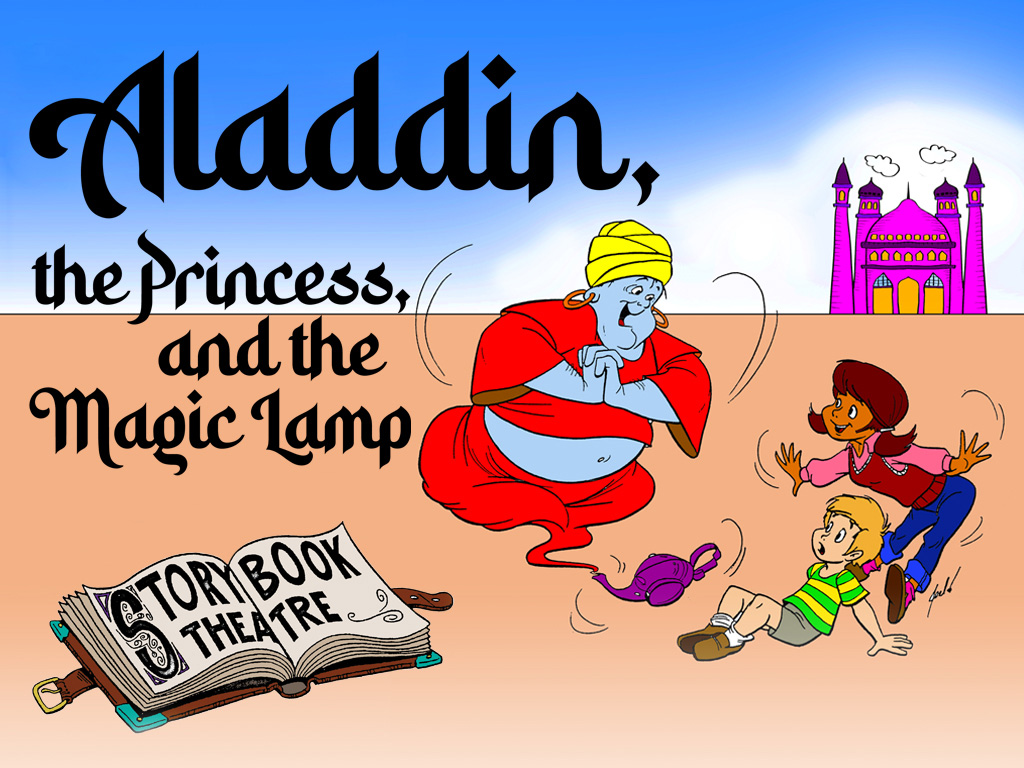 Storybook Theatre's Aladdin, the Princess and the Magic Lamp
A Family Friendly Audience Participation Musical
"Aladdin, the Princess and the Magic Lamp" is a family friendly audience participation musical with catchy songs and dancing. Go on the journey with Aladdin and the Genie as they figure out how the magic lamp can help them defeat an Evil Magician and bring Aladdin home where he meets the princess of his dreams. What would you do if a genie gave you wishes?
October 7th, 2023 - January 13th, 2024
*There will be shows on Thanksgiving weekend.
There will be no performances on Saturday, December 23 and Saturday, December 30.
*COVID Policy:
Masks are optional in the theatre.
Written by Lloyd J. Schwartz | Music and Lyrics by Lloyd J. Schwartz
Directed by: Barbara Mallory | Produced by: Barbara Mallory
With:
Oscar Nava • Hasan Crawford • Bonnie Kalisher • Paul Denniston • Cecil Jennings • Scottie Nevil • Deanna Michelle • Elise Walters
Understudies:
Meg Lin
Choreography by: Bonnie Kalisher | Set Design by: Ashley Taylor & Ernest McDaniel
Storybook is open for field trips.
Aladdin, the Princess and the Magic Lamp is open for birthday parties.
Coming February 17, 2024, "Cinderella"!
---
ABOUT STORYBOOK THEATRE
Storybook Theatre of Los Angeles at Theatre West presents non-threatening, interactive musicals with a message for children 3 – 9 years old. The Los Angeles Times calls Storybook: "Simply the best at what they do," and Los Angeles Magazine says Storybook Theatre is "the best in the city for the squirmy set." In another issue, Los Angeles Magazine lists Storybook Theatre as "One of the 200 reasons not to leave L.A." And LA Parent Magazine's recent parent survey ranked Storybook Theatre as the No. 1 Children's Theatre in Southern California.
Storybook Theatre is available for children's birthday parties at Theatre West. For more information or to book a birthday party, please call (818) 761 2203.

A LITTLE HISTORY
Storybook Theatre, founded by Lloyd J. Schwartz and Barbara Mallory Schwartz, has been presenting children's plays for over thirty-five years at Theatre West. According to Actors Equity Association, Storybook Theatre is one of the highest-impact children's theatres in the US. It serves more than 10,000 students a year, and has entertained roughly 350,000 young theatre-goers during its time at Theatre West.
AWARDS AND RECOGNITION
Storybook has won more than thirty-four Valley Theatre League Awards. Barbara and Lloyd have won the inaugural Red Carpet Award from Women in Theatre and have been honored by the U.S. Senate, the U.S. House of Representatives, the Los Angeles City Council, and numerous other civic organizations for their outstanding work with Storybook Theatre.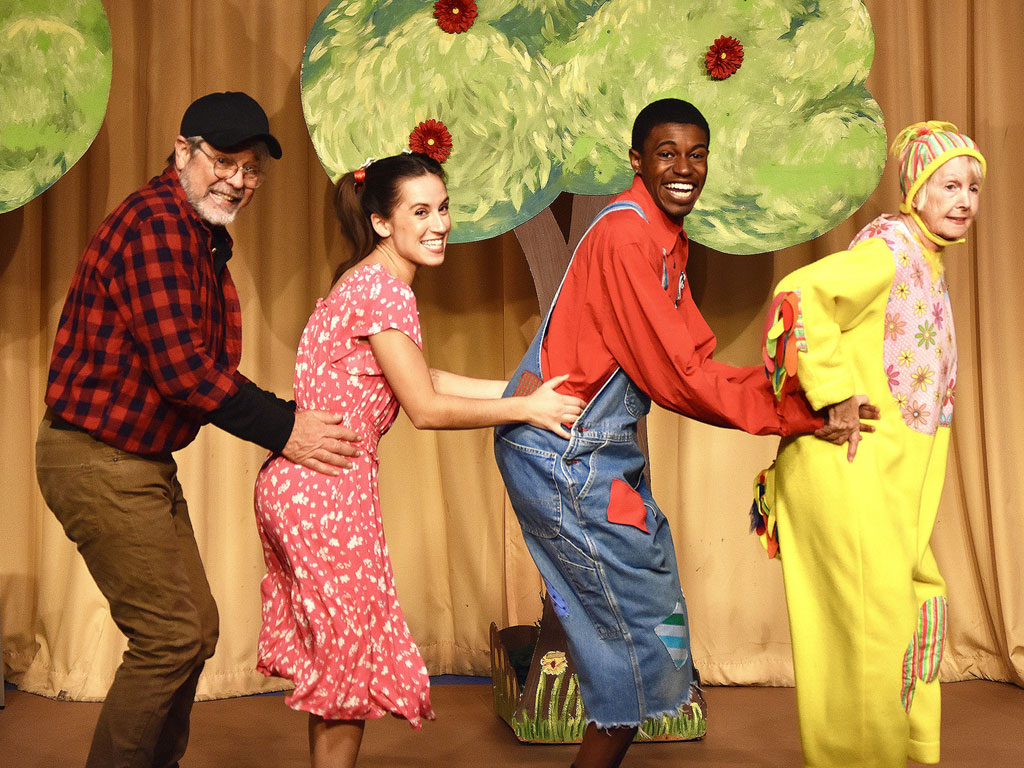 STORYBOOK THEATRE PLAYS
Over the years, Storybook Theatre has presented nineteen original musicals: "Little Red Riding Hood," "Aladdin, The Princess and the Magic Lamp," "The Jingle Bell Gang," "Hansel and Gretel," "Cowboys and Cowgirls," "Goldilocks and the Three Bears," "Mother Goose: The Musical," "Blast Off: A Musical Mission to Mars," "Jack and the Beanstalk," "The Princess and the Frog," "Sleeping Beauty," "Rumplestiltskin," "Cinderella," "Snow White and the Seven Dwarfs," "The Ugly Duckling," "The Emperor's New Clothes," "The Pied Piper," and "The Adventures of Peter Rabbit. "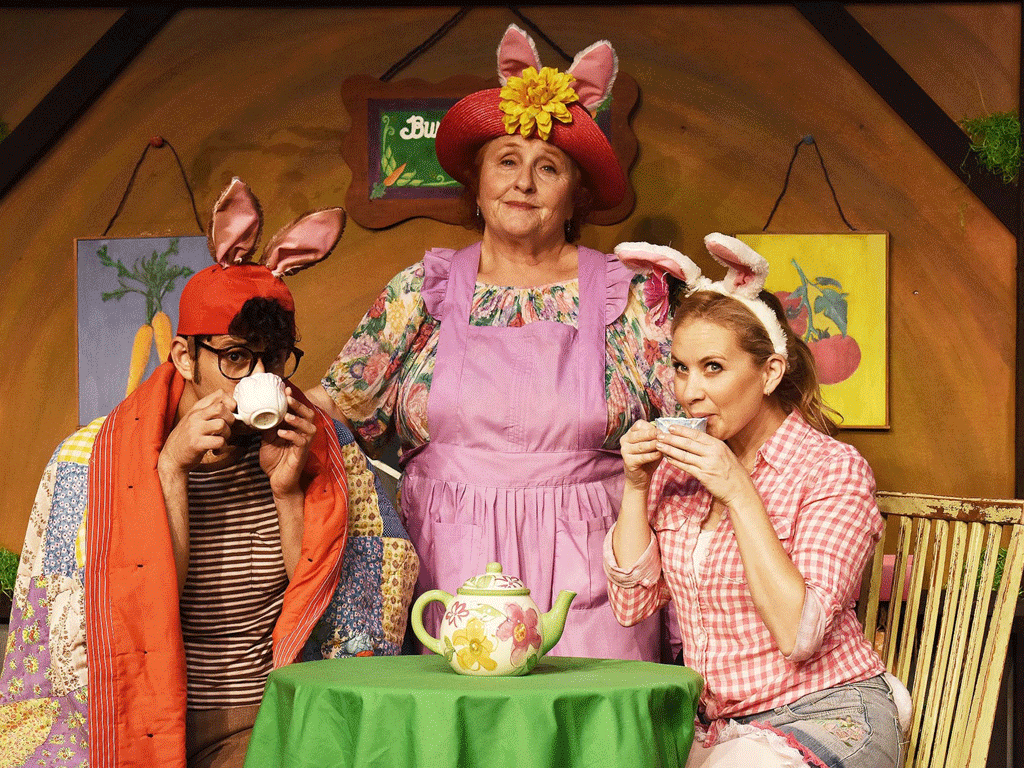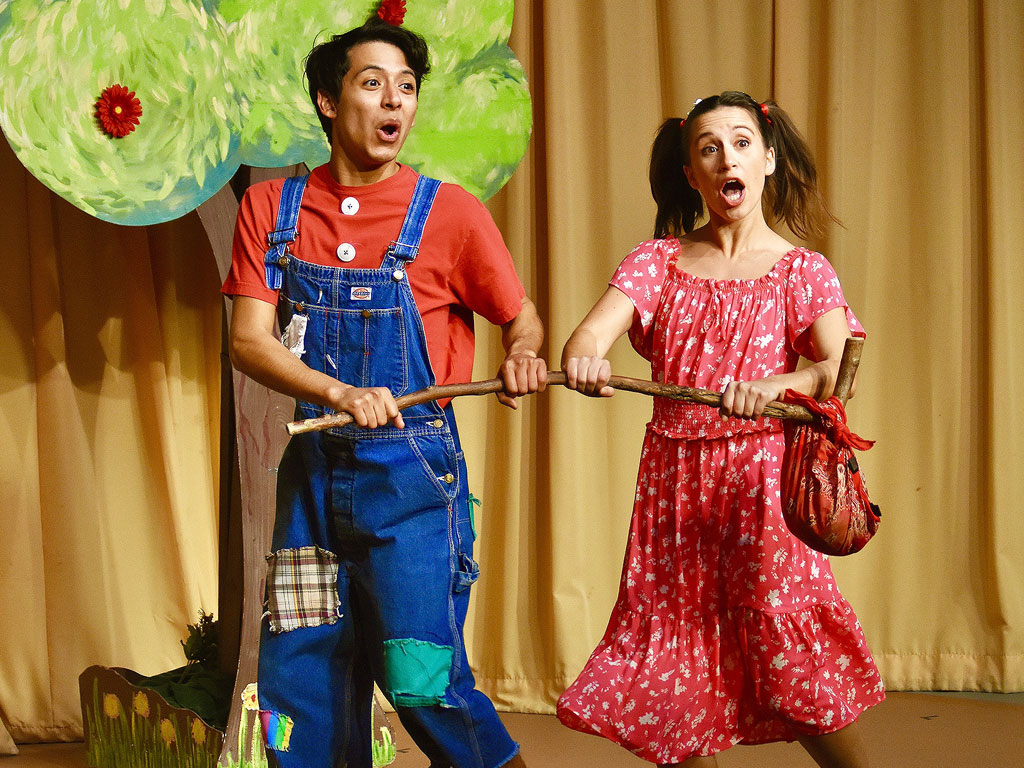 SCHOOL GROUPS and EDUCATION
Storybook Theatre offers reduced prices for local elementary schools, preschools, and groups for field trips during the week, and has been approved by the Los Angeles City School System. Storybook Theatre also is available for theatre games at the theatre, or its professional actors will go into your school for an unforgettable session. Theatre West's education programs seek to serve the community by presenting quality theatre for younger audiences and by using theater skills to present positive and invigorating educational programs that meet California Visual and Performing Arts (VAPA) standards.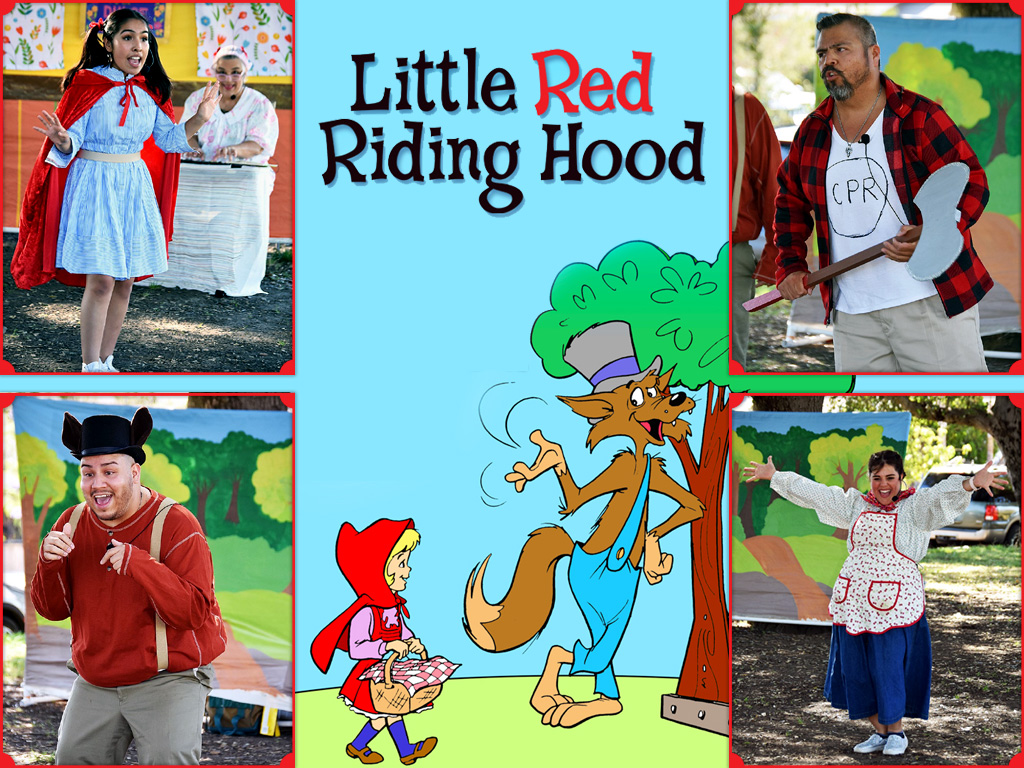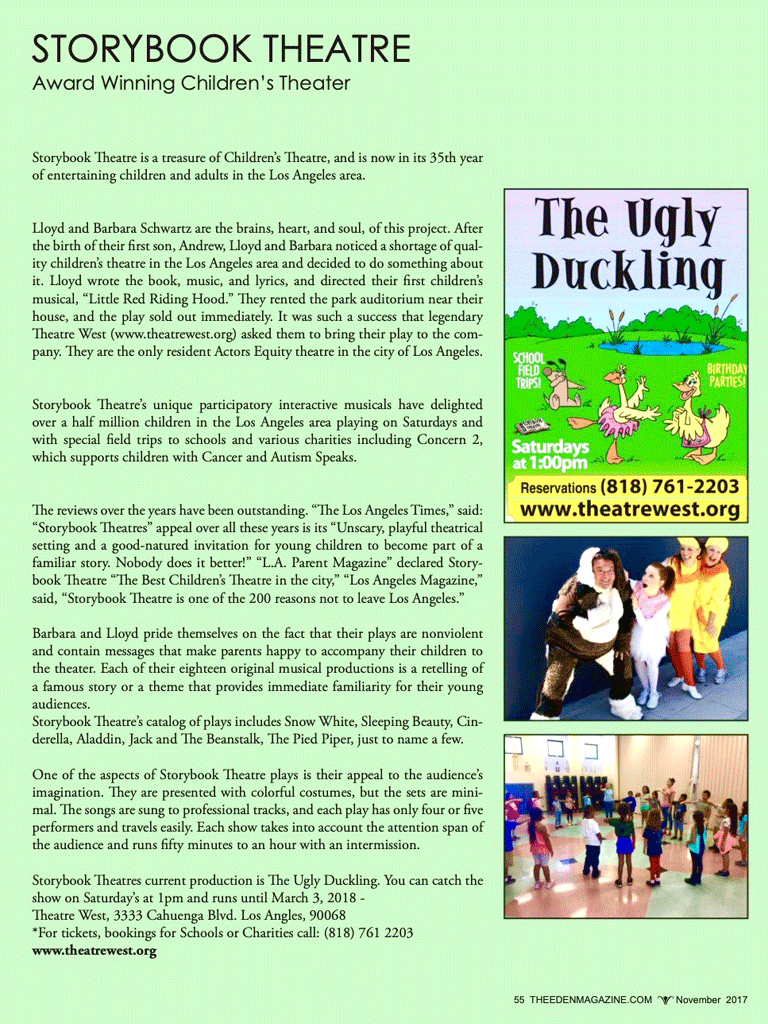 View the digital Eden Magazine here.

REVIEWS