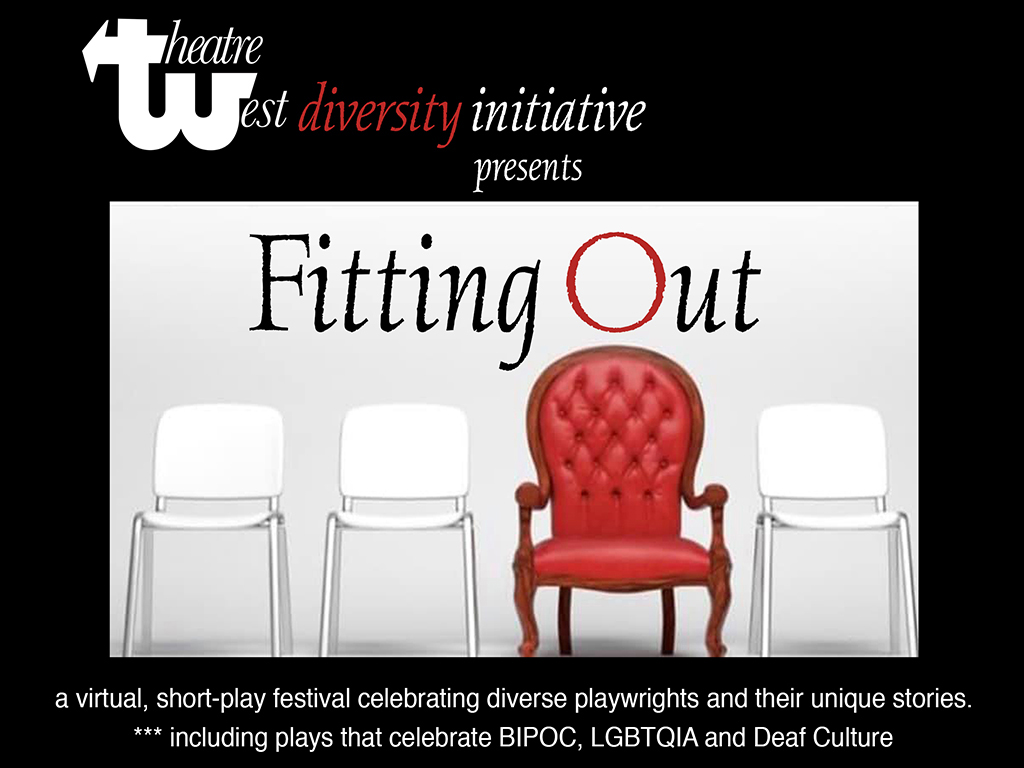 Fitting Out
A Virtual short-play festival on the Theatre West YouTube channel
with diverse playwrights and their unique stories celebrating BIPOC, AAPI, LGBTQIA and Deaf Culture.
Presented by: Theatre West Diversity Initiative and DCA
---
In honor of Pride month, our LGBTQIA focused stories will premiere.
All pieces will be captioned.
Fee: Donation Only
---
Dash Climbs a Rope
Reluctantly I come out of my dream where I'm married to Coach and we live together in New York in a loft painted all-white and spend our summers on Martha's Vineyard with the Kennedys and our dog named Diana Ross.
Written by: James Still | Directed by: Michael Van Duzer
Editor: Rick Simone-Friedland
With:
Alexander Mashikian • Cecil Jennings • David Mingrino • Kevin Tomlinson
---
Sundown Town
Two newly-minted sophomore students fresh from their first year at university return home in the wake of the COVID-19 pandemic. Under quarantine and taking shelter within their homes, just as these two sexually curious and sexually-active young men hop online to unleash their carnal desires, news of a horrific incident prompts them to not only ask questions about the worth of the black body in America, but also its endurance.
Written by Marcus Scott | Directed by Harry Waters Jr.
With:
Jordon Waters • Marcel Logan
---
hYdration
Two women have a chance encounter outside of a drag bar.
Written by: David Lipschutz | Directed by: Crom Saunders
With:
Joan Lynch • Heba Toulan • Angelina Guidice (Interpreter) • Joe Bruillette (Interpreter)
---
The Emperor's New(er) Clothes
I wanted to write a play that exuded queer joy and celebrated the messiness of life, too.
No matter where you find yourself on the spectrum of gender and sexuality, we can all relate to that journey.
Written by: John Mabey | Directed by: Cecil Jennings
Editors: Rick Simone-Friedland & Cecil Jennings
With:
Amy Simon • Mary Somers • Olivia Bates • Thomas Bretz
---
Some Sorta Queer
In a hotel hallway, two generations of queer try to sort through the weirdness of identity, despite if it fits into neat definitions.
Written by: Taylor D Geu | Directed by: Rick Simone-Friedland
With:
Ben Scuglia • Chris Quazzo
---
Our festival continues with new stories.
All pieces will be captioned.
Fee: Donation Only
---
How Do You Fall Out Of Love With Country Music
An Indian-American country singer questions her commitment to the music she loves.
Written by: Max Gill | Directed by: Shyamala Moorty
With:
Vidushi Chadha
---
Green
Green is about two Asian American actors debating the advantages and disadvantages of playing stereotypical roles in Hollywood.
Written by: Eddie Chern | Directed by: Ian David Bossung
With:
Andy Do • Jared Shimabukuro
---
In Years
Leo Mehlman, a gay man, of a certain age living in NYC, hasn't seen or talked to his father in years. His father's new wife calls letting him know that his father is in the ICU, in Florida. Leo reluctantly agrees to speak with him, perhaps for the last time, remotely. In spite of the 'miracle of modern technology' will they make one last connection?
Written by: Elliot Kreloff | Directed by: Nick McDow
With:
Rick Simone-Friedland
---
Practice
Manny is learning how to communicate his feelings, but in a way where silence has the loudest impact.
Written by: Elijah Vazquez | Directed by: Olivia Bates
With:
Abhi Trivedi • Drew Gibbs • Garret Lamoureux • JC Wright • Sandra Mar Frank • Zach Covington
---
Wilcox Prom 2k13
In 2013, students from Wilcox County High School in Wilcox County, Georgia, hosted their own integrated prom - not sponsored by the school, who at the time maintained their history of throwing a segregated prom, one for white students, one for Black students. Despite this seemingly successful move on the part of the students, one interracial couple must reckon with the question of whether or not it is enough, or a temporary win against long-standing, societal problems.
Written by: Cris Eli Black | Directed by: Keyara Milliner
With: Emily Rose Unnasch • Kather Sei
---
Fee: Donation Only