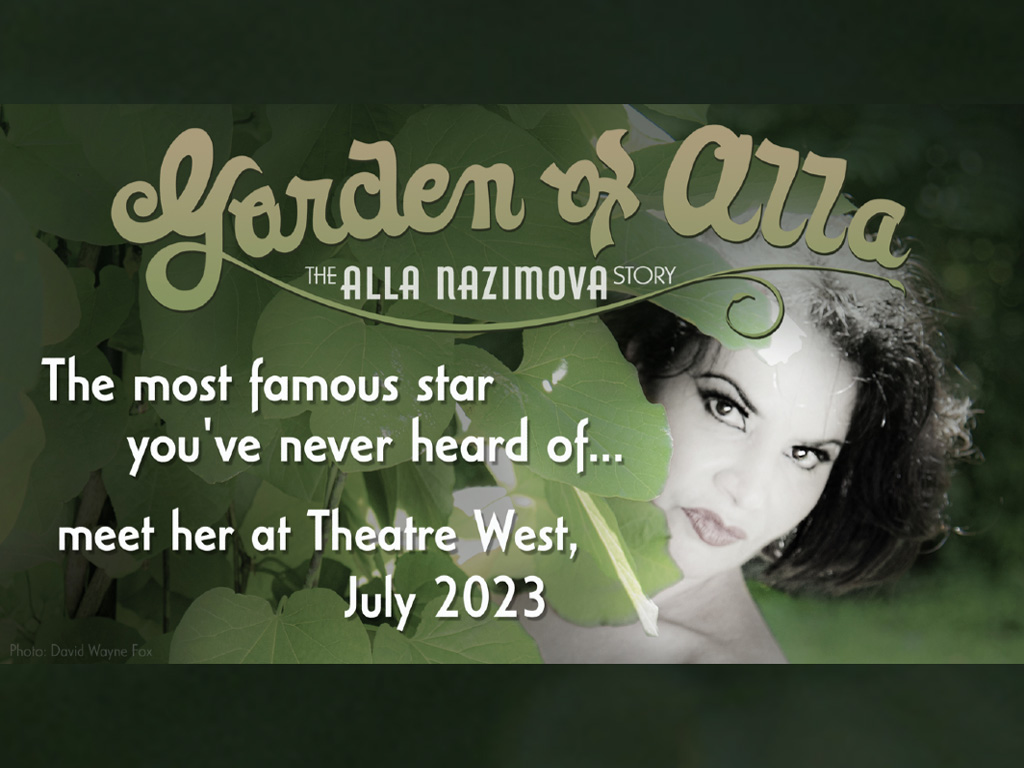 Garden of Alla: The Alla Nazimova Story
"The most famous star you've never heard of…"
WEST COAST PREMIERE! LIMITED RUN!
July 7, 2023 - July 23, 2023
Fridays and Saturdays 8pm
Sundays 2pm
*COVID Policy:
Masks are optional in the theatre.
Written by Romy Nordlinger
Directed by Lorca Peress | Produced by Anne Leyden & Benjamin Scuglia (Behind the Bar Productions)
Produced in association with Theatre West and Georganne Aldrich Heller
With
Romy Nordlinger as Alla Nazimova
Score and Sound Design: Nick T. Moore | Video Design: Adam Jesse Burns | Stage Manager: Liv Denevi | Publicity: Lucy Pollak
Theatre West Managing Director: Eugene Hutchins
The 1920s was the time of flappers, flamboyance, and the face of Alla Nazimova!
"Garden of Alla: The Alla Nazimova Story," an original multimedia solo show, tells the story of perhaps the most famous star you've never heard of, and one of the most visionary artists of the 20th Century: trailblazing lesbian iconoclast Alla Nazimova.
A Jewish immigrant who escaped Tsarist Crimea, she went on to become a Broadway megastar, silent film legend, and one of the first female directors and producers in Hollywood.
Her infamous Garden of Alla estate on Sunset Boulevard hosted the Who's Who of Hollywood's literati and glitterati, where the stars came "out."
In "Garden of Alla," Nazimova raises her voice once more to tell it like it was—and still is. The immersive video and haunting original score envelop the performer in a panoramic live silent movie, echoing Nazimova's visionary, larger-than-life, iconic story.
The show was last seen at the Cutting Room and on Theater Row at Theater 555 in New York. Earlier productions include the Kennedy Center, the Players Club, 59E59, HERE, Dixon Place and the Edinburgh Fringe.
And now… Nazimova returns to Hollywood!
"Garden of Alla: The Alla Nazimova Story" is made possible in part by the support Georganne Aldrich Heller.
"Garden of Alla: The Alla Nazimova Story" was partially developed at Theaterlab in NYC under the artistic direction of Orietta Crispino in June 2022.
Special thanks to Pat Addiss
For more information about the show, the artists, and the story of Alla Nazimova, visit gardenofalla.com
---
Press & Reviews
"This is a show that should have a long life in the theatre."
- BroadwayWorld
"It is in aligning the past with the present that this production is its most trenchant, vital and significant for our time."
- Theater Pizzazz
"Garden of Alla is relevant for now… Nazimova was ahead of her time fighting the things that women are still fighting for today… We cannot be put in closets or be punished for our talent due to our sexual preferences. Romy Nordlinger shows us the life, energy and drive behind this woman who paved the way for so many others."
- Susanna Bowling, Times Square Chronicles
"A must-see one-person multimedia play about what happens when a woman dares to be different and asserts her right to be accepted in a male-dominated environment. Romy Nordlinger not only wrote the play but also plays the title character. Nazimova would be proud of her."
- Karynne Summars, Editor and Senior Writer, Hedonist Magazine
"A spellbinding homage to an oft-forgotten trailblazer. This impressive performance shows Nordlinger at the top of her game, a master in character acting. Garden of Alla celebrates Nazimova's queerness without needing to explain or contextualize it. As a queer person, I felt seen and represented, which I greatly appreciated. "Garden of Alla" is a remarkable solo show. Alla Nazimova would be incredibly proud of this portrayal of her life.
- Carmen Burbridge, All About Solo
"A fascinating look at the career of an almost forgotten theatre and silent film star. Romy Nordlinger's writing has bite, bitchiness, humor and pathos all brought to life via her nuanced, yet grand acting. Nordlinger has a history of portraying Alla Nazimova and has honed her interpretation to the point that it fits her like a second skin, helped by Lorca Peress' sense of pacing and stagecraft. The play is also invigorated by video images designed by Adam Burns illustrating all the people and places in an adventurous, sensual life. Properly moody and period-suggestive music and sound is by Nick T. Moore. This is a fine recreation of a sadly forgotten personality."
- Joel Benjamin, Theaterscene
"A stirring one-woman tribute to the trailblazing-but-forgotten actress Alla Nazimova. Romy Nordlinger breathes life into hazy legend, imbuing Nazimova with an earthy sensuality, indomitable will, and clear passion for the art, people, and places that sustained her. Nuanced and thoughtful her performance displays a clear reverence for Nazimova's life and character, highlights the story's parallels with the struggles of today's marginalized groups, and honors the resilience and creativity of artists throughout the ages. Nordlinger… speaks to the deeper truth of our shared ability to transcend limitations, craft our personal narratives, and find joy, meaning, and hope amidst adversity."
- Emily Cordes, Theater Is Easy
"This writer can only imagine Alla Nazimova would have been beyond honored to know her theatrical namesake was in the magnificent hands of Romy Nordlinger, that also held the Nazimova signature vodka martini – three olives straight. Directed by Lorca Peress, with video design by Adam Burns and accompanied by the sumptuous musical score by Nick T. Moore, Romy gives a haunting performance, filled with moment after moment of poignant beauty, our hearts with hers at each stage of Alla's glorious and complicated life."
- Laurie Graff, Splash Magazine