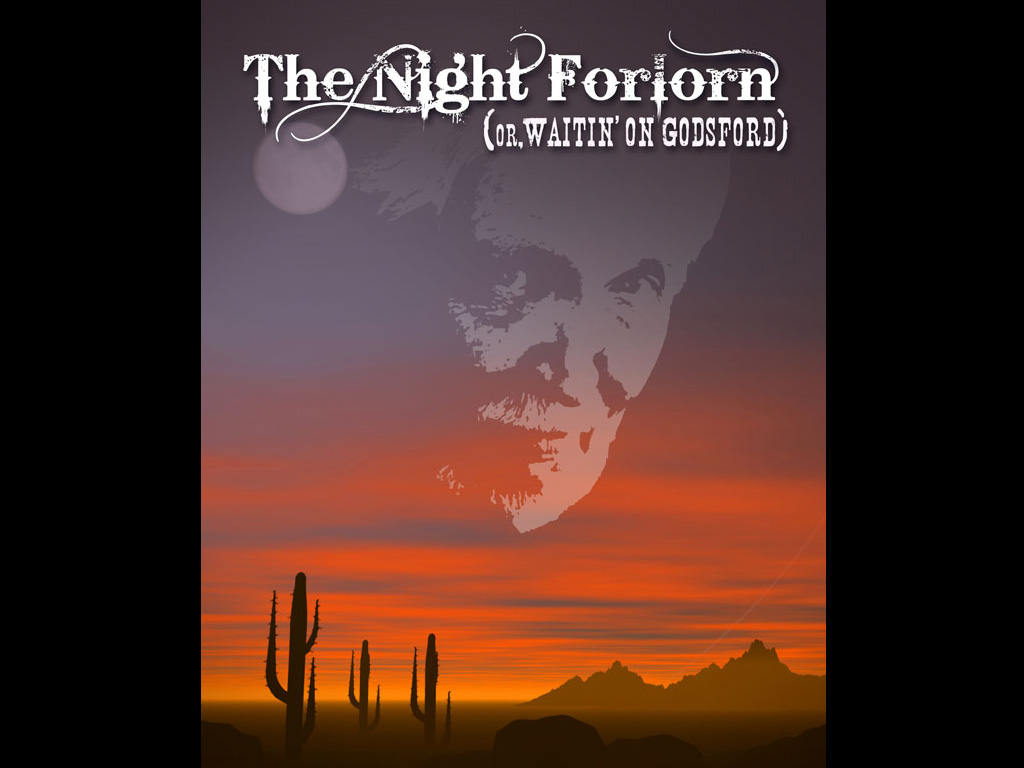 The Night Forlorn
(or, Waitin' on Godsford)
We Happy Few & Theatre West presents the World Premiere of A Tumbleweed Comedy by Steve Nevil
Something Funny is Happening out on the Prairie
Directed by Arden Teresa Lewis | Produced by David Mingrino & Linda Rand
With
Tom Allard • Jim Beaver • Leslie Caveny • J. Downing • Robert W. Laur • June Schreiner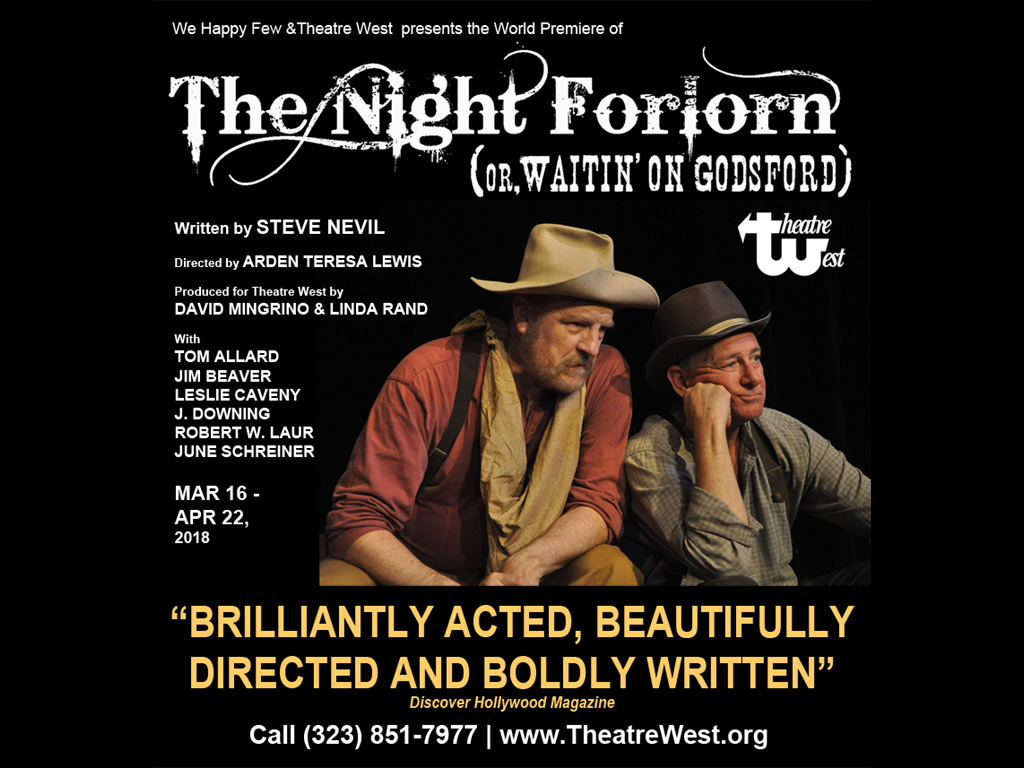 Set: J. Downing | Lighting: Yancey Dunham | Stage Manager: Benjamin Scuglia | Graphic Design: Doug Haverty with Art & Soul Design
PR: Sandra J. Kuker This email address is being protected from spambots. You need JavaScript enabled to view it. | Photos: Garry Kluger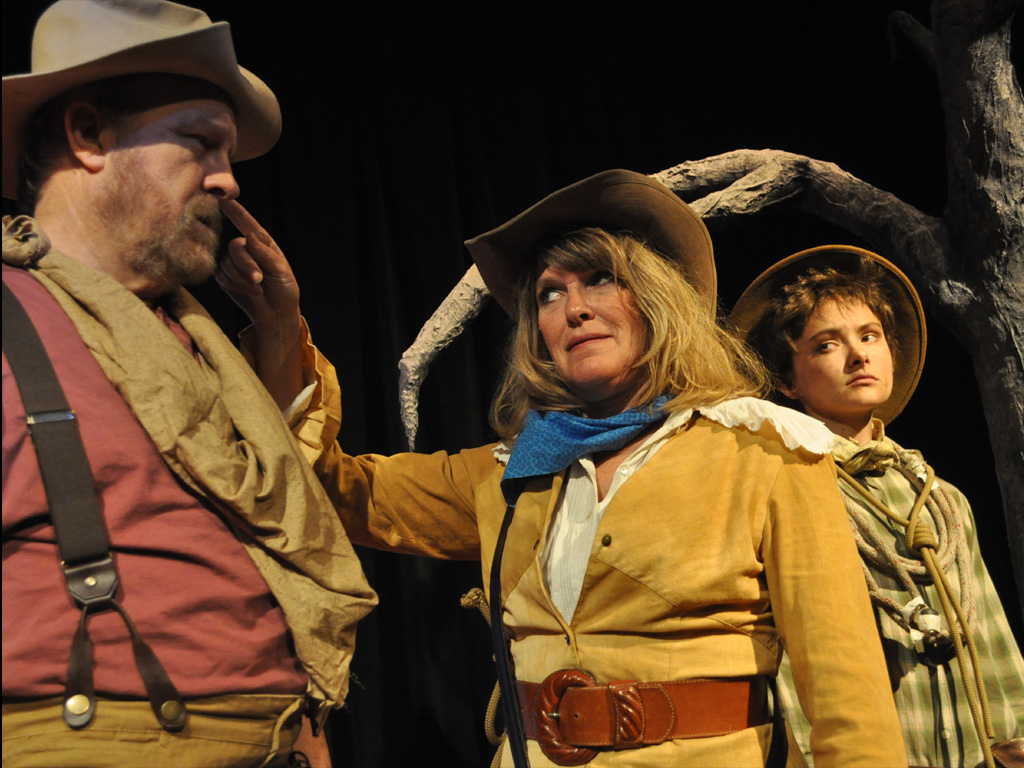 Article – NoHoArtsDistrict
A Tumbleweed Comedy Hits the "Prairielands" of Hollywood
Jim Beaver is internationally known for his starring roles in "Deadwood," "Supernatural," "Justified," "The Ranch" and much more. He has joined forces with playwright Steve Nevil in the world premiere of "The Night Forlorn (or Waitin' On Godsford") at Theatre West directed by the talented Arden Teresa Lewis.
The Night Forlorn (or, Waitin' on Godsford)
Theatre Review By Terry Gloeggler
"The Night Forlorn (or, Waitin' on Godsford)" is a brilliantly acted, beautifully directed and boldly written piece of theater. Billed as a "Tumbleweed Comedy," this humorous western by Steve Nevil is a delight with plenty of belly laughs and softer chuckles to punctuate the contemplative moments that give the piece depth. Fan's of Becket's "Waiting for Godot" will be thrilled by this reimagining set in the 1870s American frontier. The clever dialogue is brought to life by the plays director Arden Teresa Lewis who could not have been gifted with a more talented cast. read more

The Night Forlorn (or, Waitin' on Godsford)
Reviewed by Neal Weaver
"Recommended"
"…Nevil's script is funny and imaginative, and director Arden Teresa Lewis seems to have a deep affinity for the material, carefully teasing out all the comic possibilities, and she's well-served by an able cast. Beaver and Downing make an excellent comedy team as two pals constantly sharing hopes and plans, yet incapable of any real action: their occupation is, simply, waiting —for fate to take them in hand. Beaver's Percy is the dominant one, but in the end he's as dependent on Elvin as Elvin is on him. Caveny's Patsy is tough, robust, and full of get-up-and-go, but she does have some romantic inclinations. And Schreiner's Tag is a complex figure, now defiant and ferocious, now wistful and thoughtful." read more
Review The Tolucan Times
'A Night Forlorn' comic reimagining of 'Waiting for Godot' blends funny with flair at Theatre West
Theatre Review by Mary Mallory
A winning blend of fine writing and acting, the Theatre West world premiere production of The Night Forlorn (or, Waitin' on Godsford) offers an entertaining and wry comic take on Samuel Beckett's Waiting for Godot, featuring two confused but stoic compadres searching for direction in more ways than one.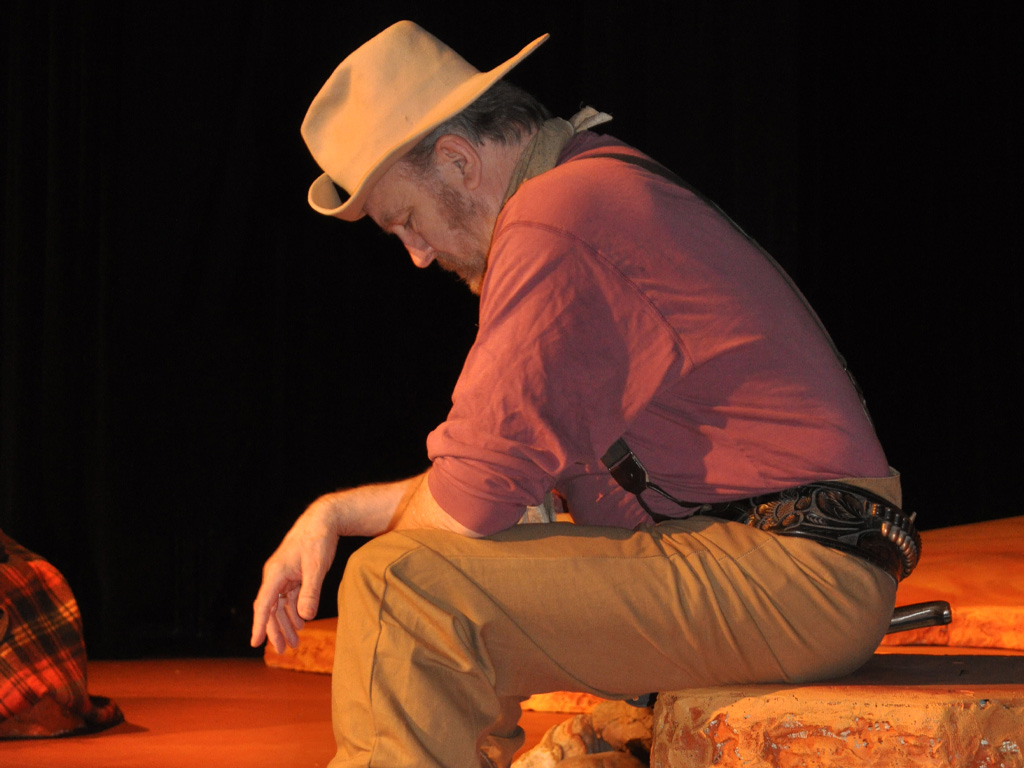 Review NoHoArtsDistict
The Night Forlorn (or, Waitin' On Godsford)
Theatre Review by Cathy Wayne
…Surrounded by sagebrush, campfires and cowpokes, our prairie lights up with the arrival of our crew who all give outstanding performances. Great direction, great set, great costumes. Just a delightful evening all around. We don't have many western plays, and this is one not to be missed. Loads of laughs, and I'm telling you, do not miss the lasso twirling by June Schreiner. YEEEEHAAAAA!!!!! Enjoy!!!!!!!
This production was made possible, in part, by a grant from the Kaplan-Loring Foundation