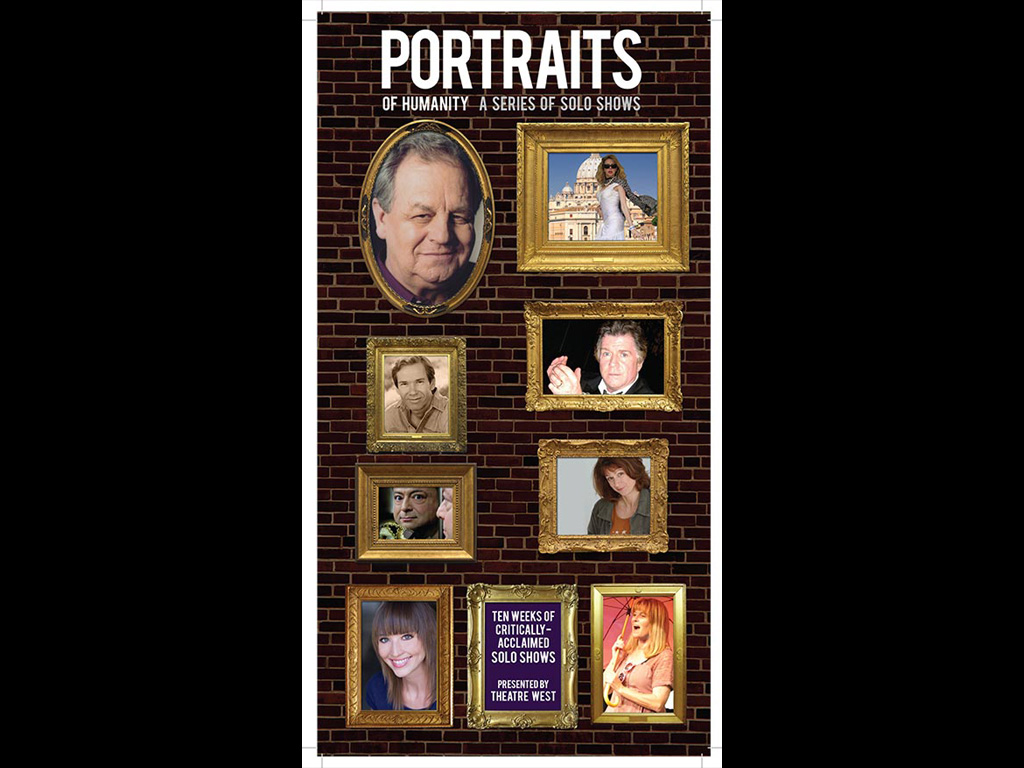 Portraits of Humanity: A Series of Solo Shows
Ten Weeks Of Critically-Acclaimed Solo Shows Presented By Theatre West
Series Produced by Don Moore and Garry Kluger
SCHEDULE
Show 1 - Paul Dooley "Movie Dad" - July 7-23
Show 2 - Dina Morrone "The Italian In Me" - July 29, 30
Show 3 - Steve Nevil "As Always, Jimmy Stewart" - Aug 5, 6
Show 4 - Abbott Alexander "One Night Beyond" - Aug 12, 13
Show 5 - Anthony Gruppuso "THE FACE, Behind The Face, behind the face" - Aug 19, 20
Show 6 - Amy Simon "She's History" - Aug 26, 27
Show 7 - Heather Keller "Chemo Barbie" - Sept 2, 3
Show 8 - Leslie Caveny "One Woman Gone Wrong" - Sept 9, 10
---
Show 1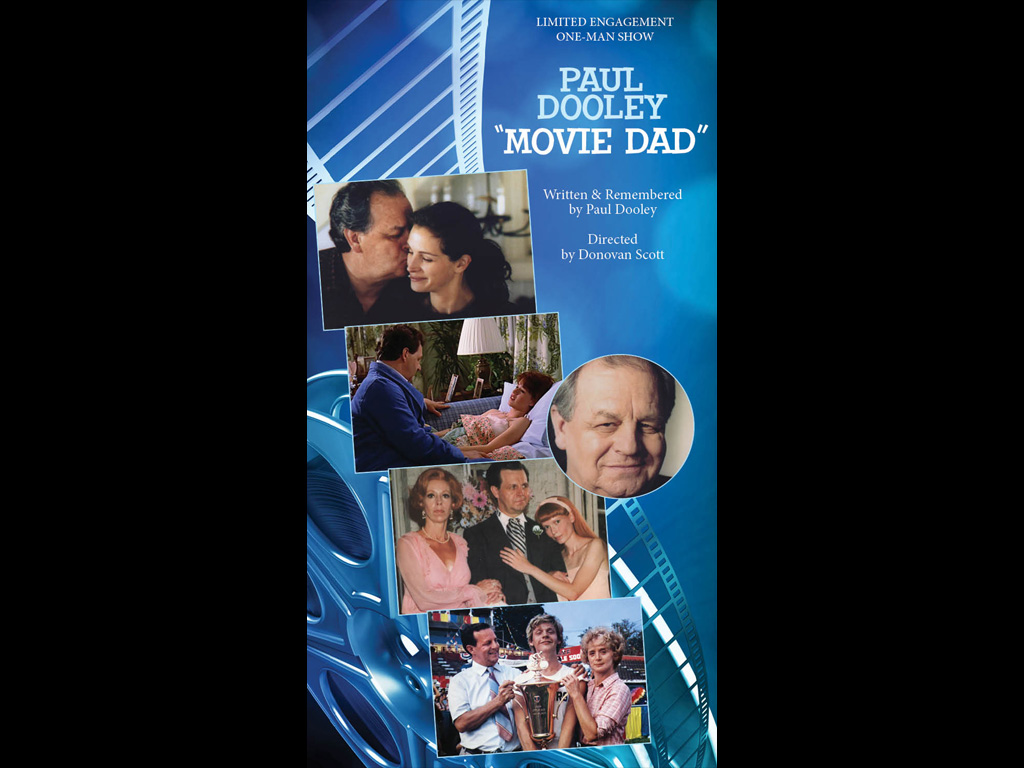 Paul Dooley "Movie Dad"
Mostly funny, often touching, this veteran character from TV and movies takes you on a journey through his sixty years in show business.
July 7 -23
Fri, Sat at 8pm • Sun at 2pm
Directed by Donovan Scott
"I've always been a Dooley nut. There are people who are just born with a funny bone…Paul's got it…
I'd be happy to watch him read the phone book."
- Dick Van Dyke
---
Show 2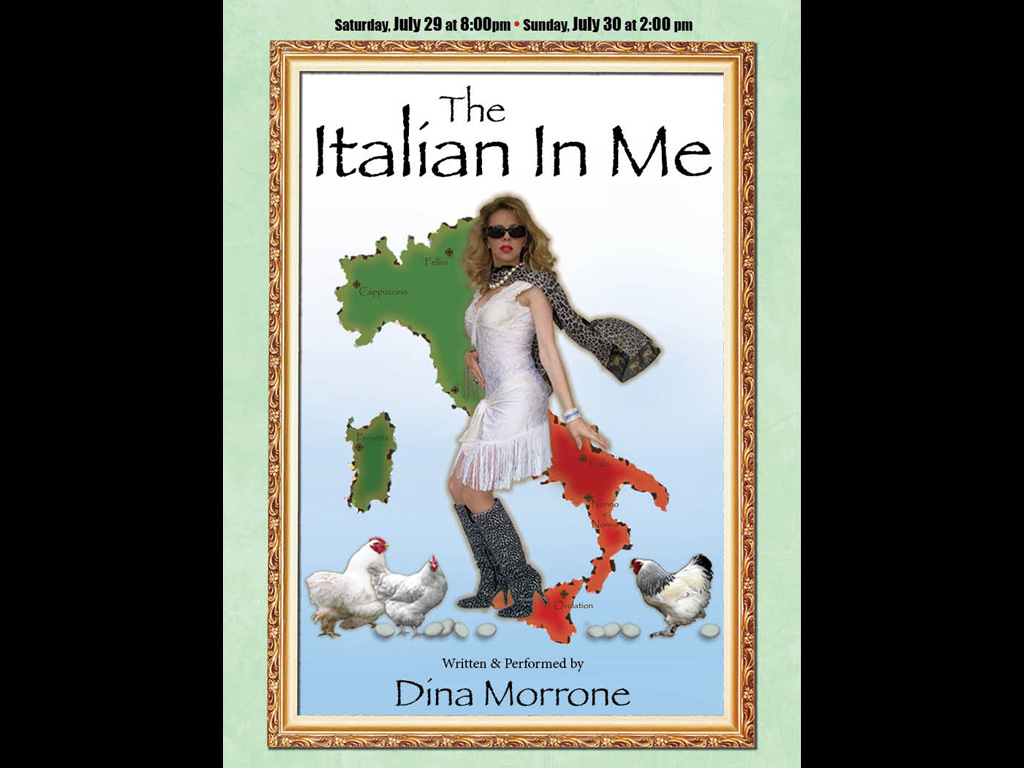 Dina Morrone "The Italian In Me"
An accelerated, full immersion Italian lesson about cinema, sex, saints, and Federico Fellini too!
July 29 – 30
Sat at 8pm • Sun at 2pm
Directed by Peter Flood
In The Italian in Me, a doe-eyed aspiring actress from Canada – who has been raised on a heaping dose of old-fashioned values & Roman Catholic guilt – upends her life by moving to Italy. With her, she brings a tiny bit of cash and grandiose dreams of working in Italian Cinema. Once in Rome, she quickly discovers that things in the Eternal City are not quite as holy or as romantic as she had imagined. Her days are filled with countless fruitless encounters with perverts, priests, producers and statues of Saints in old churches, to whom she pleads for help. But help does not come. Not even a chance siting of the Pope at St. Peter's brings her any closer to her dream. When all hope seems lost, she meets the cinematic Maestro himself, Federico Fellini at Cinecitta' Studios for what turns out to be a very "illuminating" encounter, but will it be the 'Dolce Vita' she was searching for?
"Not since 'Moonstruck' have I seen such Italian wit, humor, and charm. Fabuloso." - Norman Jewison

"Her profound scene with Federico Fellini is written and rendered to perfection." - Backstage West

"One of the top Actresses" - reviewplays.com

"Best one woman show I have seen in forty years. Don't miss it. You'll love it." - Doris Roberts
---
Show 3

Steve Nevil "As Always, Jimmy Stewart"
A beloved actor's journey through a wonderful life.
Aug 5 – 6
Sat at 8pm • Sun at 2pm
Adapted from Source Material by Steve Nevil and Ted Snyder Original Direction by Ted Snyder
Hear one of Hollywood's favorite storytellers share tales of early Hollywood — his film triumphs, his youthful misadventures with lifelong pal Henry Fonda, his amorous exploits with some of movie land's leading ladies, and his personal stories of wartime and family.
"…a funny and touching tribute…" LA Weekly

"[Steve Nevil's] Stewart displays the unassuming modesty and native with that made him one of America's favorite stars." LA Times
This play has been approved by the family of Jimmy Stewart
- Michael, Judy and Kelly
---
Show 4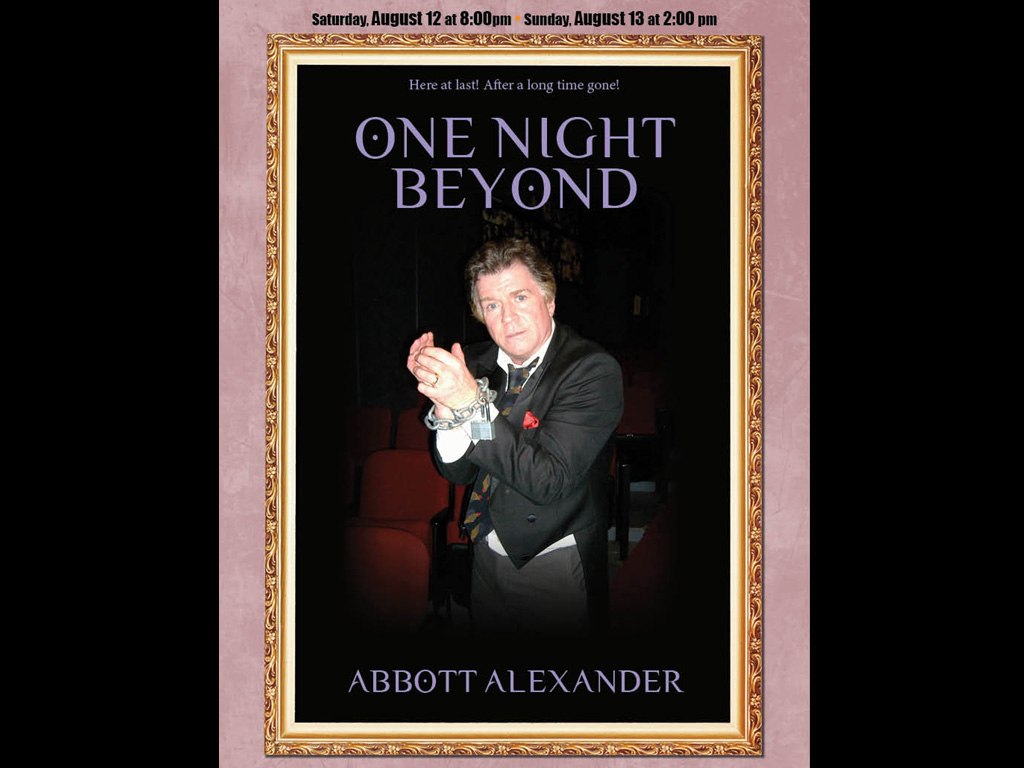 Abbott Alexander "One Night Beyond"
No rabbits, white gloves or girls in tu-tus — just the mystery and wonder of pure enchantment sure to blow your mind!
Aug 12 – 13
Sat at 8pm • Sun at 2pm
Abbott Alexander performs a "unique melding of drama and onstage magic" (Entertainment Today) that will have you bewildered long after the curtain has come down. Infused with the spirit of the top mentalists of days gone by. One Night Beyond is an embodiment critics have described as "Wonderful" (City Magazine), "Fascinating!" (DramaLogue) and "Roguishly Charming!" (LA Weekly)
"Written by Mr. Alexander this conjurer study "makes you keep watching him" - LA Times
---
Show 5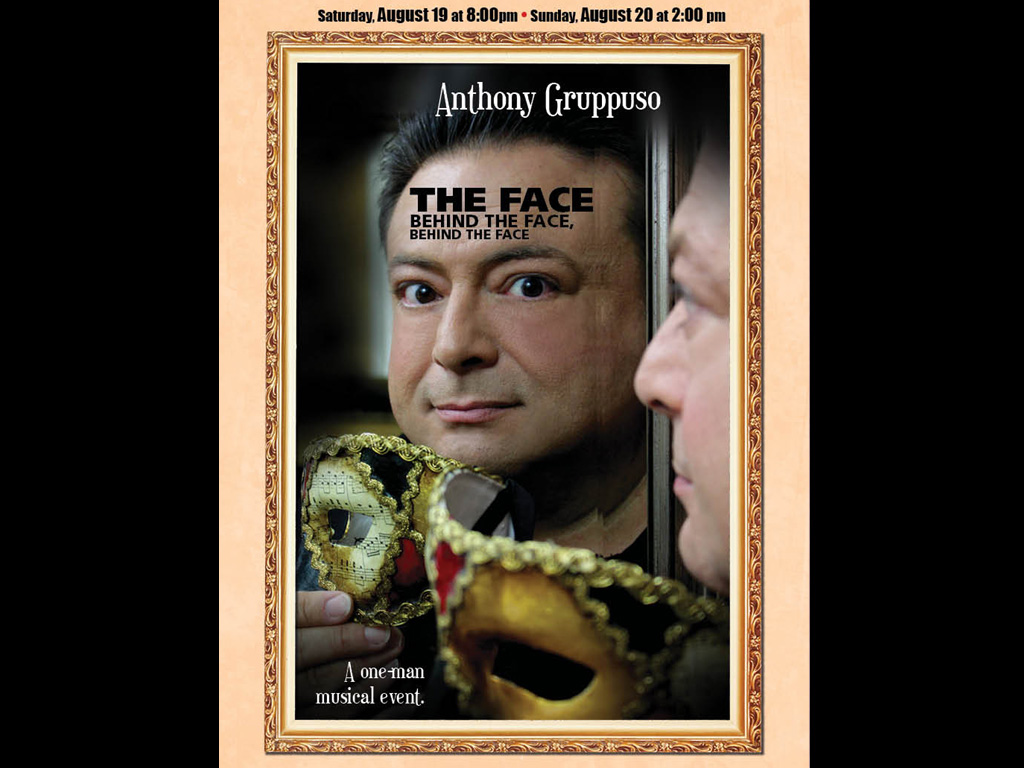 Anthony Gruppuso "THE FACE, Behind The Face, behind the face"
BroadwayWorld.com nominated one-man musical show
Aug 19 – 20
Sat at 8pm • Sun at 2pm
Directed by Calvin Remsberg | Musical Direction by John Dickson
This enchanting evening follows Anthony as he visits his unseen shrink to understand ad dissect his life, career, family and undying love and enthusiasm for musical theatre. A journey through the Broadway canon featuring popular favorites, lesser known gems and original songs.
"Gruppuso takes a look at an actor's life in his entertaining, gorgeously sun one-man show." - Steven Stanley, StageSceneLA
---
Show 6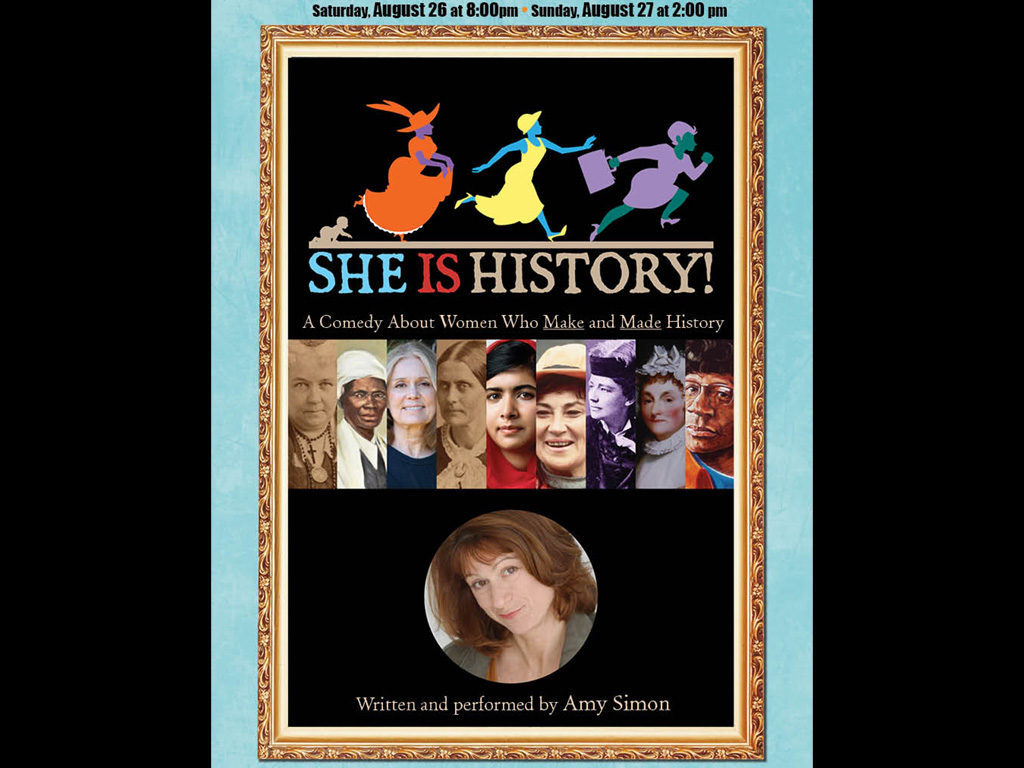 Amy Simon "She Is History"
A comedy about women who make and made history
Aug 26 – 27
Sat at 8pm • Sun at 2pm
Directed by Richard Kuhlman
Why Do We Know More About Kim Kardashian Than Abigail Adams? Amy Simon knew something needed to be done when her ten-year-old daughter came home from school, stating she was planning on doing her women's history project on Cher, or Janet Jackson.
Combining theater, history, multi-media, audience interaction, and good old-fashioned story telling, She's History! brings to life the true tales of fabulous females, then and now.
LA's longest running solo show.
Writer/Performer/Cultural Herstorian Amy Simon spent years researching diaries, letters, publications, and biographies and created this unique herstorical and often hersterical edutaining theatrical presentation.
Going back and forth from the past to the present, this Mom On A Mission poignantly finds the funny as she chronicles the struggles and accomplishments of our unheralded, unknown and forgotten heroines whose courage and strength inspire her as she raises two daughters.
Watch Elizabeth Cady Stanton and Susan B. Anthony multitask – just like today's mom – running the house, fixing dinner and corralling the kids, all while working on the Fourteenth Amendment. Hear about our first feminist writer Mary Wollstonecraft, and witness Sojourner Truth's powerful Ain't I Woman speech. Learn how Alice Paul stole President Wilson's parade, and see how she suffered for the cause. Watch Nancy Pelosi become the First Female Speaker of The House. Be inspired by courageous Bella Abzug, Shirley Chisholm's humanity, indomitable Malala Yousafzai's, Victoria Woodhull (the first woman to run for president) and Hillary Clinton. Bloomers, suffrage, maternal profiling, the road to Seneca Falls, abolition and more are all there in a GAL-A-PALOOZA honoring Female America!
The Ladies Portrayed In The Show: Bella Abzug, Shirley Chisholm, Abigail Adams, Elizabeth Cady Stanton, Susan B. Anthony, The Grimke Sisters, Julia Ward Howe, Nancy Pelosi, Pat Schroeder, Gloria Steinmen, Hillary Clinton, Sarah Palin, Golda Meir, Margaret Thatcher, Eleanor Roosevelt, Betsy Ross, Mary Wollstonecraft, Mary Shelley, Lucretia Mott, Anne Hutchinson, Harriet Tubman, Dolley Madison, Annie Oakley, Alice Paul, The Pankhursts, Mrs. Banks, Sojourner Truth, Malala Yousafrazai, Frances Wright and Victoria Woodhull.
"With gratitude for bringing us Bella's words." - Gloria Steinman

"Thank you for answering the call to educate, entertain and awe your audiences doing this important work
sharing these remarkable facts about these incredible women."
- Ellen Dubois, UCLA History Professor and renowned Women's History author
---
Show 7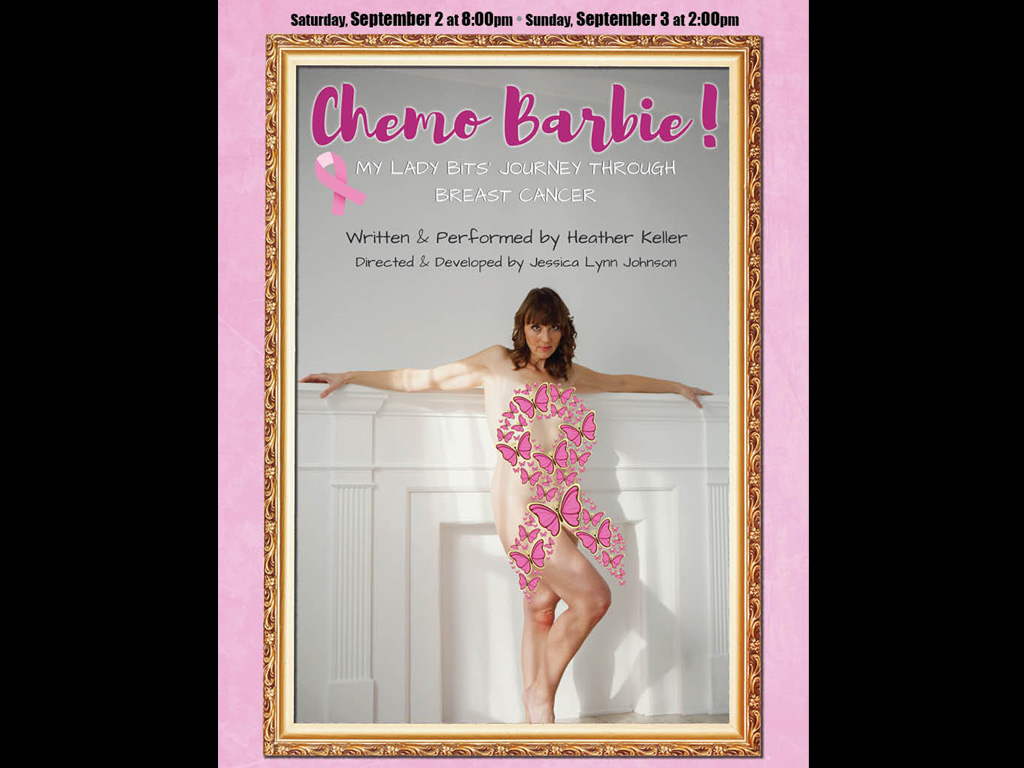 Heather Keller "Chemo Barbie"
My lady bits' journey through breast cancer
Sept 2 – 3
Sat at 8pm • Sun at 2pm
Directed and Developed by Jessica Lynn Johnson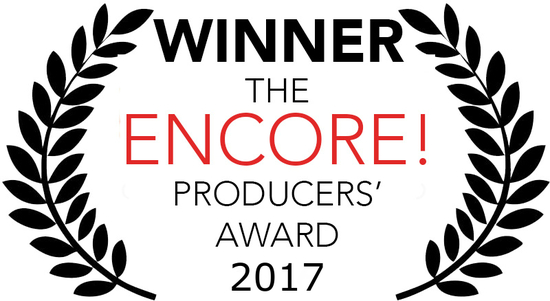 In 2016 Heather Keller's world was rocked by a breast cancer diagnosis. Overnight she went from being a healthy vegan runner to a cancer patient and since then her life has been — and continues to be — an inspiring journey of growth filled with live, friendships, disappointments, betrayals and, yes, even some humor.
Keller shares these experiences in this solo show that made its world premiere to SOLD OUT performances at Asylum @ Studio C as part of the 2017 Hollywood Fringe Festival. She received RAVE REVIEWS from audience and press.
The script is crafted from Heather's hand-written journals and she reveals this inspiring story with comedic charm and tear-jerking dignity.
"It is so unself-counciously boobs-to-the-wind-in-your-face, her bravery in sharing this intimate pilgrimage is well worth the evening out."
- Cheryl Bricker, Actress

"Heather takes you on her journey of bravery and strength — through vulnerability, commitment to character and story-telling — there is humor, love and incredible inspiration delivered from start to finish." - Lyndsey Horton, Actress and Story-teller
---
Show 8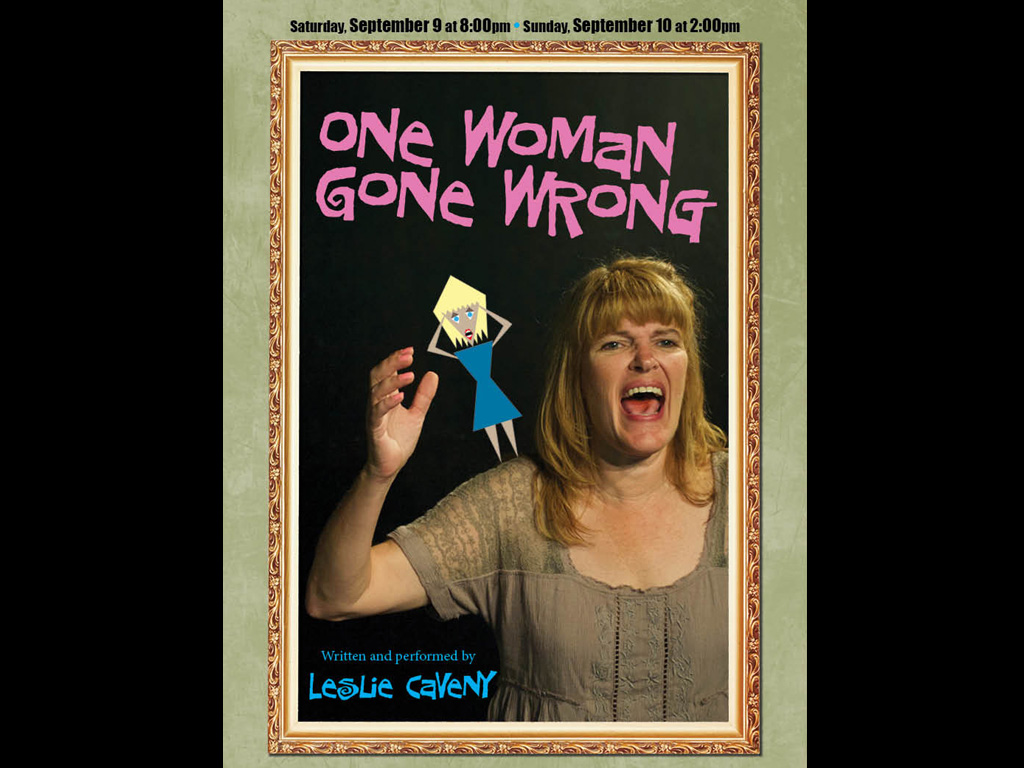 Leslie Caveny "One Woman Gone Wrong"
One Woman Gone Wrong deconstructs the solo show genre & blurs the lines between real life & the stage for an unforgettable, heartfelt & hilarious experience.
Sept 9 – 10
Sat at 8pm • Sun at 2pm
Directed by Maria Burton | Arranger/Pianist: Tom Adams
With Actor Support From
Frank Gangarrosa • Anne Leyden • Sheila Shaw • Seemah Wilder
When an Actress (LESLIE CAVENY) takes center stage, her very personal memory play immediately falls apart. But it's not just a show gone wrong, it's a life gone wrong – and tonight is the night she's refusing to give up on either one. Is she lost in the part or is she losing her mind? ONE WOMAN GONE WRONG deconstructs the solo show genre and blurs the lines between real life and the stage for an unforgettable, heartfelt and hilarious experience.
"Witty, hilarious…Incredibly riveting… It is impossible not to LOVE this show… Caveny has penned another SMASH HIT!' - Ron irwin, LA Post-Examiner