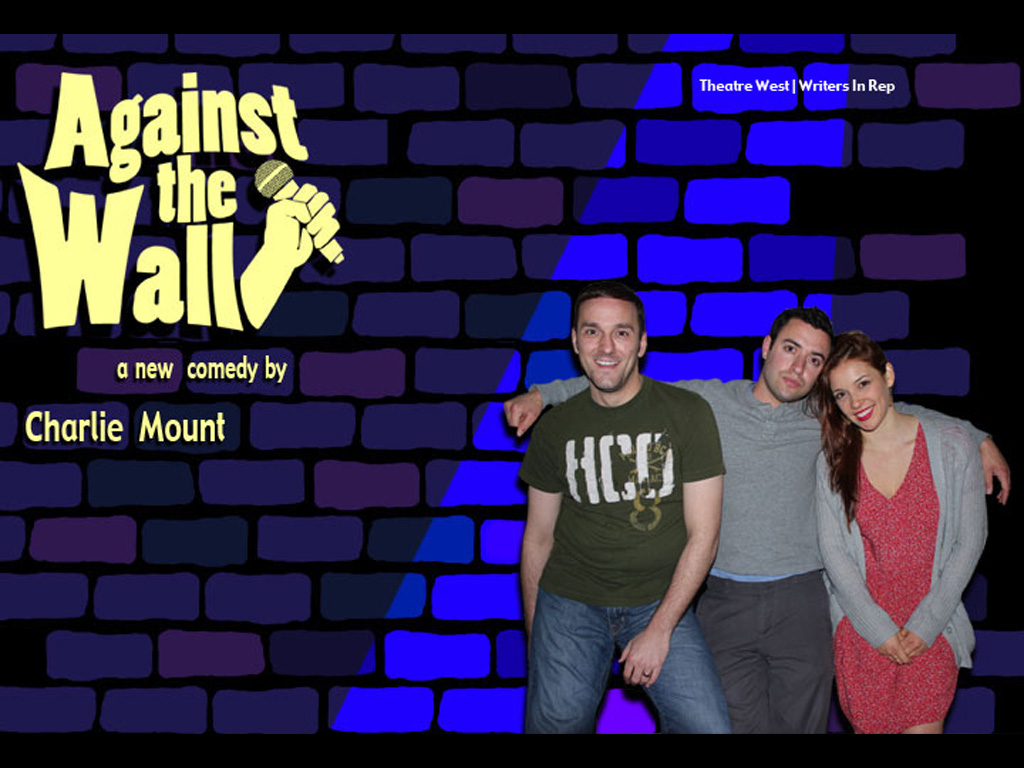 Against The Wall
A Romantic Comedy About Comedy
May 22 – July 27
Fridays and Saturdays at 8pm. Sundays at 2pm
Produced by Donald Moore | Directed by Charlie Mount
Written by Charlie Mount
With
Katie Adler ● Lukas Bailey ● Nick McDow
Stand-Up Comedy Contest Now Closed
Winners: Bobby Tessel, Ryan Klamen & Adria Barrata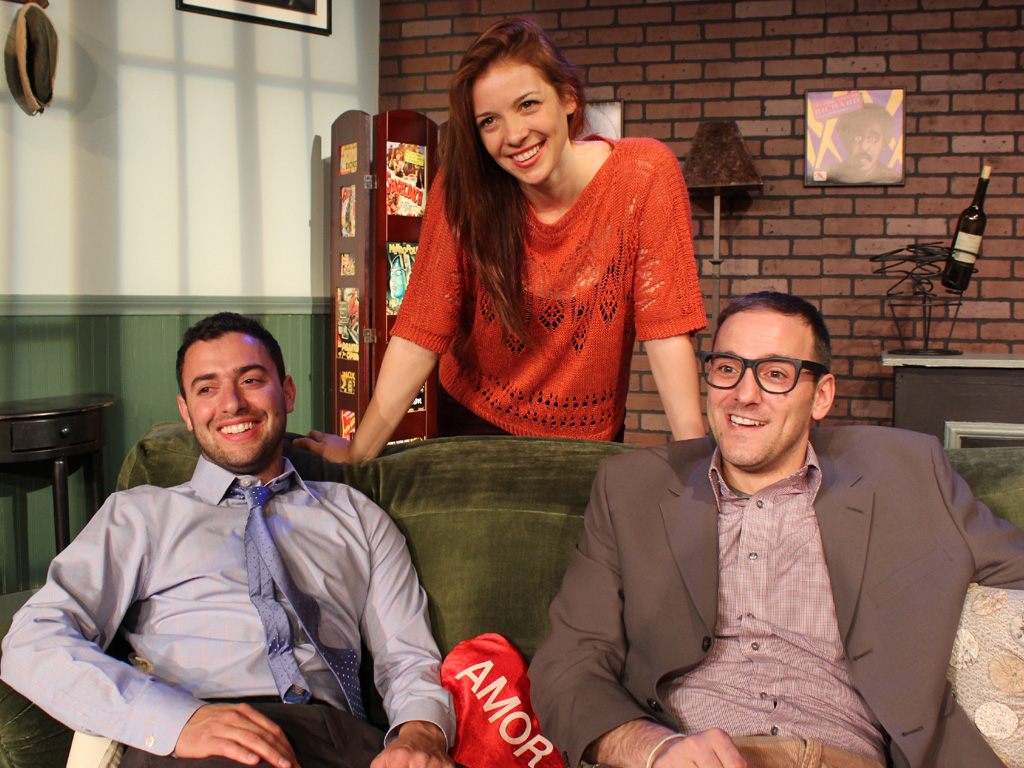 Set Design: Jeff G. Rack | Light Design: Yancey Dunham | Stage Manager: Roger Cruz | Asst. Stage Manager: Ernie McDaniels
Sound Design: Charlie Mount | Graphics: Doug Haverty & Charlie Mount | Publicity: Phil Sokoloff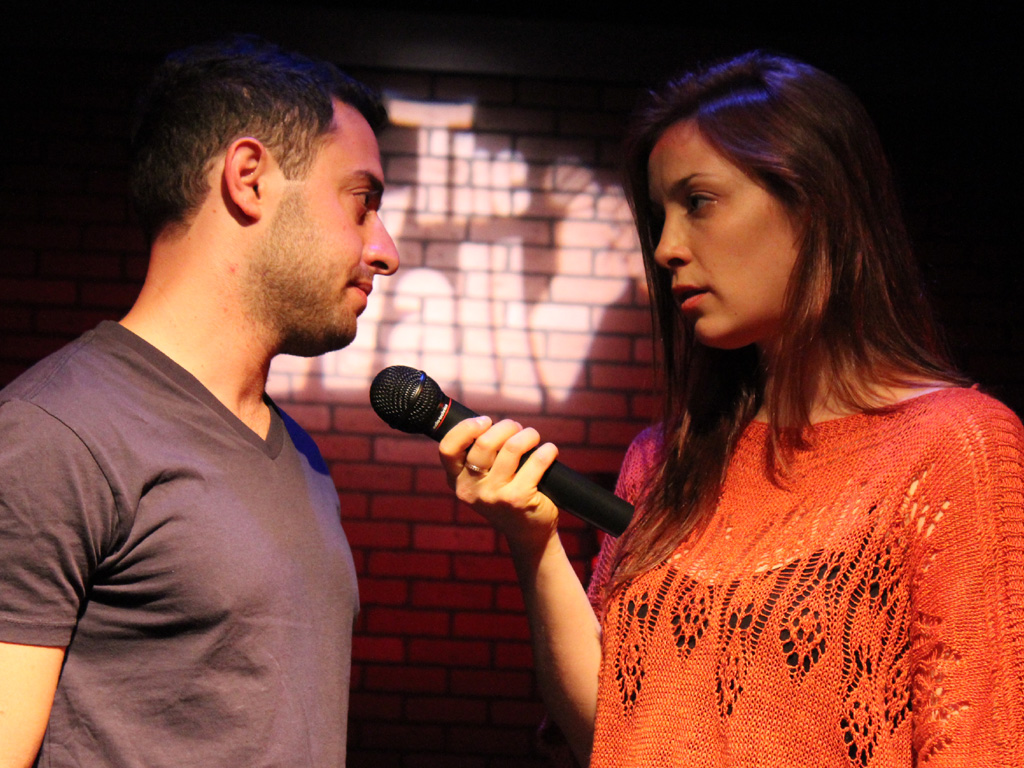 Jeff Zelinski (played by Nick McDow), is a frantic, young comic struggling in the Greenwich Village comedy scene. He lives for the 22 minutes each night he's on stage at a club called The Wall. Up there he feels powerful. He feels loved. On stage he can say anything. But lately Jeff's been tanking his own shows, growing more and more hostile. Haunted by the realization that he's lost the ability to feel alive off stage he begins to court hostility rather than laughs. "It's more honest," he says.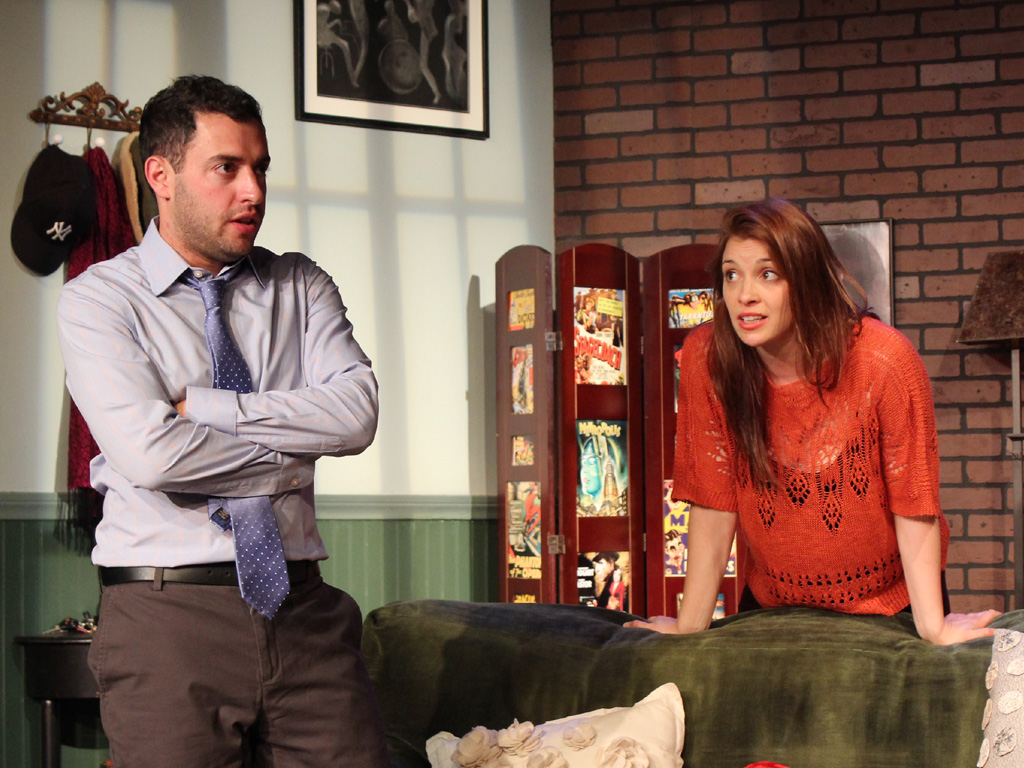 Alex Wilde (played by Lukas Bailey) is a comic on the rise, and Jeff's best friend. Worried that Jeff's going to crash and burn Alex sets him up with a girl, Susan Sullivan (played by Katie Adler). Beautiful and brilliant Susan is an environmental activist and performance artist fascinated by the stand-up world. "Pain! It's the underlying engine of comedy!" she says, remembering a high school talent show where she tearfully performed a striptease while reciting "Who's on First?". Emotionally volatile and unable to process her own feelings Susan is in real psychic distress, frequently humming to herself about whales and dolphins because, "There's something pre-natal about water creatures, calms me right down."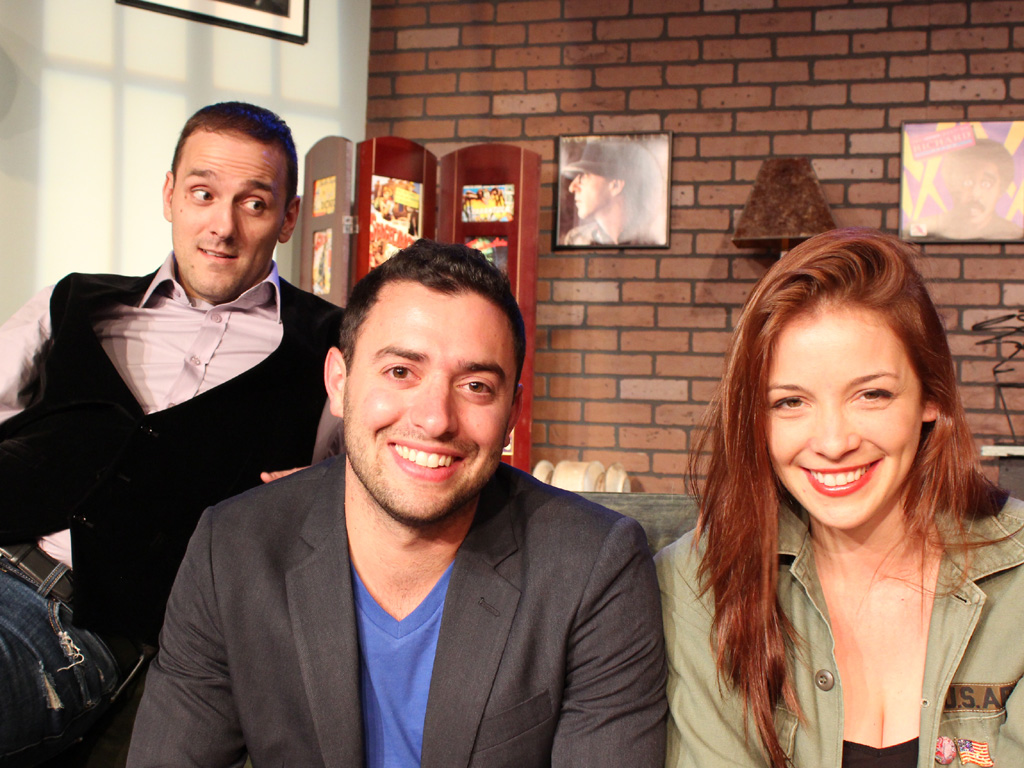 Together Jeff and Susan begin to break down the walls they've built around themselves, as they search for the truths about love and comedy.
"Critic's Pick" - The Los Angeles Times
"Critic's Pick" - Grigware Reviews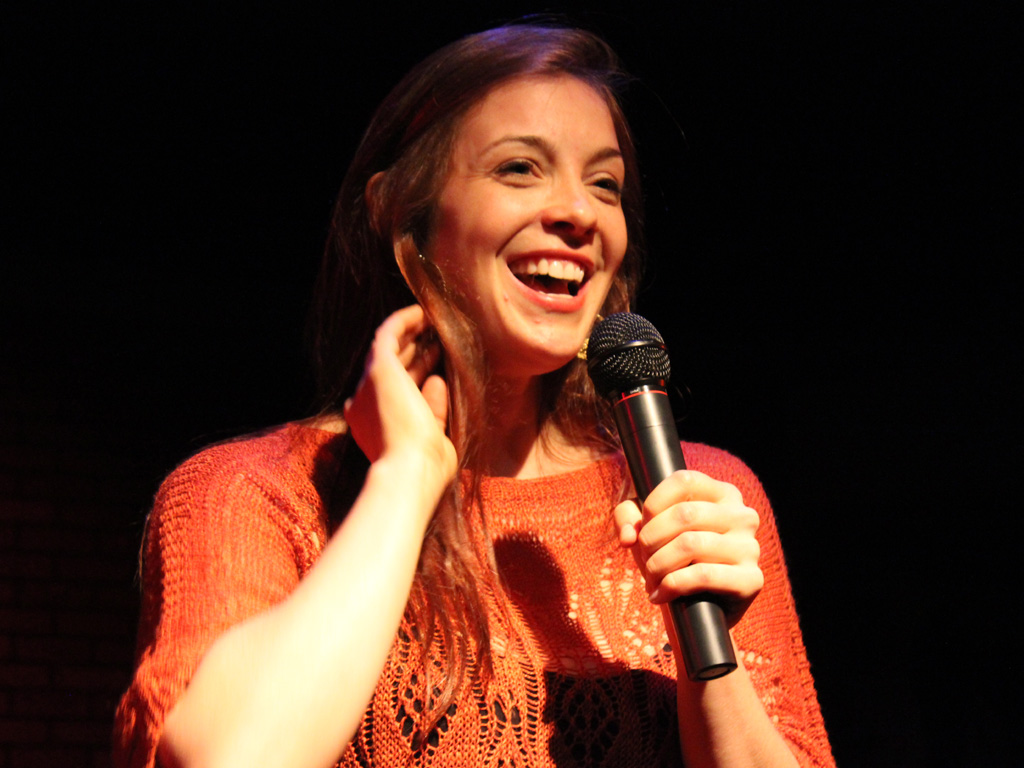 "Mount, who also directed, crafts a charmer that is as crisply staged as it is well constructed, while his comedically gifted cast delivers the laughs with plenty of heart!" - The Los Angeles Times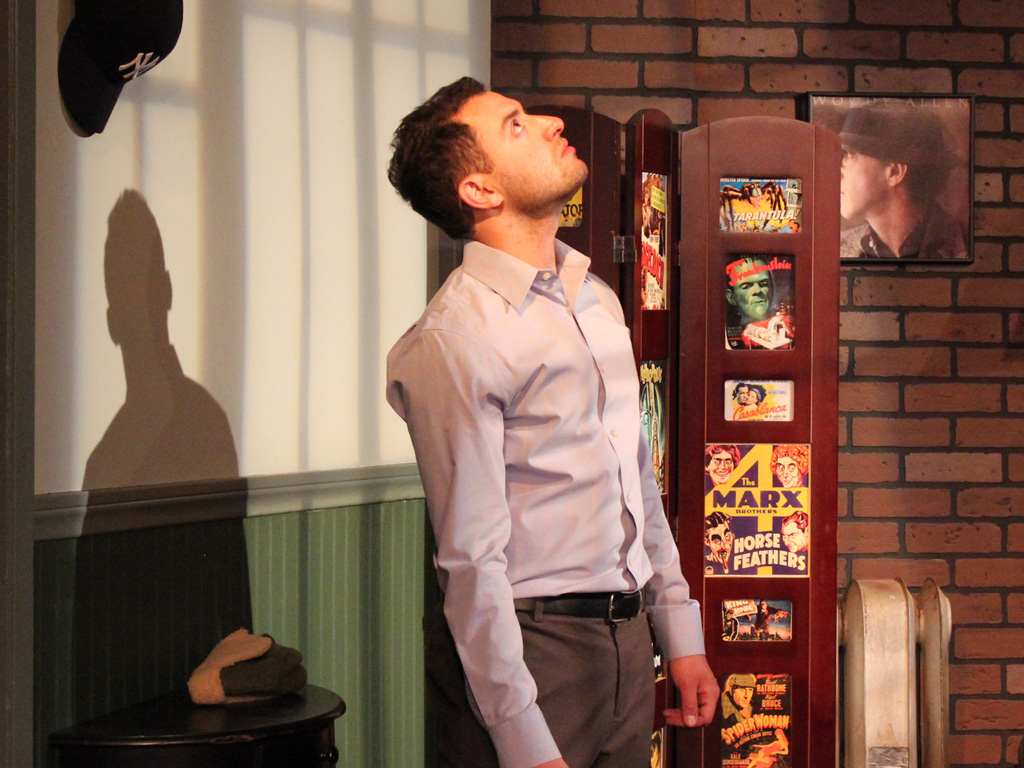 "Romantic and very funny" - Broadway World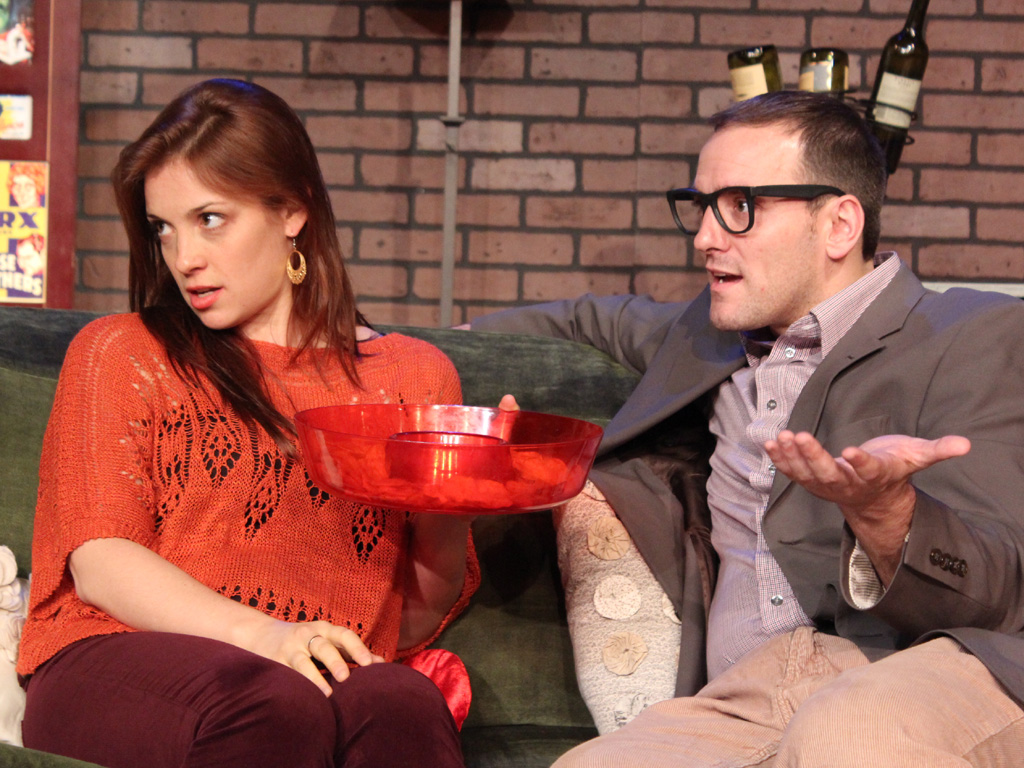 "Writer/Director Charlie Mount employs his own stand-up background to pen some funny yet caustic zingers for his actors who hit the punchlines spot-on with great energy and rhythm." - The Tolucan Times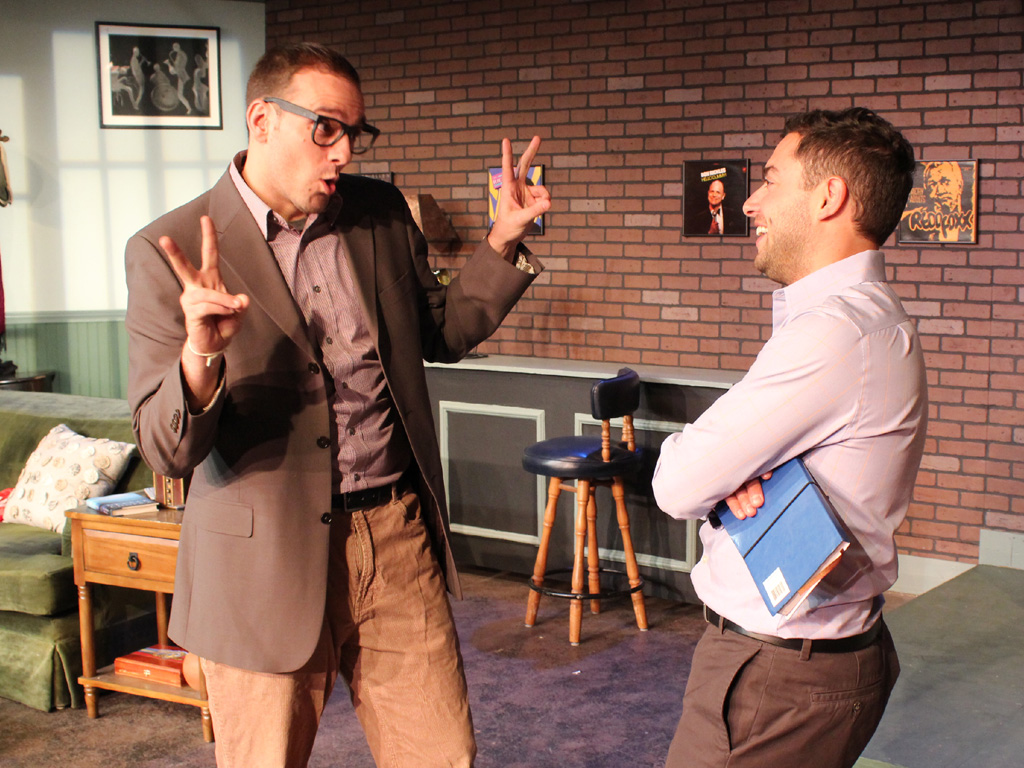 "First of all, the writing is genuine and genuinely funny…Acting and direction are top notch as well…It's humorous and terribly touching. In today's cockeyed, messed-up world, it is so nice to see two people who love each other work so hard to make their relationship soar. How uniquely refreshing!" - Grigware Reviews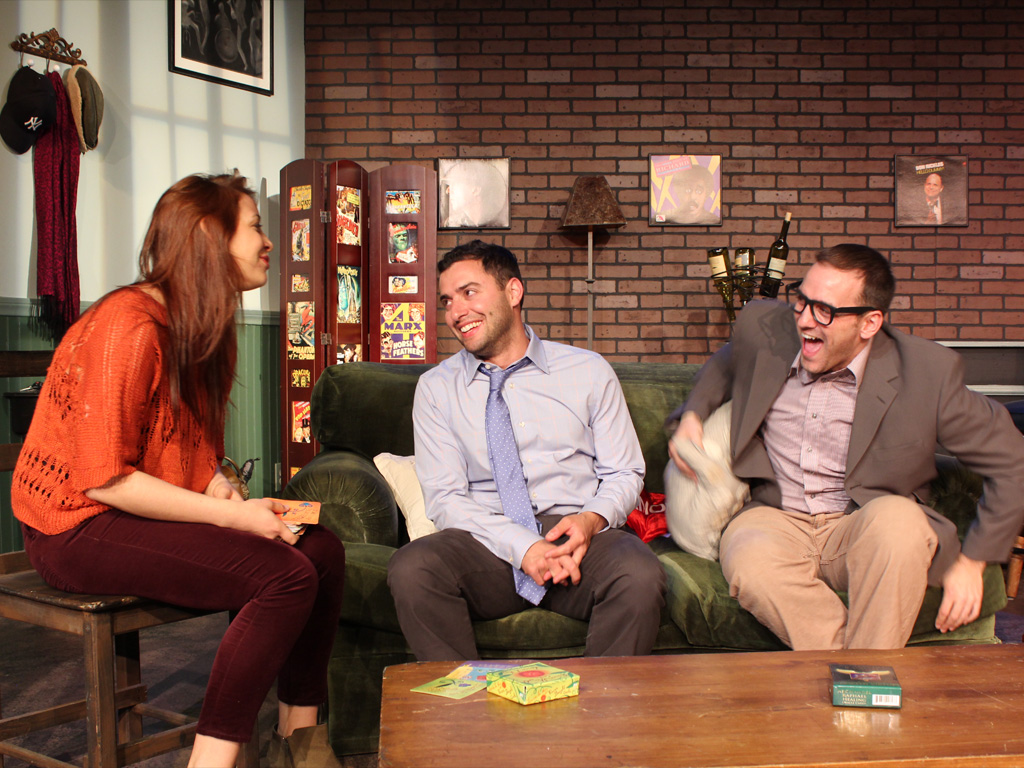 "The audience laughed hysterically at every word, move and gesture emanating from the stage" - WillCall.org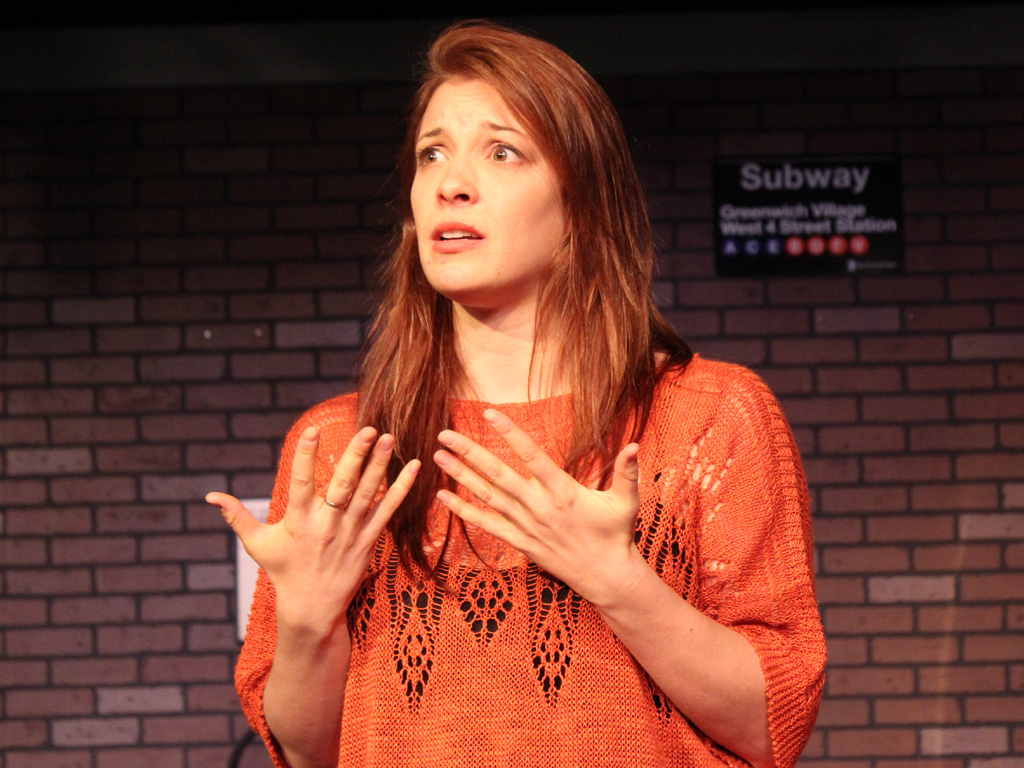 "An enormous amount of fun, humor, charm, and realism." - The Geek Authority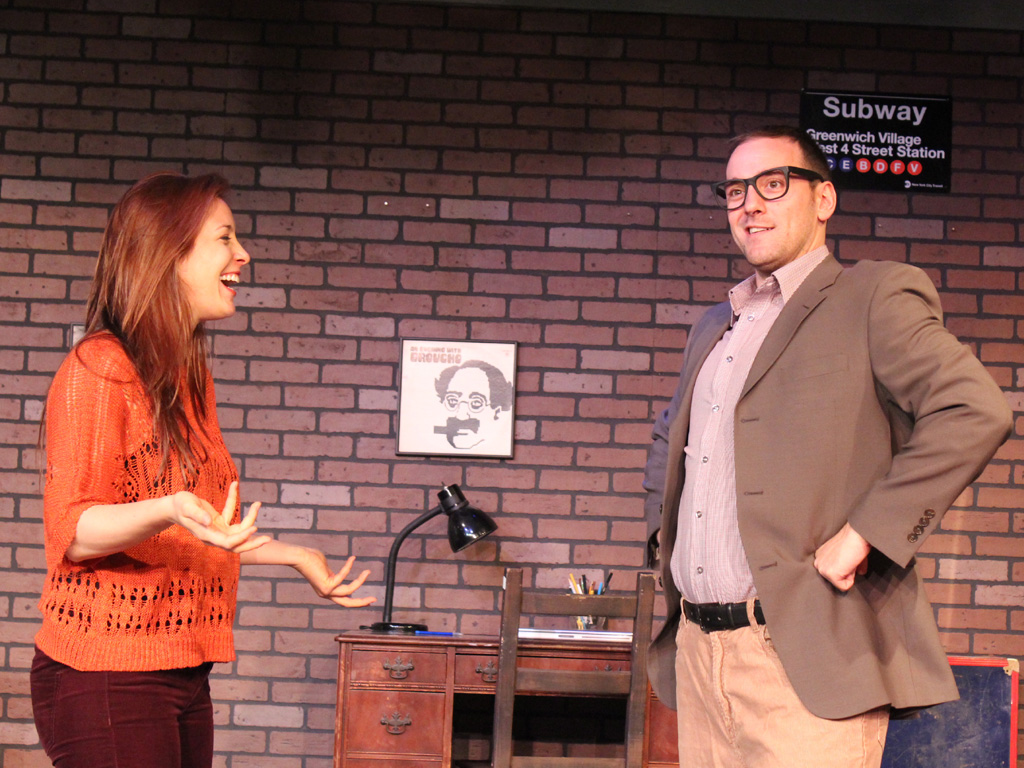 Kathleen Foley, The Los Angeles Times
"There's a breath of fresh air blowing across the proscenium of venerable Theatre West, an occasionally creaky production entity that has been in existence 50 years and counting, and has been known to show its age."
"That breeze is emanating from the world premiere of Charlie Mount's "Against the Wall," a rollicking comedy that was developed in the theater's Writers in Rep program. (Another world premiere from that program, "Flag Day," will run in rep with "Wall.")"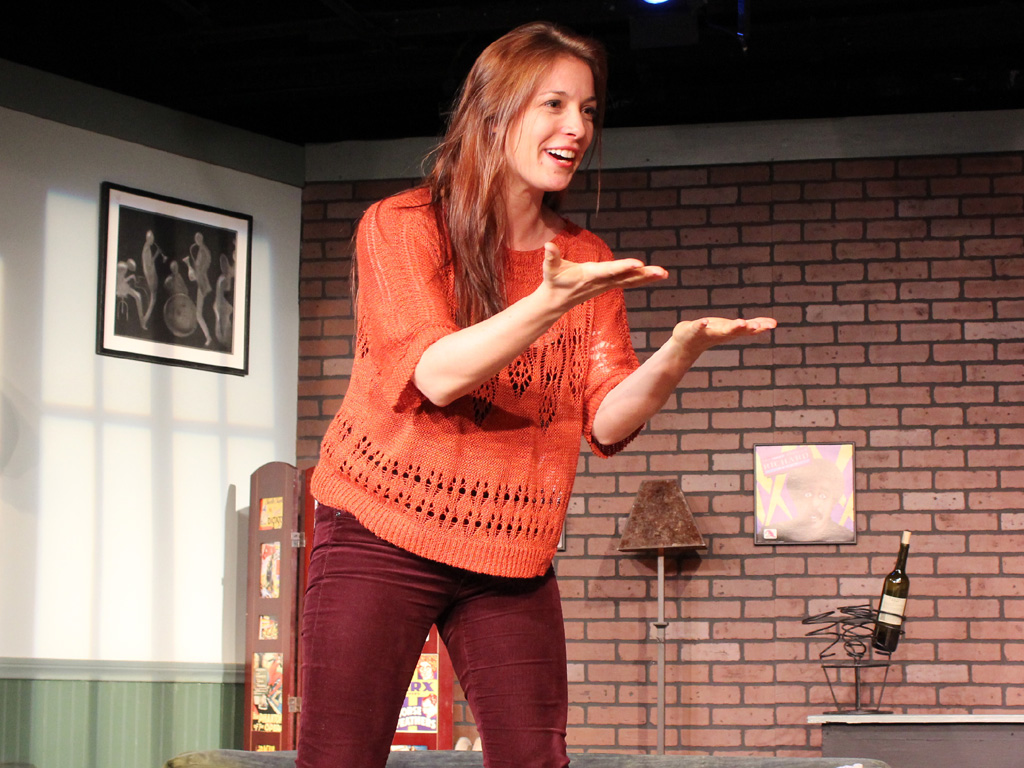 "The slight but serviceable plot may strike certain theater purists as markedly fluffy. That's deceptive. Pulling off a modern-day romantic comedy is no mean feat, and Mount, who also directs, crafts a charmer that is as crisply staged as it is well directed."
"A veteran stand-up comic and magician, Mount sets the action in a milieu he knows well: a Greenwich village comedy club, the Wall, where struggling stand-up comic Jeff (Nick McDow) performs his mixed bag of sardonic one-liners and misogynistic put-downs."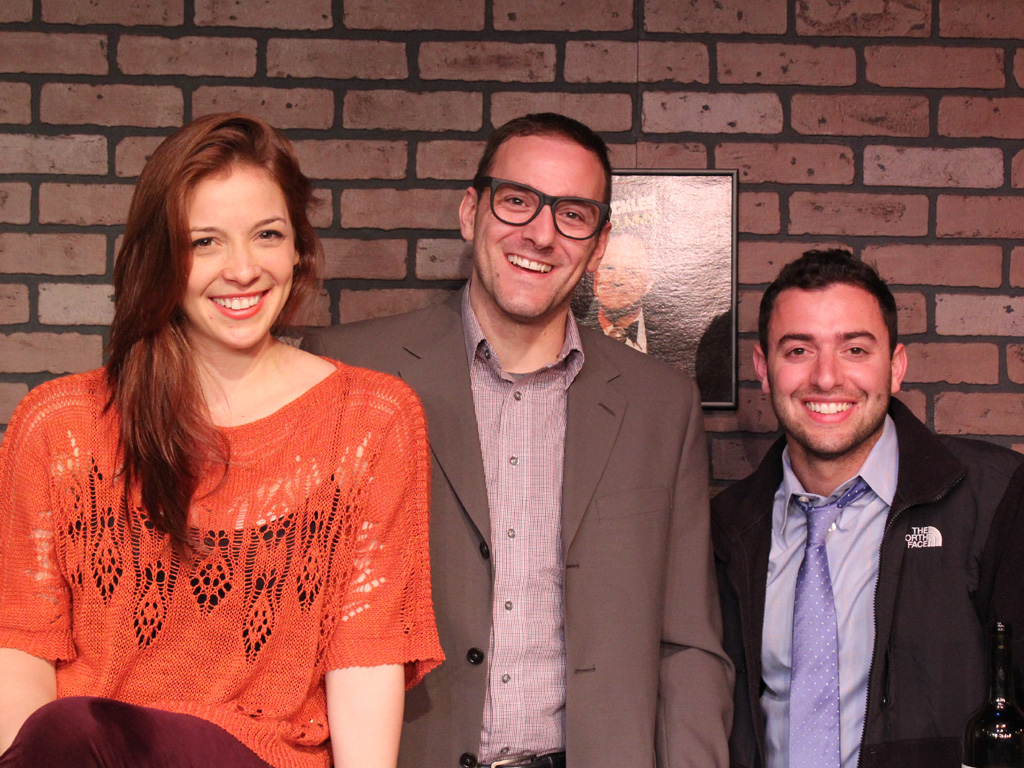 "Jeff's roommate and longtime best friend, Alex (Lukas Bailey), is an up-and-comer on the trajectory to success and fame. Alex fixes his lonely pal up with activist/actress Susan (Katie Adler) on a blind date. Of course, Jeff and Susan are diametrically opposed personalities who meet cute and clash spectacularly, with plenty of snarky interplay along the path to true love."
"Despite a few fumbles, Mount steamrollers the action to a satisfying conclusion, thanks in large part to his youthful and comedically gifted performers, who deliver the laughs with plenty of heart. Jeff G. Rack's set and Yancey Dunham's lighting nicely evoke both a modest New York apartment and a garishly lighted comedy club stage. Mount contributes the sound — yet another superlative element in his lovingly crafted creation."
"Against The Wall was started as a workshop back in 1986, based on playwright Charlie Mount's experiences performing in the basements and on the stages of New York's comedy clubs as a stand-up and magician, working alongside other newcomers like Jon Stewart, Chris Rock, and Ray Romano. Presented as part of a series called Writers In Rep, in which playwrights from Theatre West's Writers' Unit have developed plays for full production, the current engagement marks its World Premiere as a completed, fully-produced work at Theatre West through June 29, 2014. It's both romantic and very funny."
"The plot centers around three characters, each of whom struggles to make it as a stand-up comic. Given the playwright also directed the show and designed the sound effects, I am sure the loud upstairs neighbor who seems to play the right music at the right time, if a bit too loudly, must be a window into his own past life in New York. The music often breaks the tension between characters and generates lots of laughs from the audience. And the actor's ability to appear so comfortable performing stand-up certainly reflects Mount's ability to see himself in all three characters, guiding them with great comedic ski..."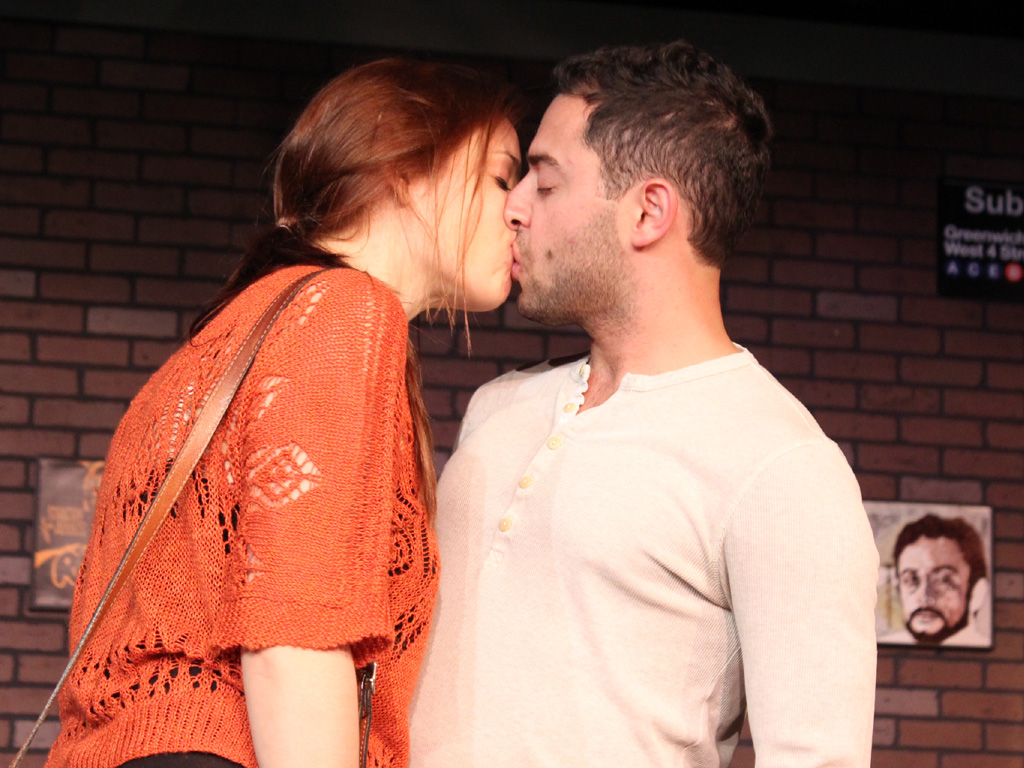 "At the beginning of the play, Jeff is onstage at "The Wall" and his humor encourages heckling from audience members. So those of you who love being part of the show and are great with improv, be sure to sit in the first few rows and I guarantee you will have a great chance of being pulled into his stand-up act about why men and women can't just be friends. Nick McDow is to be commended for his ability to go with the flow and take what gets thrown his way, chewing it up and spitting it right back."
"Katie Adler's flighty Susan has her head in the clouds and her heart on her sleeve when it comes to Jeff. At first she is very reluctant to believe anything he tells her as everything he says seems to just be a punch line for a joke. They dance around each other on their first date, Jeff unwilling to share any personal information while Susan is an open book. But as in most relationships, patience is a virtue and even the most unlikely pairs and wind up together. Adler and McDow allow us to see both their superficial selves as well as the hidden real people inside their comic exteriors. There is never a doubt these two will wind up together, but these fine actors will keep you guessing as to how that can possibly happen – until it finally does."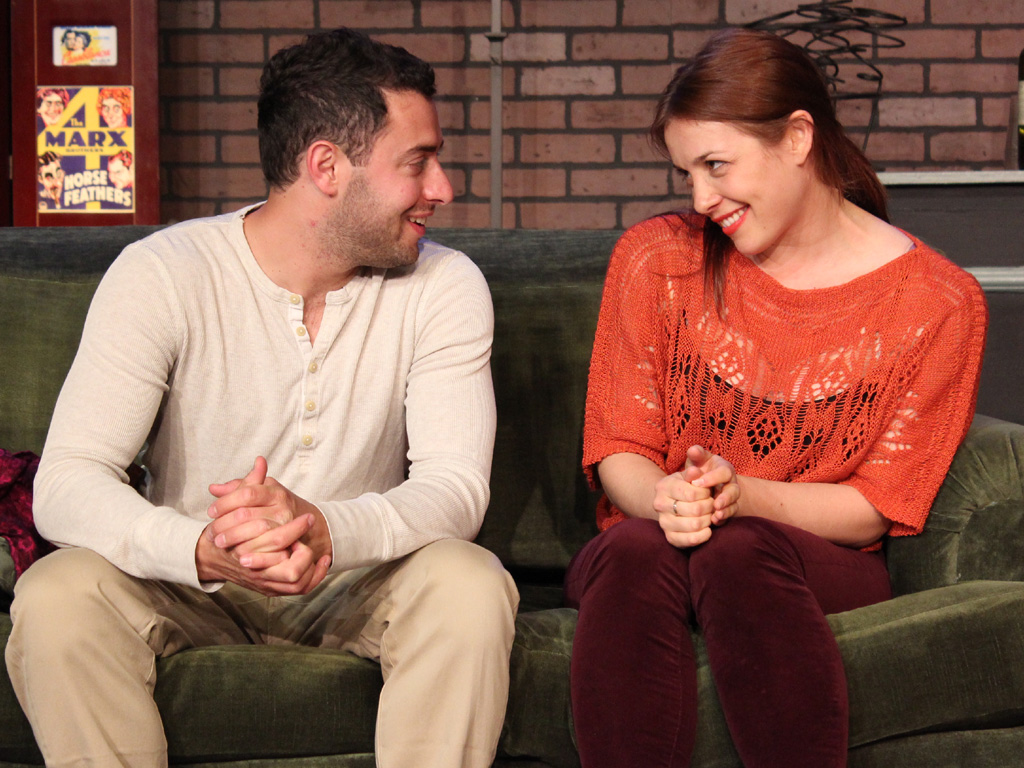 Mary Mallory, The Tolucan Times
"Against The Wall Forces Change"
"Blending romance and stand-up comedy, Against the Wall thoughtfully yet hilariously examines how it often takes moments of great desperation to face difficult emotional truths. Featuring excellent acting and some laugh-out-loud one-liners, the show steps behind the curtain to present the difficult realities of not only the shaping of a career, but the shaping of a life."
"Struggling young comic Jeff Zelinski (Nick McDow) lives for his 22 minutes onstage, but his growing hostility sabotages his career. His friend Alex (Lukas Bailey) hopes to calm him down with a little romance, introducing him to brittle Susan Sullivan (Katie Adler), who is dealing with her own emotional issues. Can the hypersensitive performance artist and hurting comic break down their walls to find emotional connection and love?"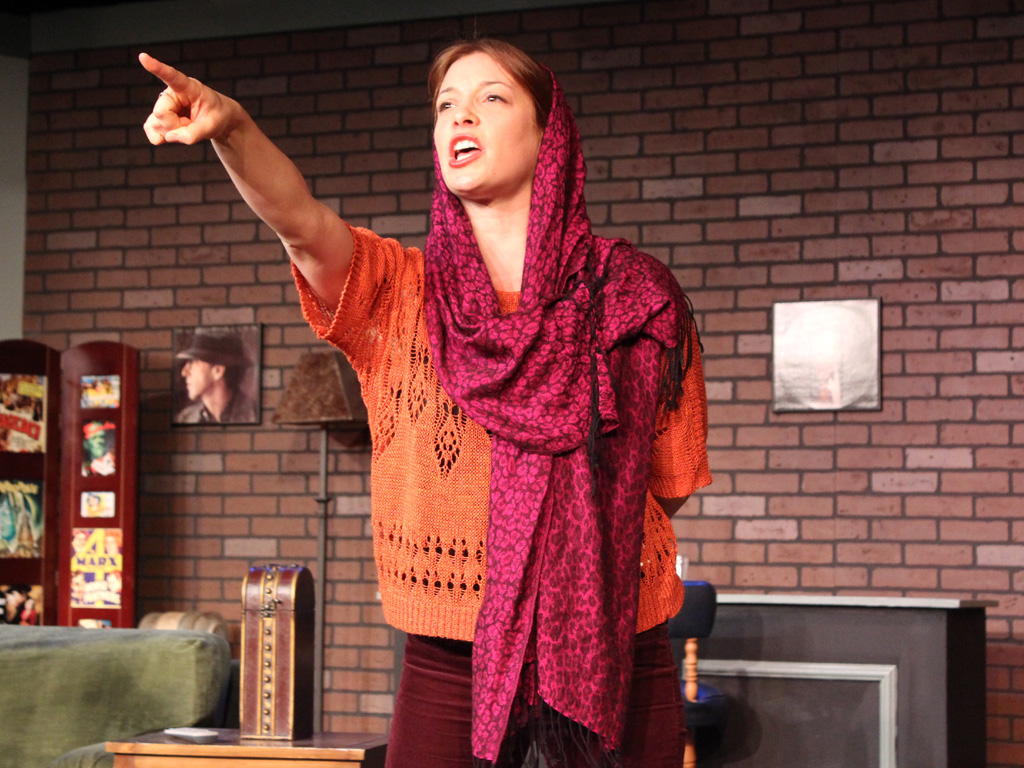 "Writer/Director Charlie Mount employs his own stand-up background to pen some funny yet caustic zingers for his actors, who hit the punch lines spot-on with great energy and rhythm. Their fine timing keeps the laughs rolling, though the jokes sometimes feature adult language. Mount also gets to the emotional heart of what it means to be vulnerable and connected."
"The three actors give strong performances, led by the outstanding McDow. His expressive face, puppy dog eyes, and strong presence truly bring the sensitive comic alive. Adler brings touching vulnerability to the strident, polemical Susan. Bailey's easygoing Alex helps lighten proceedings."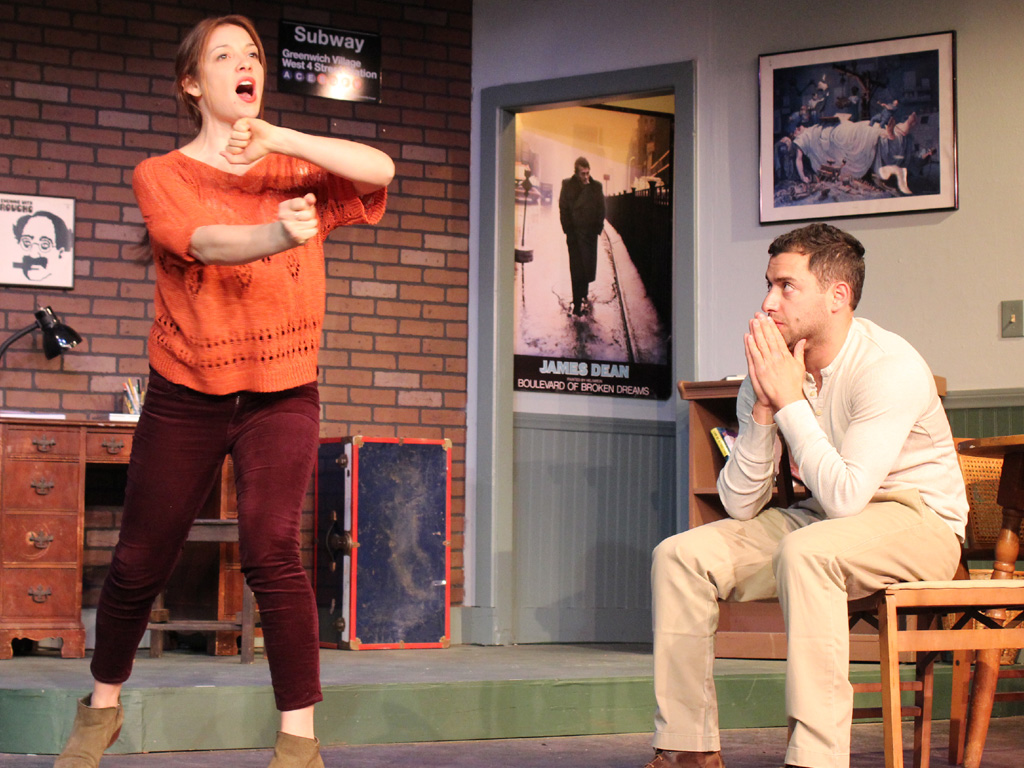 "Fine production work enhances the experience, particularly Mount's sound design and Yancey Dunham's lighting."
"Against the Wall reveals emotional truths through the guise of stand-up comedy."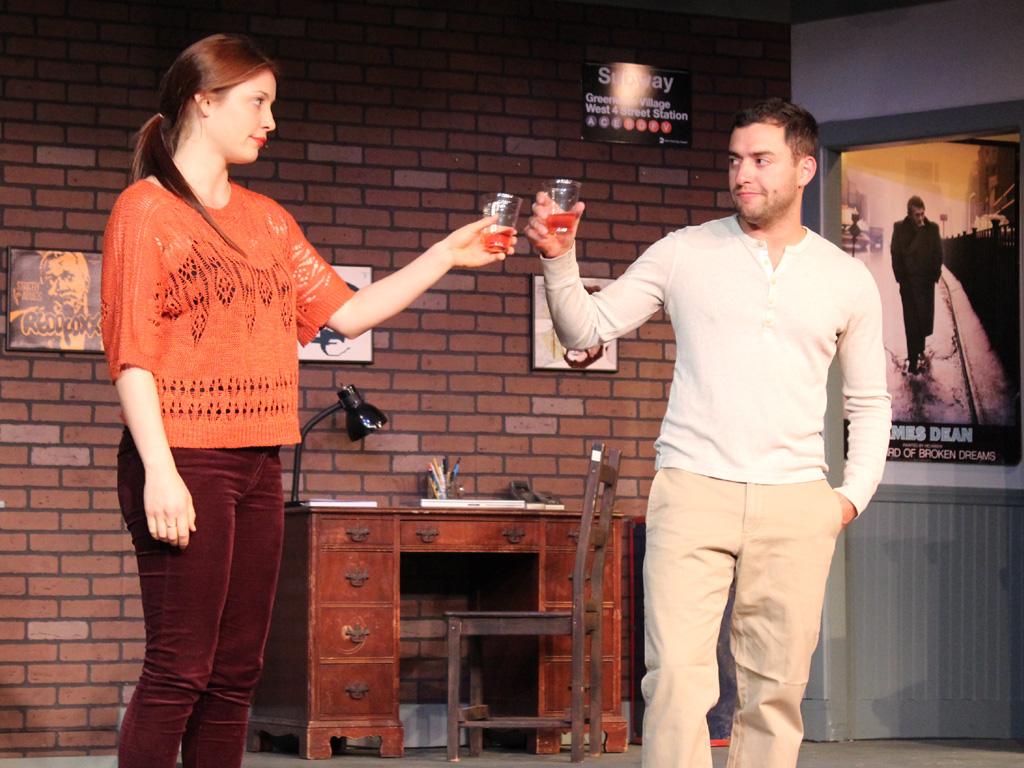 Rich Borowy, Accessibly Live
"Theatre West winds down their 2013-14 theater season with a pair of original comedies performing in repertory. The first of the two is Charlie Mount's Against The Wall, a farce about a stand up comic who faces his crass humor through the woman who he eventually desires."
"Nick McDow is Jeff Zelinski, a stand up comic playing in a hole-in-the-wall comedy club called "The Wall" located within Greenwich Village. His comedy speaks about men, women, and sex, performing his routine in a rather cocky (no pun intended) method. He sometimes get a little serious in tone through his act, even starting to sound a bit argumentative, suppressing some hidden anger he holds. Alex (Lukas Bailey), Jeff's best buddy whose friendship goes back to their high school days from not so long before, is also a stand up comic performing in the same club. Alex's career is moving upwards, while Jeff's career is slipping downward, because Alex's routine is more "sitcom" friendly while Jeff's grind isn't! As a token favor, Alex set him up with a woman who attended one of his shows during his hostile moods. Susan (Katie Adler) works as an activist on environmental issues. She too, is hoping to take a jab in comedy. Even through Jeff has his personal issues, Susan sees a bit of spark in this man, even though the two are different in many ways. This brings to a love story of sorts where both have their examples on one hand, whole making 'em laugh on the other!"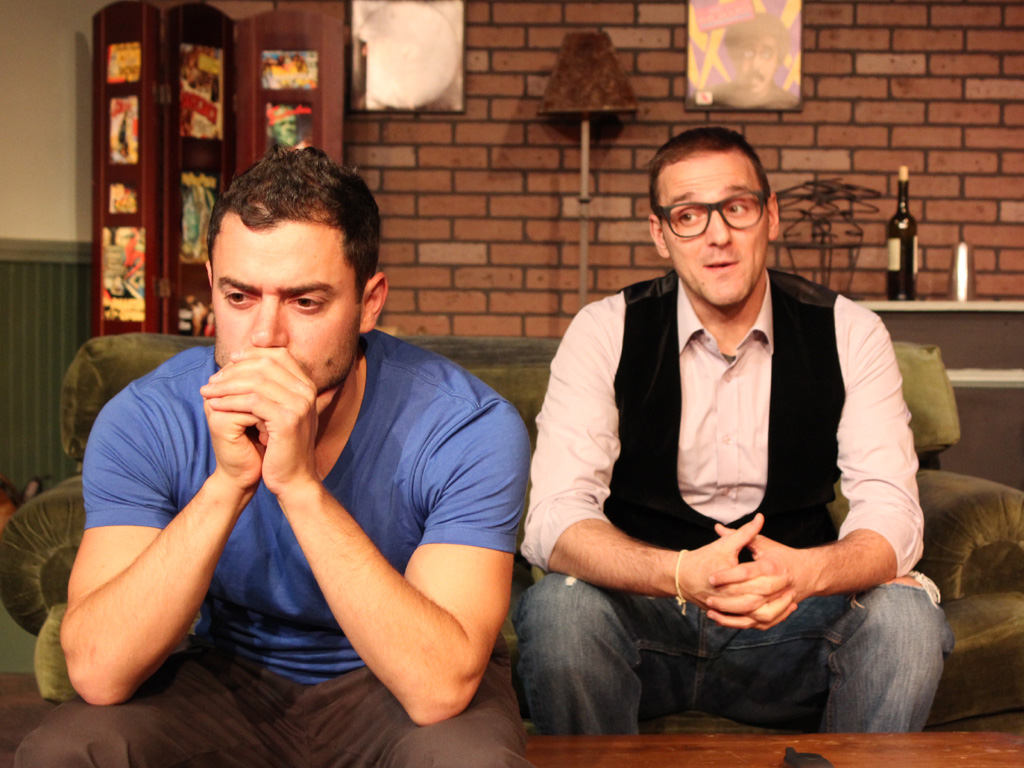 "This comedy, making its world premier on the Theatre West stage, holds plenty of genuine wit, and contains one liners that are actually laugh out loud funny! (Or "LOL" funny in post modern speak!) The entire play features gags and situations one would find in a contemporary sitcom that has that for noted wit! The cast of three players have that chemistry that makes sitcoms, or in this case, stage comedies work out well! Nick McDow as Jeff plays the comic that is the fall guy, performing his stand up routine that would fit in a comedy club anywhere. He can tell gags while handling the hecklers that fill up the joint. Katie Adler as Susan is the "straight man" of the two. Her character is charming, yet she can take her own stand as needed. Even when Jeff goes on with his rants, Susan would be there for him in the same method that characters in a 1990's era "gang" comedy did for one another each weekly episode! Lukas Bailey as Alex is the man in the middle, the one that serves as the "glue" between poor ol' Jeff and sweet and secure Susan. Playwright Charlie Mount, who also directs, speaks for the stand up comics out there. (He was once a budding comic back in the day!) These type of funny guys and gals might be a hit on stage, but are hit physically and emotionally while far away from the crowds, hecklers, and aren't on stage standing in front of a brick wall with wireless mic in hand."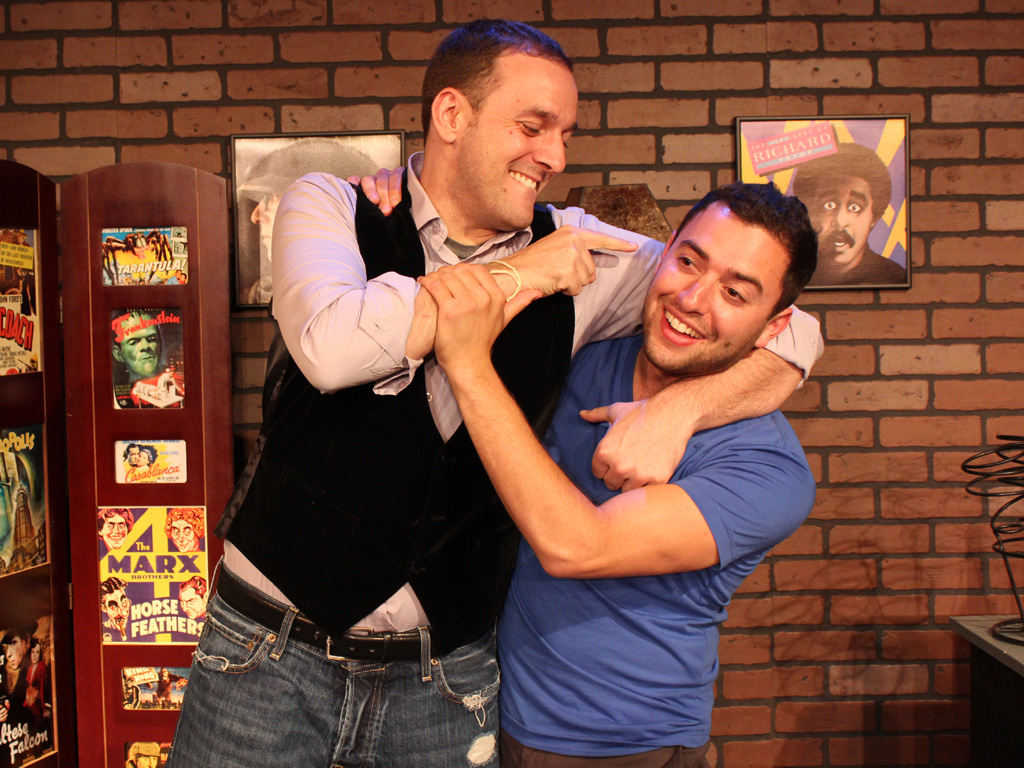 "And speaking of brick walls, Jeff G. Rack's set design consists of Jeff's apartment that is rather spacious for a Greenwich Village flat (It's theater, not reality) that has a brick wall facade that changes through clever lighting by Yancey Dunham, into the comedy club that Jeff performs his schtick."
"Against The Wall gives the moral that comedy is based on emotional pain. This may be the case, but there isn't anything painful about this play. It's a hidden gem! Then again, its been stated that tragedy is easy while comedy is hard! (Another moral to ponder upon!)"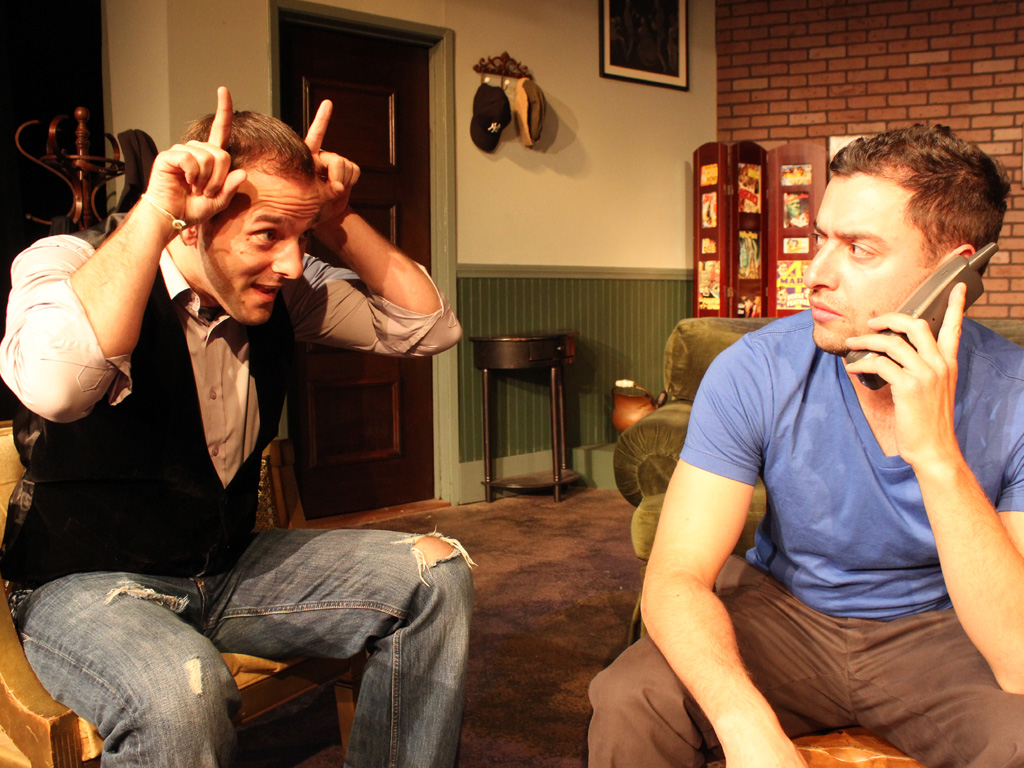 Carol Kaufman Segal, ReviewPlays.com
"Theatre West is presenting Against the Wall, by Charlie Mount, a comedy based on the playwright's own experiences performing as a stand-up comedian and magician. It was originally developed and work-shopped in 1986 at Theatre West and now, in its completed, fully-produced play, is making its world premiere."
"An interesting conception, the play opens with a young stand-up comedian, Jeff Zelinski (Nick McDow) performing a stand-up comedy act on stage. But after he finishes his act in which he feels confident and self-secure, we discover a young insecure man who only feels loved on stage where he can say anything. Off stage, he can only converse in jokes."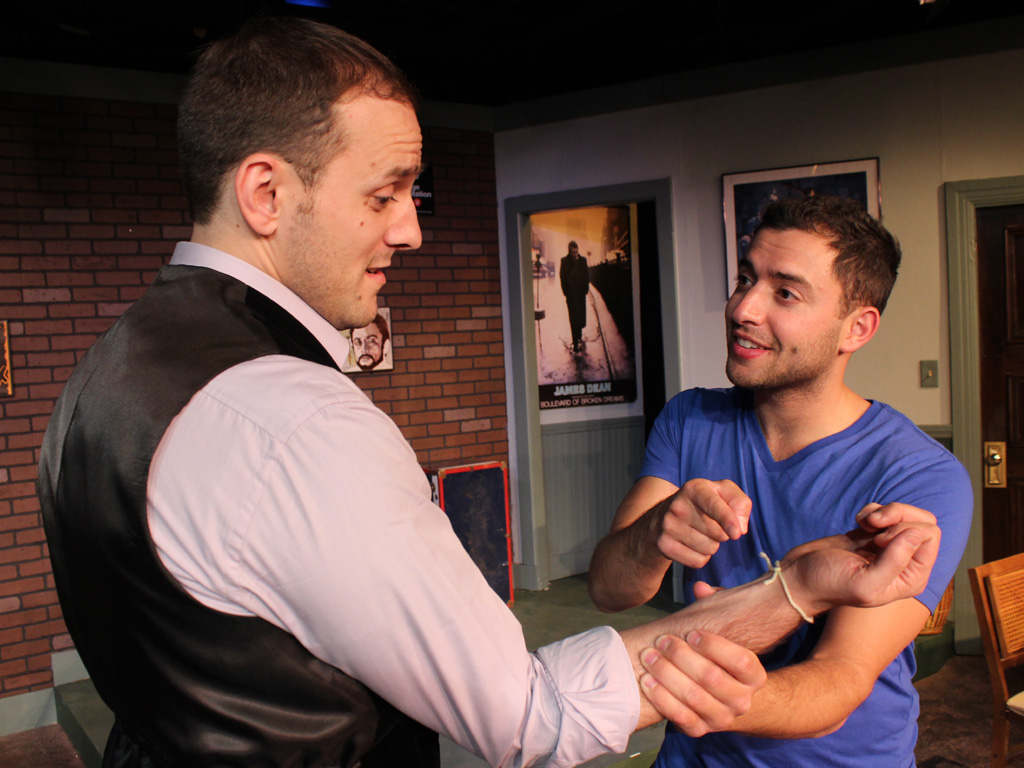 "Alex Wilde (Lukas Bailey) is an up-and-coming comic who is worried about his best friend Jeff. He realizes that Jeff is struggling and beginning to lose his audiences. He tries to fix him up with a girl, Susan Sullivan (Katie Adler), but Jeff refuses. After more coaxing from Alex, he finally gives in and agrees to meet her. (Neither is aware that she is the girl who became upset with him after seeing one of his performances.) Susan an environmental activist, also a performance artist, and enthralled by the world of stand-up, beautiful and smart, but not without problems of her own. However, after spending time together, the two of them do find themselves attracted to each other, and with some effort, they discover the answers that change their lives regarding comedy and love."
"Against the Wall is unique in that the audience has the opportunity of seeing three actors, McDow, Bailey, and Adler, each put on a stand-up performance as well as making their individual characters come to life. The play is not just romantic, but is very funny, and interesting when noting that it is based on the true struggles of a real comic. Charlie Mount also directs this fine cast. Nice set again by Jeff G. Rack."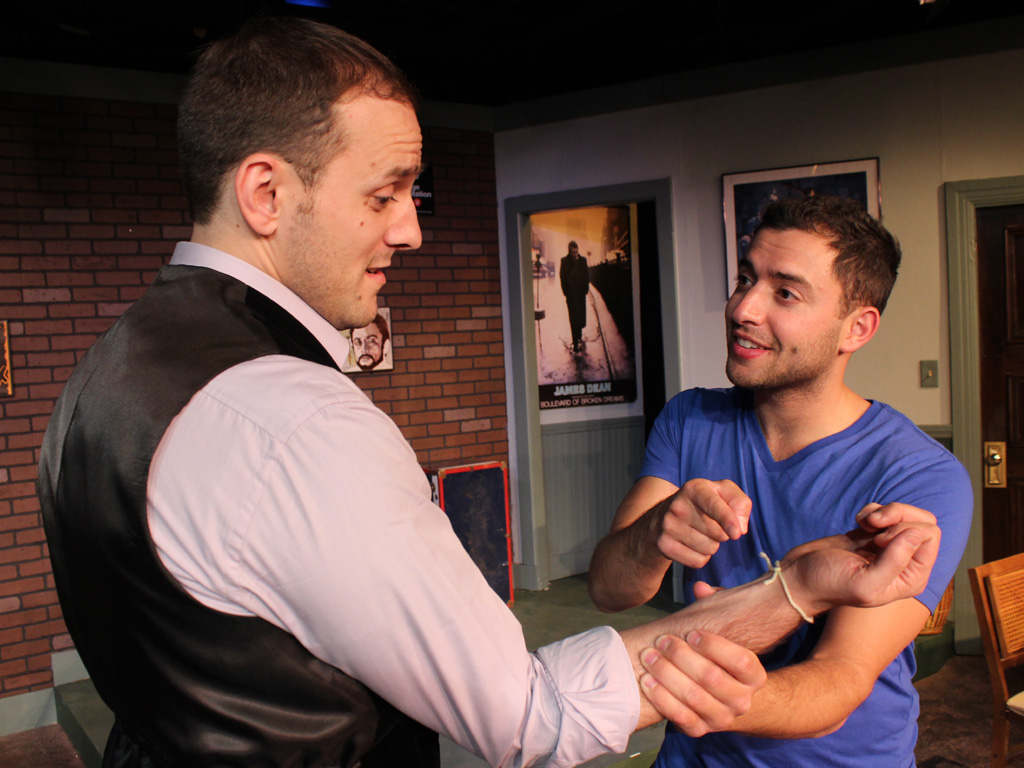 Lorenzo Marchessi, The Geek Authority
"Writer and Director Charlie Mount has done a wonderfully charming and extremely funny piece about a snip-it into a few young comedians lives and it's called "Against The Wall." Performed on stage at Los Angeles's Theatre West on Cahuenga Blvd., it's a play about the trials and tribulations of two stand-up comics and one political activist and their personal and professional relationships with each other. It's a wonderful mix of personalities mixed in with a taste and a sampling of the emotional struggles a stand-up comic must endure to grow within and fine tuning his or hers act on stage – and it's all done with an enormous amount of fun, humor, charm and realism."
"Nick McDow is sharply and quite realistically playing the character Jeff who is a real stand-up comic who uses his own personal issues as material for a very funny routine. The downside is it might be more a therapeutic venue to keep his own sanity in check. It's only with the help of his friends (one of which, Susan, he begrudgingly falls for) that he realizes what he can do for himself and his career versus what he thinks he should being do. Nick is an amazing performer with his quick wit and humor while then within seconds, his emotional wall will break in front of you and you can see the inner angst (and sometimes pain) that lies within him. He has a very honest chemistry with Katie that makes everything more heartfelt."
"Katie Adler is delightfully and enthusiastically the activist of the threesome. Katie plays the constant over analyzing and over thinking personality of a 'tree hugger' extremely well. She talks a lot, defines things all the time and often over analyzes everything to everyone's frustration. But like an onion, here layers of her character are deep and rich. It's her relationship with Nick with their emotionally funny and heartwarming roller-coaster ride they both go through, that actuals heals and helps both of them become more than who they are. Again, Katie and Nick have a real nice on stage chemistry about them and this is what really makes "Against The Wall" a very real and centered."
"Lukas Bailey is Alex who is Nick's best friend (and roommate) who tries to guide – or rather – advise his friend on everything from finances, writing jokes, material to use, food to eat and even how to date women. His attitude and relationship with everyone is strong and focused but also vulnerable as even the nicest people can be pushed too far. Lukas deals with his own frustration perfectly given the somewhat crazy situation he is in. It's so much fun to watch the comic quips between Lukas and Nick as they have great fun with stinging sarcasm and sometimes jarring joke telling."
"A realistic and creatively designed set by Jeff G. Rack only adds to the perfect lighting design by Yancey Dunham and creates a very real feel from being a real east coast apartment to the lonely spotlighted stage of the standup comic. This play is really a lot of fun!"
"Against The Wall" is truly a wonderful night of heartwarming fun and lots of fun humor! Cleverly written and staged showing a slice-of-life as you go on a journey into the hearts and minds of a couple of stand-up comics. With some adult language, "Against The Wall" is a comic gem! Check them out at Theatre West..."
About The Playwright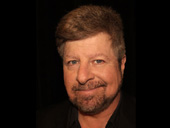 "Against The Wall" is inspired by playwright Charlie Mount's experiences performing on the stages of New York's comedy clubs as a stand-up and magician, working alongside other newcomers like Jon Stewart, Chris Rock, and Ray Romano.
At Theatre West Charlie produced and directed Waiting for Lefty which was nominated in 2011 for an Ovation Award as "Best Play (Large Theatre)." He also directed Beau and Emily Bridges in the original production of Acting – The First Six Lessons. Other directing credits include Seascape, The Fantasticks, Gaslight, and Waiting in the Wings with Betty Garrett. Charlie also produced a production of Falling Upward starring Pat Harrington in association with Ray Bradbury's Pandemonium Theatre, Jim Beaver in The Lion in Winter, and Lee Meriwether's one woman show The Women of Spoon River.
Charlie also wrote The Junto, a political thriller produced at The Road Theatre, and Trumpets and Table-Tipping, a play about Harry Houdini and spiritualism produced at Theatre 40.
His novel, The Clairvoyant Murders, is available as a serialized book for Kindle. Charlie will be performing in the partially improvised play Waiting For Annette this summer at the Whitefire Theatre, and will be producing Jim Beaver's play Verdigris next Spring at Theatre West.
A Word From The Playwright
In the mid 1980s I was performing as a magician working colleges, cruise ships and private parties, and my manager started talking about booking me for long engagements in Vegas and Atlantic City. But I wanted something grittier, more soulful. I wanted to work comedy clubs. So I went down to check out The Comedy Cellar on MacDougal Street in Greenwich Village. It was a slow Wednesday night, very little audience, no A-Listers on stage, just the regular crew of local comics and the emcee. The comics were good. They weren't schlocky or show-bizzy; they were real, and gritty and honest. They handled the quiet crowd well. But the guy I felt for was the emcee. I thought he was pretty good, but the crowd just sat on their hands, even heckling. It was unbearable. I knew he had to be dying inside. After the show I asked him how he was feeling. "It's a Wednesday night," he shrugged. "It's slow. It happens. The audience is fine, they're enjoying themselves. So they don't laugh, you can't take it personally." He was fine. He didn't give it a thought. Tomorrow he'd kill. Tonight he did his job.
That's when I knew I wanted to do stand-up. I wanted to be that strong. I wanted to not care if the crowd threw vegetables. I wanted that challenge. Also, I needed the produce.
So I played the rooms as a magician for a few years and slowly developed my stand up. Eventually I had a strong act and I could handle any room, any size, any amount of hostility. There's something real, and truthful about a comedy club stage. Just a mic, the truth, and a wall. There was power in that, and I loved it.
For a while there I loved it too much. I actually started baiting the crowds, getting them heckle, just to see if I could handle it. Somewhere in the middle of all that I got an idea for a play - Charlie Mount