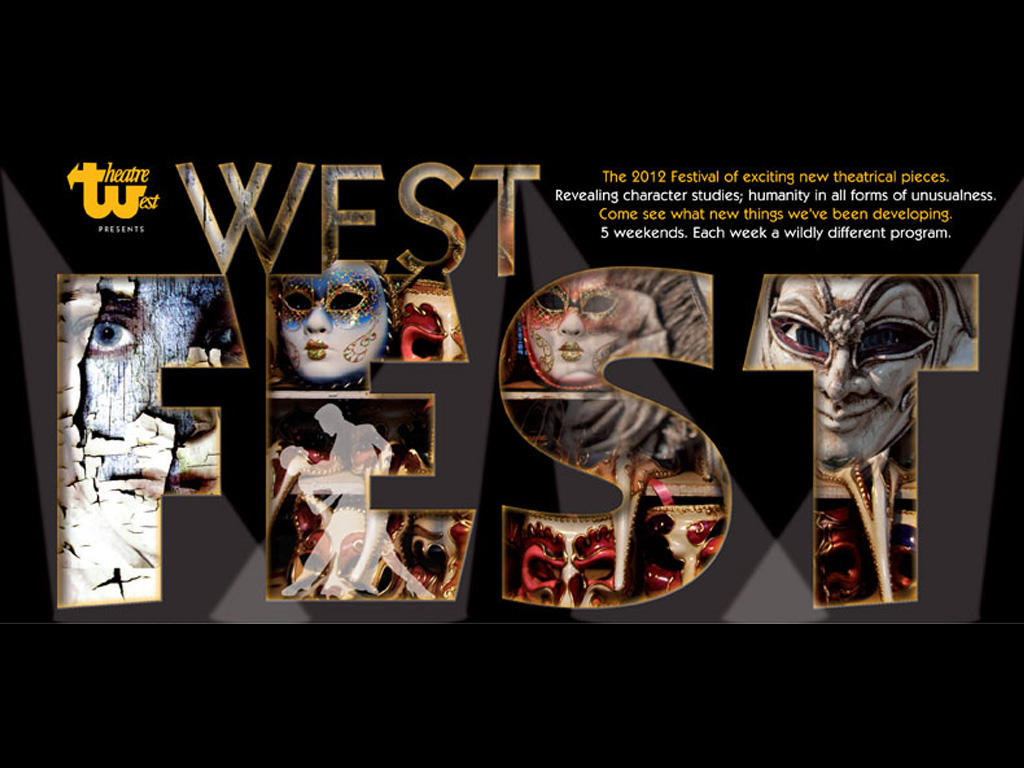 WESTFEST 2012
New Works Festival
May 4th - June 3rd, 2012
Fridays and Saturdays at 8pm. Sundays at 2pm
Each Weekend a Different Program
West Fest Producer - Jill Jones
All Shows at Theatre West are Wheelchair Accessible.
Bathrooms are not Wheelchair Accessible.
Week One | Week two | Week Three | Week four | Week five
---
Week One
May 4-5 at 8pm | May 6 at 2pm
~
The Wall
A Comedy Romantic
Jeff's a funny but hostile comic. Susan's a serious but psychotic activist. He needs to shut up. She needs to lighten up. Will love triumph?
Written by Charlie Mount | Directed by Charlie Mount
With:
Lukas Bailey ● Emily Bridges ● Joey Jennings
---
Week Two
May 11-12 at 8pm | May 13 at 2pm
~
Placebos
A famous pilot and a glamorous actress, both vying for the same job, meet in a Hollywood producer's waiting room.
Written by Victoria Vidal | Directed by Marcia Rodd
With:
Lee Meriwether ● Sandra J. Tucker ● John Candelaria ● Robert W. Laur ● Steve Franken
~
Why Me?
After being fired, having her car stolen and discovering that her husband is having an affair with her best friend,
maybe she has good reason to wonder..."Why Me?"
Written by Roy Battocchio | Directed by John Gallogly
With:
Anne Leyden
~
No Woman Left Behind
Two young battle tested women soldiers return from Iraq and attempt to resume their quiet lives in their small Texas town.
Written by Kent Hamilton | Directed by Arden Lewis
With:
Corinne Shor ● Victoia Rabitcheff
~
Transit Arrest
Two men waiting for a bus unexpectedly discover the meaning of blue dolphins and tattoos.
Written by Teddy Gersten | Directed by Kres Mersky
With:
Abbott Alexander ● Drew Katzman
~
The Plot Thickens
Two old friends bump into each other at the cemetery and discover there's a lot going on in each other's lives
that they really weren't aware of. But maybe "digging up" the past isn't such a good idea after all.
Written by Roy Battocchio | Directed by Stu Berg
With:
Jack Kutcher ● Roger Kent Cruz
---
Week Three
May 18-19 at 8pm | May at 10 2pm
~
Faith Country
The Faith County Fairgrounds in Mineola " A town somewhere in the middle of nowhere in the "South"
– A place where beehive hairdos are still the rage and Saturday nights are reserved for the tractor pull in nearby Pickler.
Written by Mark Landon Smith | Directed by Stu Berg
With:
Layla Galloway ● Katie Adler ● Nikki D'Amico ● Magda Harout ● Seemah Wilder
Yancey Dunham ● Dianne Travis ● Cal Bartlett ● Don Moss
---
Week Four
May 25-26 at 8pm | May 27 at 2pm
~
What Happened On The Subway
Two sisters; one ape.
Written by Lloyd J. Schwartz | Directed by Lloyd J. Schwartz
With:
Jeanine Anderson ● Barbara Mallory
~
Ms. Furr / Ms. Skeene
Written by Gertrude Stein | Created and Directed by Laura James
With:
Laura James
~
What Can We Say To Her?
After the play, you just want to get away.
Written by Lloyd J. Schwartz | Directed by Lloyd J. Schwartz
With:
Kathie Barnes, Anne Leyden, Bill Sehres
~
The Nameless One
Sometimes things just happen and in its apparent simplicity is its complexity. Or maybe it's the other way around
Written by Abbott Alexander | Directed by Abbott Alexander
With:
Abbott Alexander
---
Week Five
June 1-2 at 8pm | June 3 at 2pm
~
The Tango Singer
The true story of famous tango singer Carlos Gardel & partner Jose Razzano, involved with the same passionate woman at the beginning of the
20th Century in Buenos Aires' brothels & bars. The menage-a-trois climbs social echelons and triumphs in Europe, exporting tangos
to Parisian High-Society, risking friendships, testing loyalty and weighing the price of success.
Written by John R. Lacey | Directed by John R. Lacey
With:
Saratoga Ballantine ● Agustin Coppola ● Daniel Keough ● Victoria Lavan ● Barbara Perry ● Anibal Silveyra
Choreography: Alicia Savio | Musical Direction: Victoria Lavan