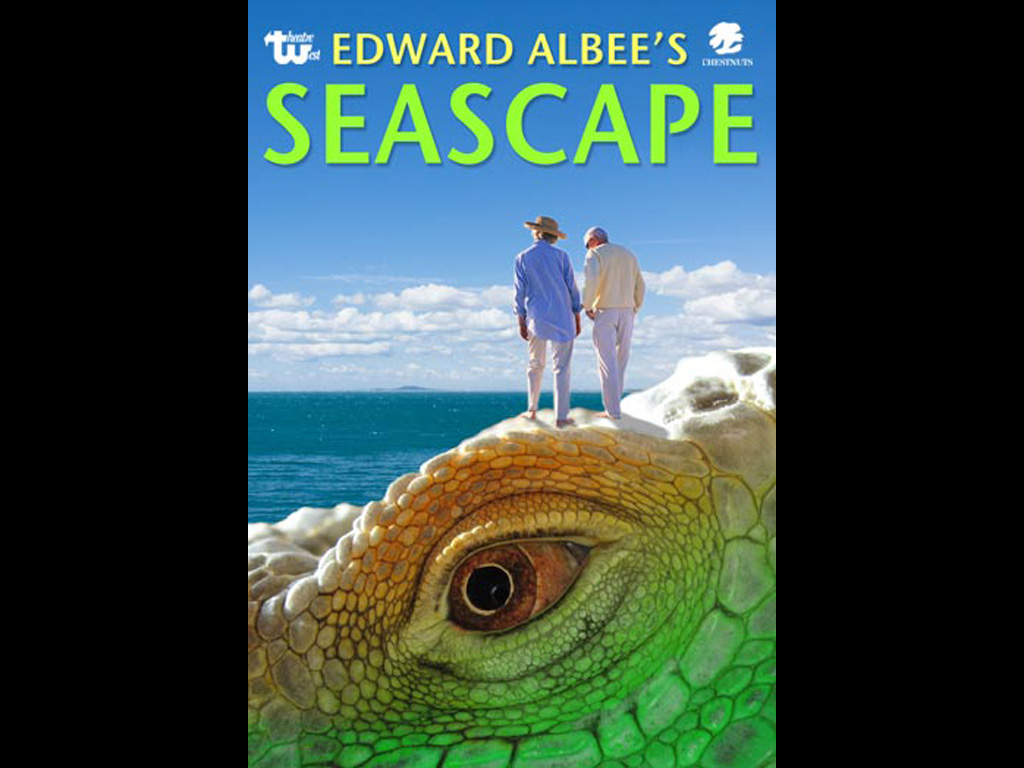 Seascape
Edward Albee's Pulitzer Prize Winning Comedy
September 9th - October 16th, 2011
Call (323) 851-7977
Produced and Directed by Charlie Mount
with
Paul Gunning ● Arden Teresa Lewis ● Alan Schack ● Kristin Wiegand
Stage Manager: Roger Kent Cruz | Set Designer: Jeff G. Rack | Lighting Design: Yancey Dunham | Costumer & Make-up Artist: Paul Gunning
Sound Design: Charlie Mount | Artwork: Charlie Mount | Flutist: John Mount | Production Assistant: Neil Elliot | Photography: Thomas Mikusz
Chestnuts Producing Director: Charlie Mount
Theatre West Presents a Chestnuts Production
Chestnuts is the award winning producing wing of Theatre West dedicated to quality revivals of great plays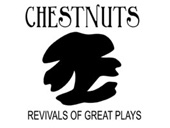 "Critics's Pick!"
~ Backstage West
"Critic's Choice! Albee's "Seascape" explores some of the playwright's signature themes in an unusually whimsical mode, albeit with typically sharp-edged wit and intelligence — qualities skillfully captured in Charlie Mount's enjoyable, handsomely staged revival for Theatre West."
~ The Los Angeles Times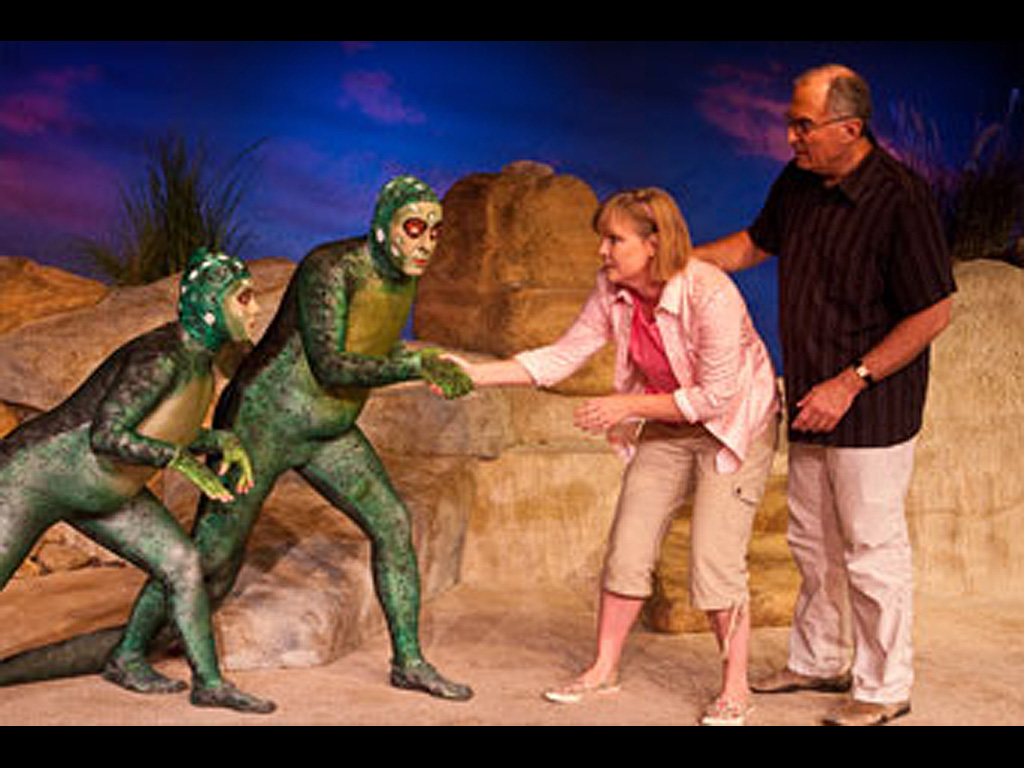 "Go! Performances here are solid under Charlie Mount's smart direction."
~ LA Weekly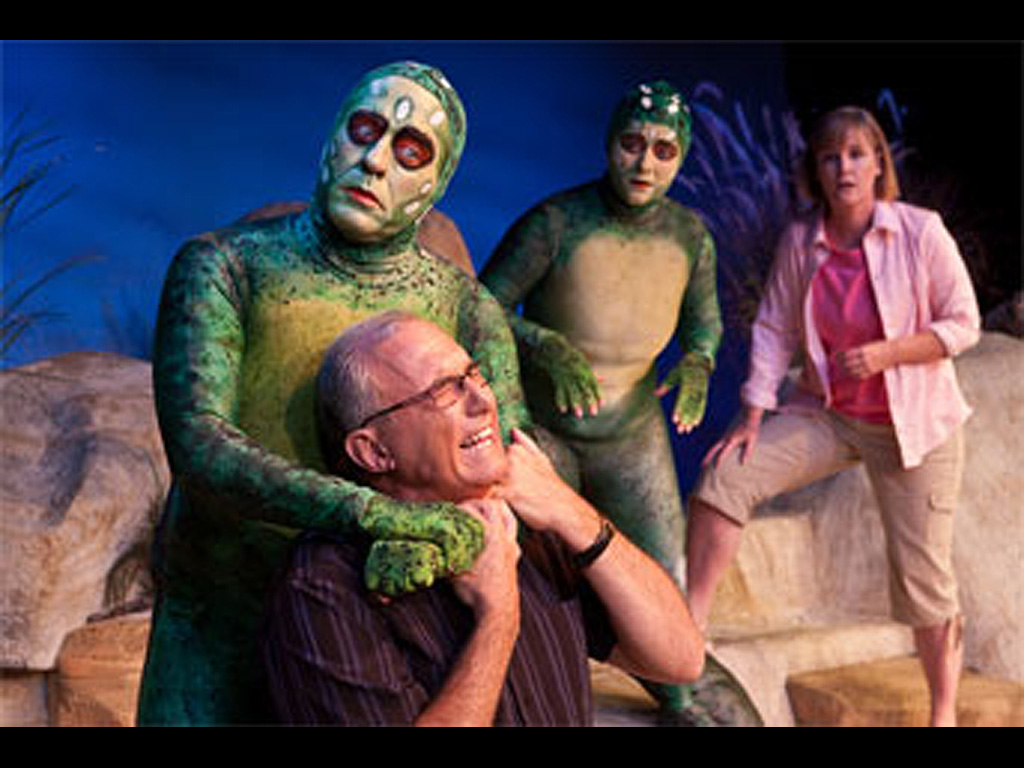 "The familiar is startling while the bizarre is cozy and comforting. The audience is expected to appreciate the unexpected. Our minds...spin and dance after this treat for the thoughtful theatergoer."
~ Backstage West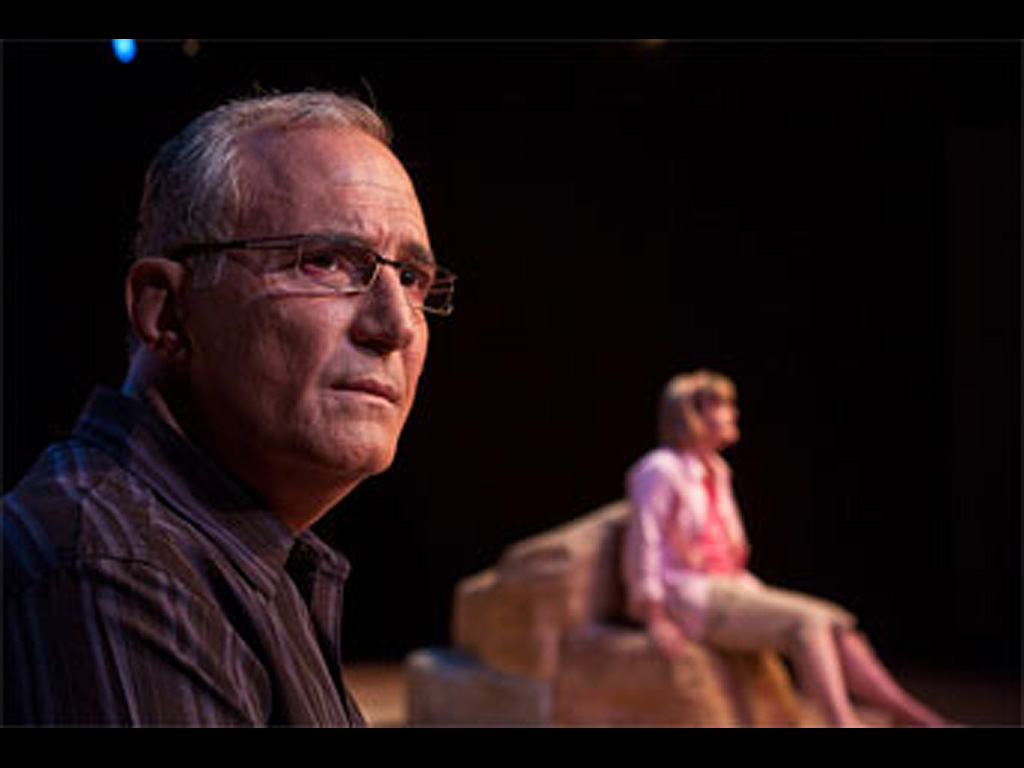 "This production combines humor, satire and cynicism into A POWERHOUSE OF THEATRE, earning a well deserved standing ovation for the cast on opening night."
~ ReviewPlays.com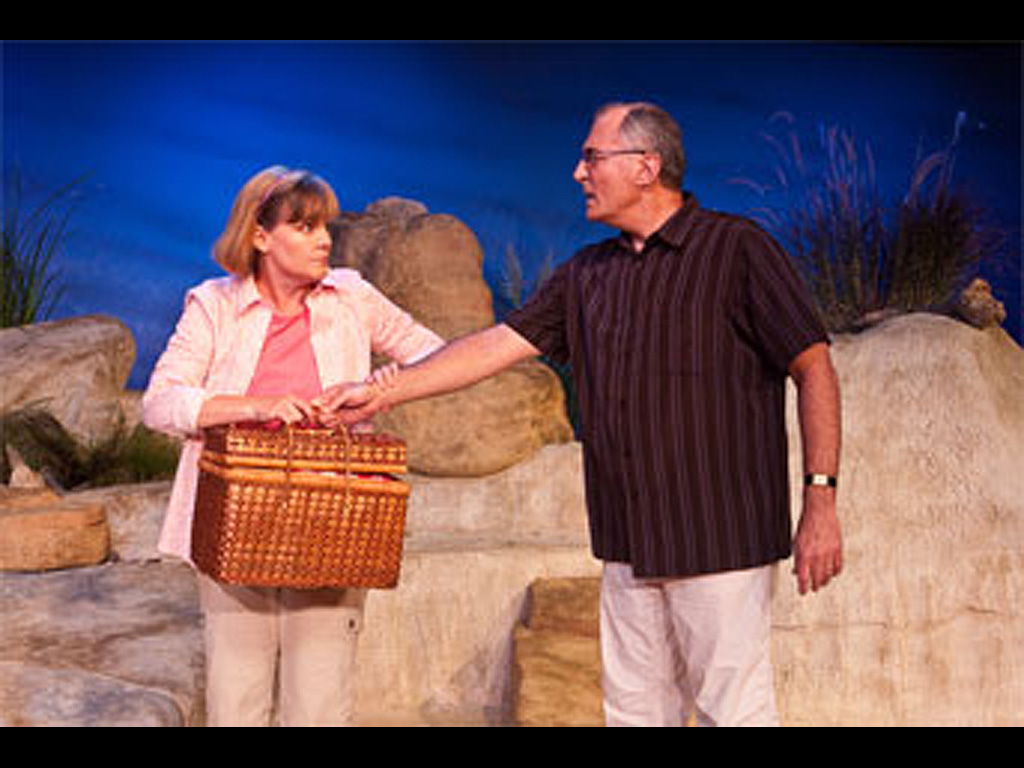 "A Remarkable Piece Of Theatre made 100% enjoyable and lucid by Theatre West's superb rendition."
~ Don Grigware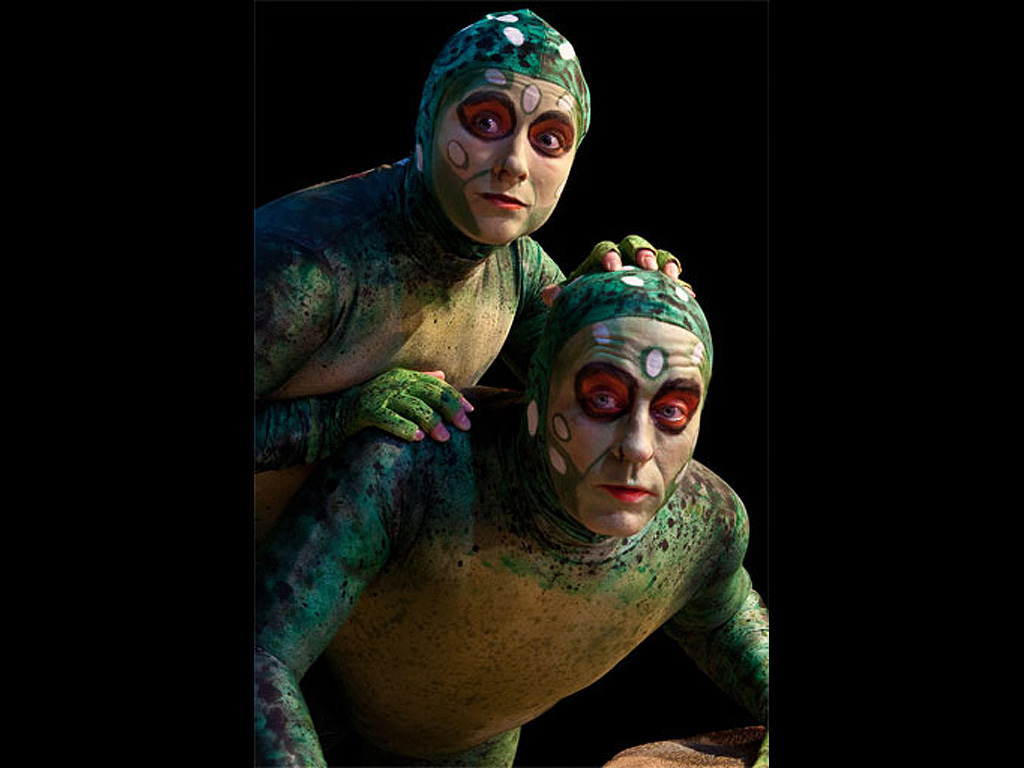 "The four actors are OUTSTANDING. Mount's direction is fluid throughout with perfect pacing."
~ Don Grigware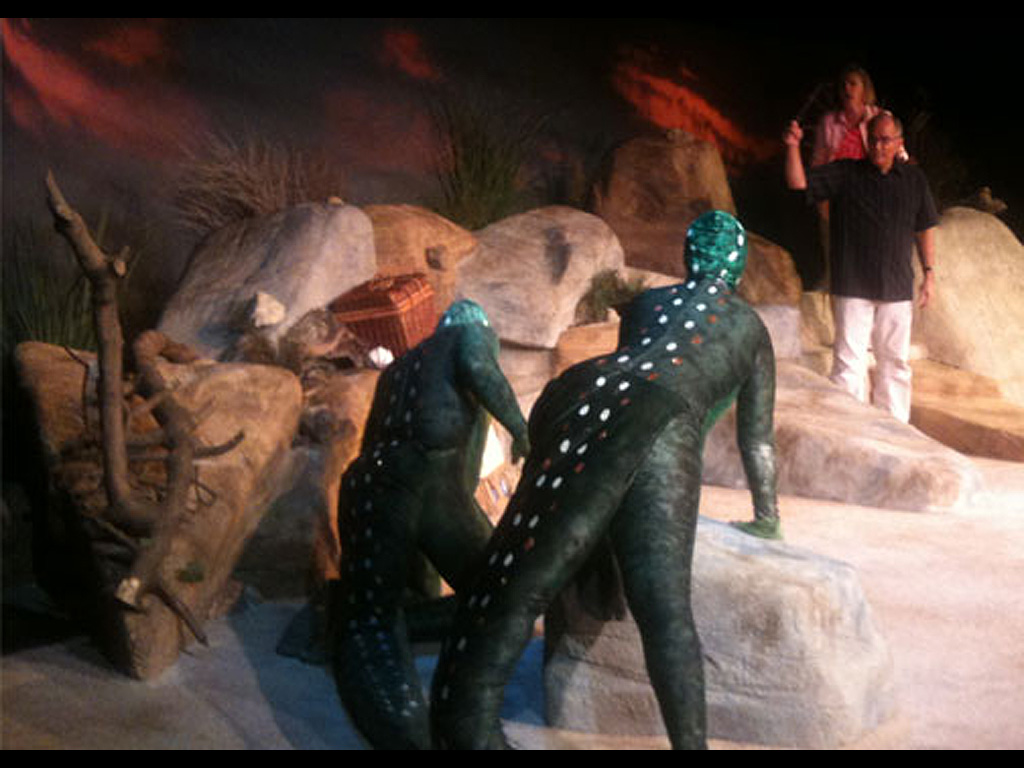 Review - Critics Pick!
Backstage West
Reviewed by Dany Margolies
This production starts with a whirling of the night sky and an inundation of ocean water. And then the lighting designer said let there be light, and we're on a sunny seacoast. Here, long-wedded couple Charlie and Nancy contemplate their future. Or perhaps it's the past. Edward Albee's 1975 play, whimsical and serious, tells anew an old-chestnut story of humankind. Nancy encourages change; Charlie finds comfort in stasis. When a pair of lizards pops onto the shore, desiring a life more exciting than that spent with fish, we get Albee's thoughtful dialogue about who we are and how we progress. In Charlie Mount's direction, the familiar is startling while the bizarre is cozy and comforting.
Playing Charlie, Alan Schack lives honestly in this absurd world. His Charlie has indeed been in a longtime marriage to Nancy, and he is now indeed at the shore, sensing the environment. Observe the actor as he follows the conversation in his head and speaks when Charlie's thoughts are ripe. Arden Teresa Lewis gives Nancy a merry urgency that propels the action. With the arrival of lizards Leslie and Sarah at the end of Act 1, the play shifts into absurdist mode.
Kristin Wiegand's homework pays off, as she completely and satisfyingly nails the physicality of her lizard. Paul Gunning's lizard, meanwhile, is imperious and rudely insistent on propriety and yet endearing. (Gunning also designed the lizards' realistic yet enchanting costumes and makeup.) The audience is expected to appreciate the unexpected: The lizards cluck and hiss and pant, yet they are articulate and inquisitive. And yet, some might say expectedly, the females instantly want to be cordial, while the males are quick to assume battle stances.
Jeff G. Rack's rocky-seaside set invites us in and keeps us there. Mount's sound design captures the delights of a breezy vacation day. (And is that faint snoring we hear as a possible framing device for the play?) Yancey Dunham's lighting opens the play as the humans are awash underwater and ends in stars spinning and dancing. Our minds, too, spin and dance after this treat for the thoughtful theatergoer.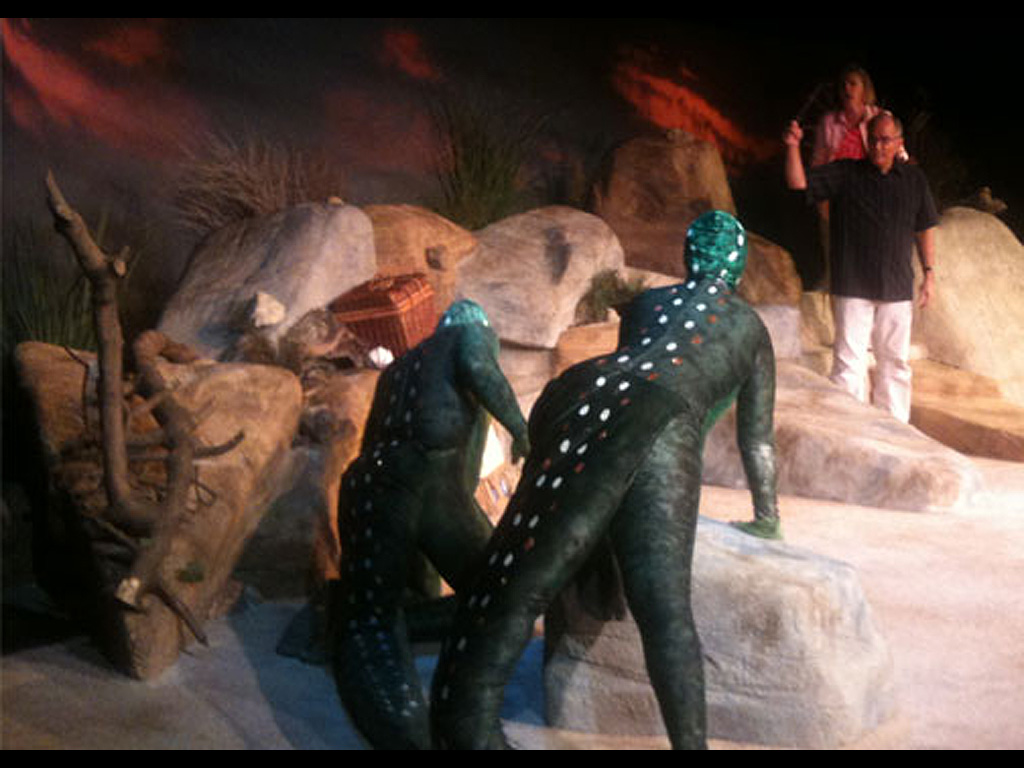 Review - Critic's Pick - 5 Out Of 5 Stars
Don Grigware
Edward Albee won a Pulitzer for Seascape in 1975, and there is little to question. Concerned with uneven communication in relationships - Who's Afraid of Virginia Woolf? and A Delicate Balance before it - Seascape shows a married couple at odds on how to spend their retirement. Hardly dysfunctional like George and Martha in Virginia Woolf, Nancy (Arden Teresa Lewis) and Charlie (Alan Schack) have quite a pleasant relationship, but, as in most, one mate eventually gives in to old age while the other wants to keep living. Charlie prefers "to rest" whereas Nancy wants to explore new horizons as "we've earned a little life." Instead of introducing into the game another 'normal' couple like Nick and Honey in Woolf?, Albee throws caution to the wind, brilliant writer that he is, and pits Nancy and Charlie against two members of the animal kingdom, lizards Leslie (Paul Gunning) and Sarah (Kristin Wiegand) with hilarious, thought-provoking and exciting results. Theatre West is mounting a handsomely tailored and thoroughly intelligent production of Seascape, based on the trimmed down 2005 New York version. Direction, cast and production values are all first-rate.
Albee never ceases to amaze in this play. First, the introduction of fully-grown adult lizards on a remote beach- who can speak English - makes one question whether what we are witnessing is a fantasy. Even the characters question if indeed they are alive. After the initial fear passes, the couples start chatting about sex, procreation and the quality of marriage. We awkwardly accept - practically on human terms - the lizards as another couple. The entire scenario is terribly funny as are many of the exchanges, but it's the unexpected outcome that brings more pleasure than the comedy. How animals adapt to change is really not that much different from the manner in which human beings do it. We can all learn from each other. Evolution proves that our higher life form is superior, how do we know for sure without an experience similar to the one that Albee provides? His allegory is unusual, miraculous and completely life-affirming.
The four actors are outstanding. Lewis is luminous as Nancy, seizing every moment to try to transform her marriage. Her Act I monologue in which she confesses her past innermost feelings, is particularly worthy of note. Schack is equally wonderful as he gradually adapts to unforeseen circumstances and makes some life-changing commitments. Gunning and Wiegand are both marvelous not only with the physical demands of the roles but also in expressing the slow but keen progression to emotional understanding. Mount's direction is fluid throughout with perfect pacing. Jeff G. Rack's beachfront set, Yancey Dunham's lighting and Mount's sound design are all finely tuned.
Seascape is Albee at his most inventive. It is a remarkable piece of theatre made 100% enjoyable and lucid by Theatre West's superb rendition.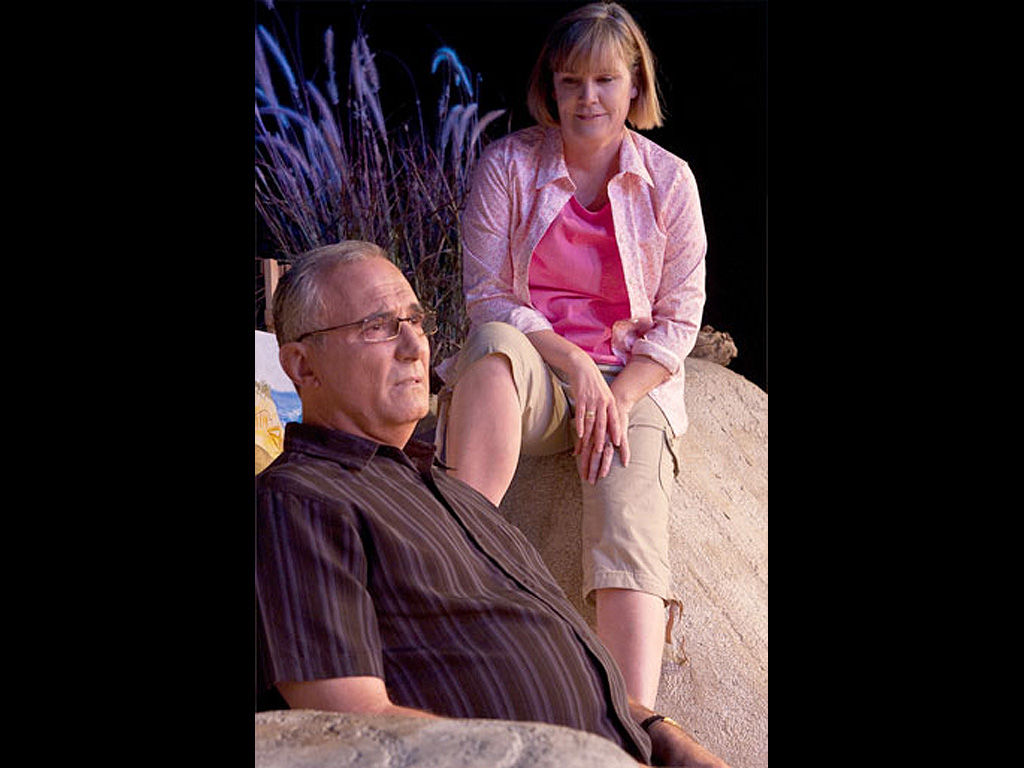 Review
The Tolucan Times
Reviewed by Pat Taylor
A wildly unique and eerie comedy with endless "food for thought," and an in depth look at long term commitment… I loved every moment of this one! Brilliantly written by Edward Albee, he earned the second of his three Pulitzer Prizes for Seascape in 1975. (The other two were for A Delicate Balance in 1967 and Three Tall Women in 1994.) Under the impeccable direction of Charlie Mount, a flawless cast of four perfectly chosen actors captivated the audience on opening night, inspiring a well deserved Standing Ovation. As the story begins, a long and loyal married couple, having raised their family and become grandparents, are now on their own, and contemplating retirement. Relaxing together on a rocky sand dune near the beach, they discuss their enduring partnership, and their hopes and dreams for "life after retirement." Nancy wants to travel to one oceanfront destination after another… forever. Charlie, a bit of a passive curmudgeon… wants to sit back and do nothing. He says, "We've earned a little rest"… She says, "We've earned a little life." Her hunger to taste the "wonders of the world"… and his desire to "veg" on the couch, spurs a revealing verbal retrospective of their relationship… past, present and future. Being observed by another couple… life as they know it is about to take an "otherworldly" turn! This other couple is not human… but highly evolved, English speaking lizard people, who emerge from the sea to study them. The scene where Sarah and Leslie appear (in all their reptile wonder), as frightened of Charlie and Nancy as vice-versa… is ingeniously hilarious! Paul Gunning's eye popping lizard costumes and makeup are beyond award worthy! Gunning as Leslie (the lizard male) and Kristin Wiegand as his beloved Sarah, are unforgettably mesmerizing, in physically demanding roles… with a lot of laughs and much heart. As Nancy, Arden Teresa Lewis is heart wrenchingly focused, and as her less emotional hubby, Charlie, Alan Schack is also very strong. This is "theatre"… and ensemble camaraderie at its very best! Although I savored every wondrous aspect of this unique play, I must confess… the second act got a little confusing for me, on the heady subject of the "process of evolution." I hope to find the time to see this play again… and highly recommend that all of you book seats for it this very minute! A gorgeous set design by Jeff G. Rack, effective lighting by Yancy Dunham, and chilling sound by Charlie Mount… vividly set the mood for this cerebral sea faring journey.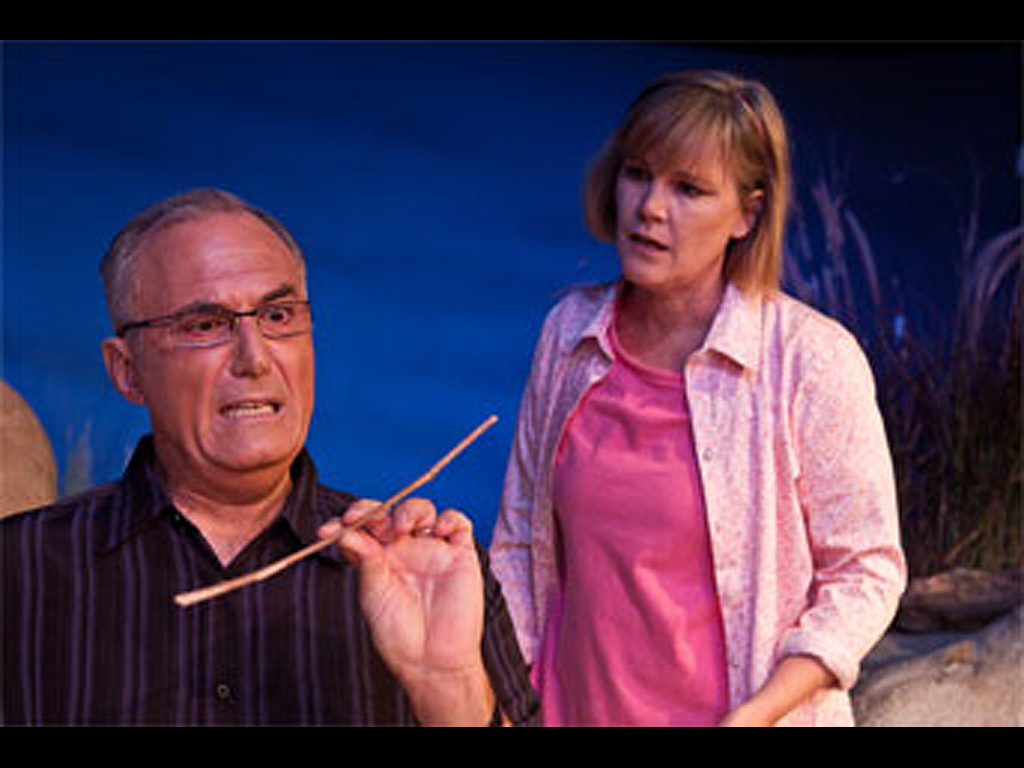 Review - Recommended!
Review Plays.com
Reviewed by Jose Ruiz
Edward Albee's provocative Pulitzer Prize winner splashes onto the stage at Theatre West where director Charlie Mount deftly moves a cast of four through an extraordinary and superb production of one of Albee's more absurd and whimsical offerings. As a master of the Theatre of the Absurd, Albee brings us one of the more absurd premises of his plays; human sized lizards seeking a life style change and finding humans with whom they can discuss their plight. As presented by the Chestnuts company at TW, this production combines humor, satire and cynicism into a powerhouse of theatre, earning a well deserved standing ovation for the cast on opening night.
In a beach somewhere, Charlie and Nancy are relaxing as they have firmly entered the portals of middle age and are experiencing a definite "now what?" feeling. With the children grown and retirement at hand, she wants to travel the world bouncing from one beach to another and spending their lives in the sand, the wind and the waves. He wants to do nothing; he wants to be left alone and just sit and contemplate. This infuriates Nancy and she tries in vain to badger him to do some of the things he liked as a youth – like going underwater and staying a long time. He'll have none of it, and so begins a series of arguments that volley back and forth which sometimes become heated and borderline ugly (a little like his other play, "Who's Afraid of Virginia Wolf?").
They bring up sensitive issues – things that couples often want to say to each other but hold back to avoid confrontation. Here they don't care about confronting the issues and at times the badgering gets very tedious. Arden Teresa Lewis and Alan Schack have the knack for playing a couple that still loves each other but are tired of the everyday tedium of putting up with their little whims and quirks . . . so they argue instead. Just when you're about to say – "enough already!" up pops a green face in the background almost stopping the show.
When Paul Gunning first shows up as Leslie, the Lizard, the audience holds its collective breath for an instant and when Kristin Wiegand waddles in as his mate Sarah you just know something special is coming up. The costuming for the lizards by Paul Gunning is inspired and should be a shoo-in for honors at Ovation time. This is an absolutely remarkable set designed by Jeff G. Rack, with big boulders and rocks, a wide view of an ocean and sky in the back and a beach in the front where the actors have an excellent space to maneuver and build their characters. And build they do! Albee wrote some great dialogue between the lizards and the humans and Charlie Mount has his actors develop the tension and apprehension like little sand blocks which are delicate and fragile but could become solid keystones with the right mix.
The lizards are fascinated by the humans and their ideas – the humans are at first terrified of the lizards but slowly barriers break and trust starts to find its way into both species as they discover that deep down they may have the same concerns. Concepts of emotion (Descartes) and of evolution (Loren Eisley) are brought up by Charlie in an effort to teach the lizards who are curious and uniformed on the ways of humans.
There is a high level of frustration from both groups because basic concepts that are ingrained in humans are completely foreign to the lizards. When Charlie asks Sarah what she would do if Leslie went away forever she breaks down and cries inconsolably. Charlie wanted to show Sarah about emotions and also take a dig at Leslie for often contradicting him but his question prompted Leslie to attack him for making her cry. It is a brute response to a question that had a double edge a concept not known to the lizards. The two females seem to empathize more readily – the two males spar constantly. The lizards who were so curious about humans soon decide that perhaps they're better off going back since they see no advantage to changing their life, but Charlie offers to help them arguing that "we are what you will eventually become".
While this may not be the best thing that can happen to lizards, it does show a glimmer of hope that each group can find a new reason to exist rather than settling for the fatalistic existence of just going from day to day. Whether lizard or human the story clearly shows that no one is fully satisfied with what they have and always seeks something new – but if they ever succeed in getting it they soon tire of that and want something else. The lizards don't quite understand why this is so – they just know that it is. The humans make up reasons why they need to change, but seldom have good reasons for it.
You don't need to rationalize why you should see this play. It will make you laugh, it may frustrate you and it may make you think. To paraphrase a French philosopher – It Is! Therefore you Go!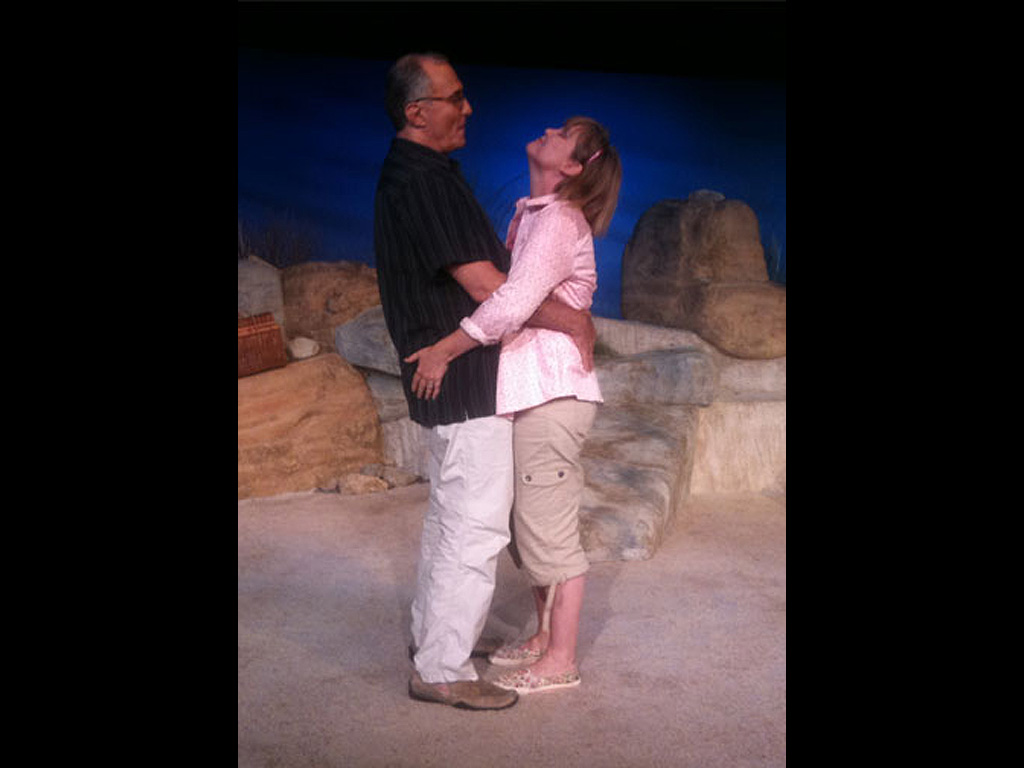 Edward Albee's "Seascape" unfolds at a beachside picnic. Nancy is thrilled and looking forward to retirement along with her husband. Oh, the places they'll go - a couple of beach bums living along the famous coasts the world has to offer.
There is just one tiny obstacle: Charlie, her husband, does not want to travel. In fact, he doesn't want to do anything with his life after retirement. This, of course, does not sit well with Nancy and so we're thrust right into familiar territory - one that only Edward Albee can guide us through, albeit, with a bit more sense of humor than in most of his previous plays. There's talk of infidelity, mortality, the roles of a husband and wife, and sex. In other words, we're experiencing nothing new about the relationships between human beings.
That is, until they meet Leslie and Sarah. After an initial period of apprehension between the two couples, they settle into one another and soon learn that both share similar experiences. They compare notes, so to speak, -- How many children do you have? etc. -- Nancy sees them as a reflection of their younger selves. If not for the fact that Leslie and Sarah are human-sized lizards, this would be beach blanket version of "Who's Afraid of Virginia Woolf?"
"Seascape" has as much to do with Darwin's interpretation of evolution as it does with the evolution of relationships, human or otherwise. Theatre West's production handles these major themes with complete understanding, beginning with a dune set (created by Jeff G. Rack.) There are no signs of human habitation here, other than what Nancy and Charlie bring in their picnic basket. It is as primordial as Albee's metaphor: a stage set for primordial goop to slither onto the shore and begin the process of evolution right before the audience's eyes.
Occasionally, we're reminded that this is indeed set in modern times, cleverly suggested by Yancey Dunham's lighting design and Charlie Mount's sound design. Mount, who also helms the production's direction, takes an organic approach, keeping it natural and unobtrusive, allowing the actors to play out the physicality.
Paul Gunning and Kristin Wiegand are convincing lizards adorned in Gunning's fantastic costumes and makeup. Still, their humanity - if that is indeed the correct word to use here - shines through, never delving into parody. Arden Teresa Lewis' Nancy adds a touch of regret to her character while still brimming with hope, while Alan Schack's Charlie plays off his complacency with dry wit.
It is not often that Albee's Pulitzer Prize winning play gets such a near-flawless production mounted in the Southland. All the pieces fit together, making this an enjoyable treat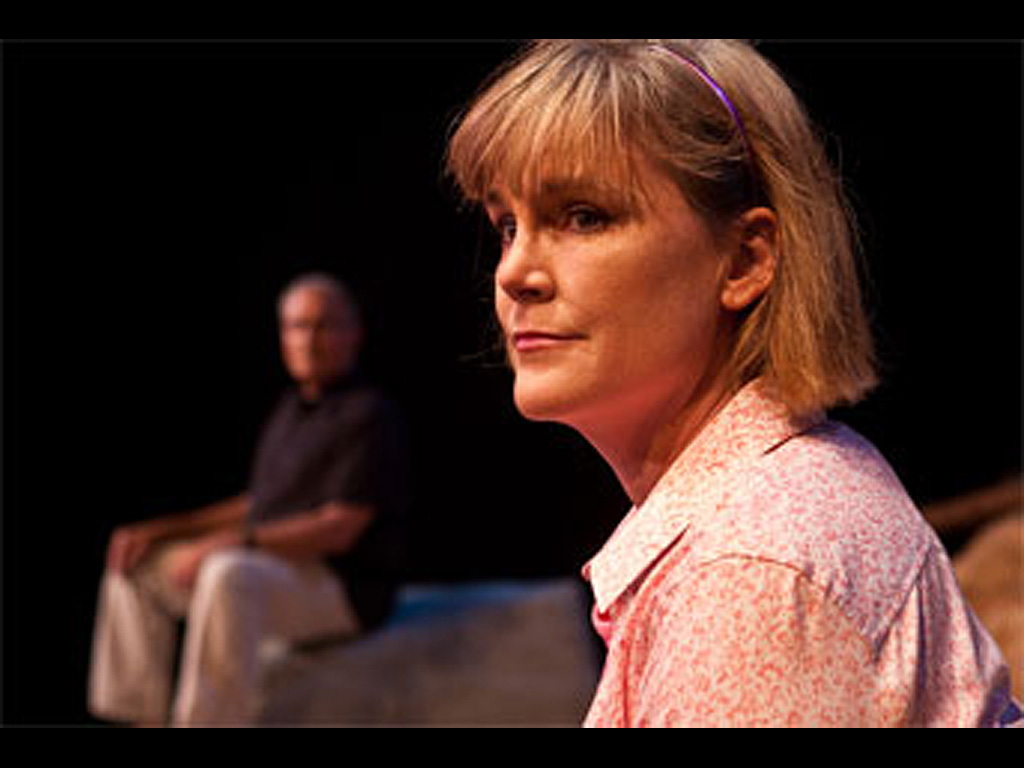 Review
Riveting Riffs
Reviewed by Ethan Silver
The beach is a compelling setting for a play. The waves lapping against the shore and the cool breeze make for a perfect, relaxing setting for a vacationing couple. Of course, this would be true if the couple was actually getting along, but in Edward Albee's Pulitzer Prize winning play, Seascape, Charlie (Alan Schack) and Nancy (Arden Teresa Lewis) are not exactly arm-in-arm. Now in their senior years, Charlie wants to take some well-deserved time off after leading a very active life and Sarah wants to take in everything that the beach and life have to offer. A nice day at the beach turns into an all-out discussion about their declining relationship, until they are interrupted by Leslie (Paul Gunning) and Sarah (Kristin Wiegand) who arrives as lizards. Yes, lizards. Having evolved past others of their kind, Leslie and Sarah decide to leave the sea behind and venture onto land, but when they encounter the fighting beachside couple, a shocking dose of reality may change everything.
This is a difficult piece for an actor, because the plot purposely takes the characters through several emotional boomerangs to an absurd degree, obscuring any hope for a defined character arc. The cast does a fine job of playing to reality in a situation where the reality of the play lies in a dimension outside our own. Lewis hits her mark as Nancy, the loquacious dreamer, and Schack's portrayal of the complacent Charlie is well grounded and dead on. Without solid actors in these roles, the play would fall falter, but the true gems of the piece are the lizards, Leslie and Sarah. Gunning and Wiegand are phenomenal as Leslie, the cautious and dominant male lizard, and Sarah the curious and experiential female. The beautiful costumes (Paul Gunning) give the audience an impressive visual and when combined with Gunning and Wiegand's commitment to body language, movement and acting the audience is treated to a pair of convincing talking lizards. This is imperative to the play, for if these characters are not believable, the story loses all integrity.
Act I gives the audience an understanding of the rocky state of the relationship between Charlie and Nancy, mostly from Nancy's point of view. This exposition continues until just before the end of the act, when the couple has their first encounter with the two lizards. The contrast between the drama leading up to this moment and the absurdity of the lizards' appearance was so stark that it had the audience in stitches. The laughs continue with the opening of the second act, igniting a spark onstage between the actors. This dynamic soon changes to a more serious tone when miscommunication ensues and boundaries are pushed, culminating in an inter-species brawl and some dramatic realizations for all. Fortunately or unfortunately, all things much evolve whether one likes it or not.
Seascape is a difficult play to classify. Although it has comedic moments (including a hilarious introduction of the two species) the production is generally dramatic with strong elements of the absurd. Playwright, Albee, is known for his somewhat less-than-positive view of the human condition which is quite evident in this piece and therefore, not recommended for children. The play is dialogue heavy and delves into both adult and abstract themes such as mortality, love, complacency, marriage and the evolution thereof. It is recommended for those who enjoy a good absurdist think piece as well as for an older demographic with relatable life experience similar to that of the characters. Such audience members were heard leaving the theater uttering compliments such as, "excellent" and "very well done."
The creative team deserves commendation as the production is beautifully staged thanks to Producer/Director/Sound Designer, Charlie Mount. Jeff G. Rack's set design provides a realistic beach environment with multiple levels, allowing the actors plenty of usable space. All is well lit with the appropriate variations, thanks to a lighting design by Yancey Dunham.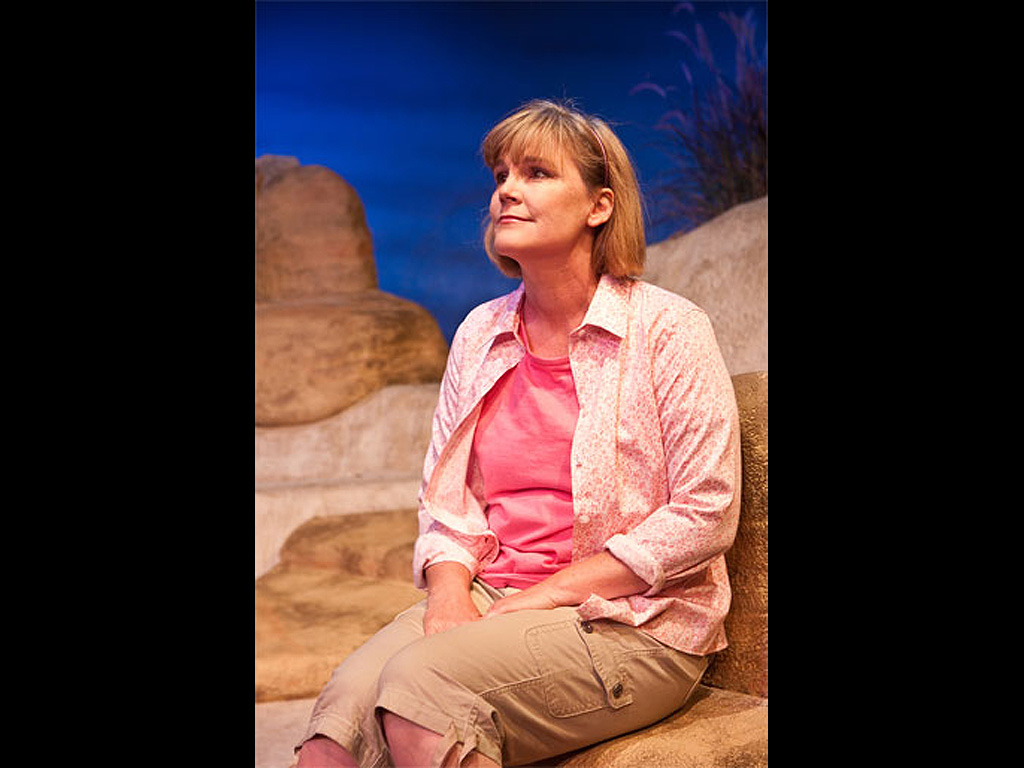 Review
SoCal.com
Reviewed by Jamie Gall
As you enter the setting of Seascape, a play written by Edward Albee, you are greeted upon a beautiful set of rocky dunes, rocks, and a picnic setting on the beach. Ocean sounds are being played in the background, and then it all goes black, and enter Nancy (Arden Teresa Lewis) and Charlie (Alan Schack), a middle aged couple on vacation questioning how to spend the rest of their time together, as a couple. A conversation continues between them about life, love, and marriage, something we can all truly relate to.
Charlie's character can be related by many men who have worked through their entire life, and when they finally reach retirement just want to sit back and enjoy the concept of doing nothing. Whereas Nancy's character can be related by many a women in the fact this is their opportunity to explore, try new things, and embrace the rest of life. It encompasses the true differences between men and women and what makes a couple truly a couple.
Charlie's character was captured perfectly by Alan Schack. A favorite line in the play was when Charlie said, "I'm happy." With a menacingly frown towards his wife. And Nancy's character played by Arden Teresa Lewis marked the epitome of a nagging wife. I say this in an endearing way, of course. You literally were hanging on Charlie's every word as he spoke because you knew it'd end up being something funny.
And then enters Leslie (Paul Gunning) and Sarah (Kristin Wiegand). When Leslie first enters the stage you are fixated on Nancy and Charlie during a down moment between the two, so you welcome the laugh of something new and different.
The play turns towards laughs and curiosity as you truly learn who Leslie and Sarah are, and you embrace the fun excitement of encountering new things. What are Nancy and Charlie to Leslie and Sarah? Are they safe, are they friendly?
Between the two couples you go on a journey of how we couple, rear children, stay dedicated to the ones we love, and the faith we have for the future. We are also reminded of the journey of evolution, and how we have come to be.
And, in the end, it becomes Leslie and Sarah's turn to evolve through life, together. If you're curious as to what Leslie and Sarah are, you must come down to Theatre West and see the play for yourself!