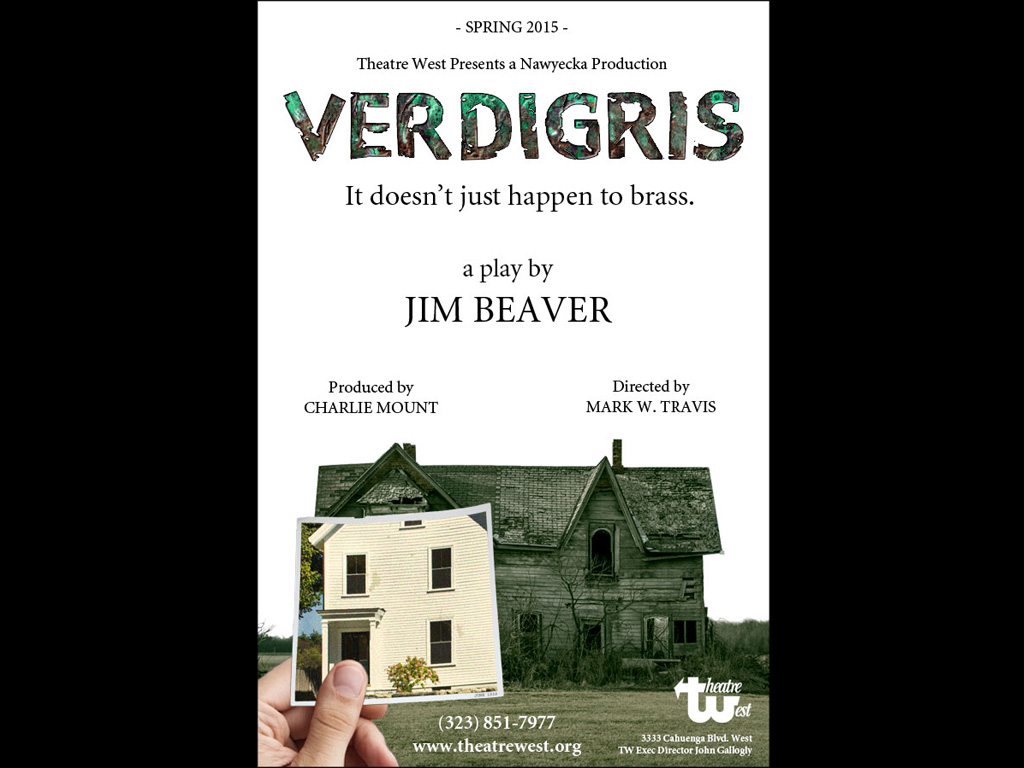 Verdigris
Theatre West Presents a Nawyecka Production – The 30th Anniversary Revival of our 1985 Hit by Jim Beaver
A can't-do life, but a can-do lifestyle. Margaret Fielding's entire adult life has been spent in a wheelchair. She can barely move a muscle. But that doesn't stop her from throwing the lives of a half-dozen people into the air and twirling them like saucers in a circus act. "Verdigris" can be defined as corrosion. But it also glows in beauty.
Directed by Mark W. Travis | Produced by Charlie Mount, Jill Jones & Arden Teresa Lewis
Original Music Composed and Sung by Naomi Caryl
With
Katie Adler • Cal Bartlett • Jim Beaver • Adam Conger • David Goldstein • Ian Lerch
David Mingrino • Chloe Rosenthal • Sheila Shaw • Corinne Shor • Dylan Vigus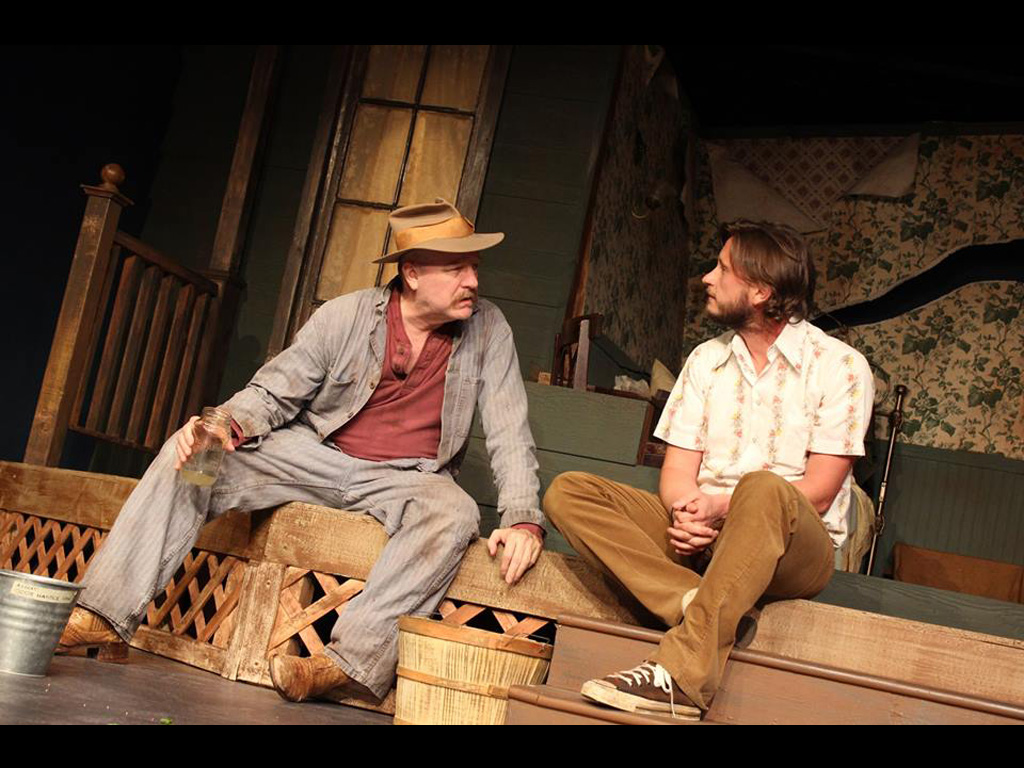 Stage Manager: Roger C. Cruz | Set Design: Jeff G. Rack | Lighting Design: Yancey Dunham | Sound Design: Charlie Mount
Costumes: Marjorie Vander Hoff | Assistant Stage Manager: Benjamin Scuglia | Assistant to the Producer: Ernest McDaniel
Assistant to the Director: Caroline Lindy | Graphics: Doug Haverty and Charlie Mount
"CRITIC'S PICK — Verdigris is perhaps the best production I have ever seen at Theatre West. Great writing, great direction and superb acting make it a hands down hit!" - Grigware Reviews
"The funny & poignant play well directed by Mark W. Travis takes place in small town Edgar, Oklahoma, in 1972 and was first mounted over 30 years ago to great reviews. I think this rebooted version is destined to great acclaim also… Fine work from an excellent cast." - Discover Hollywood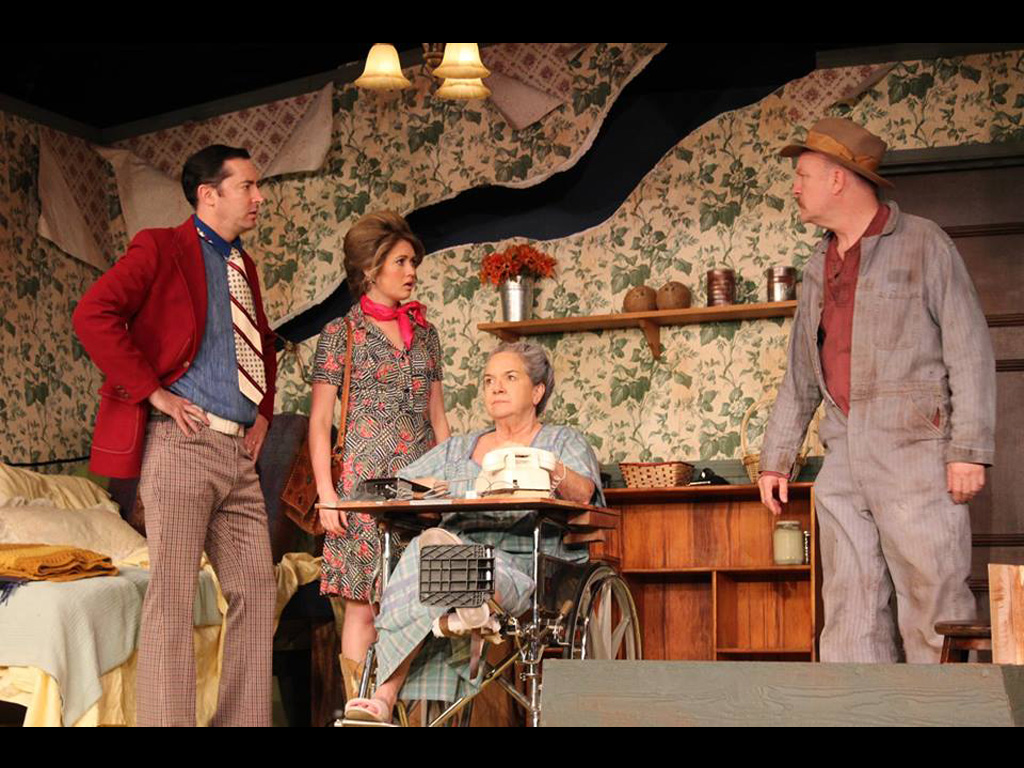 "An award worthy, CAPTIVATING and beautifully staged production, we were entranced from start to finish! A wonderfully involving, and touching production!" - The Tolucan Times
"That right there is the true beauty of this production. It doesn't feel like a play. It feels like an interaction with people that you might know in real life. So I tip my hat to you. You moved me enough to draw me out of retirement." - Kat Michels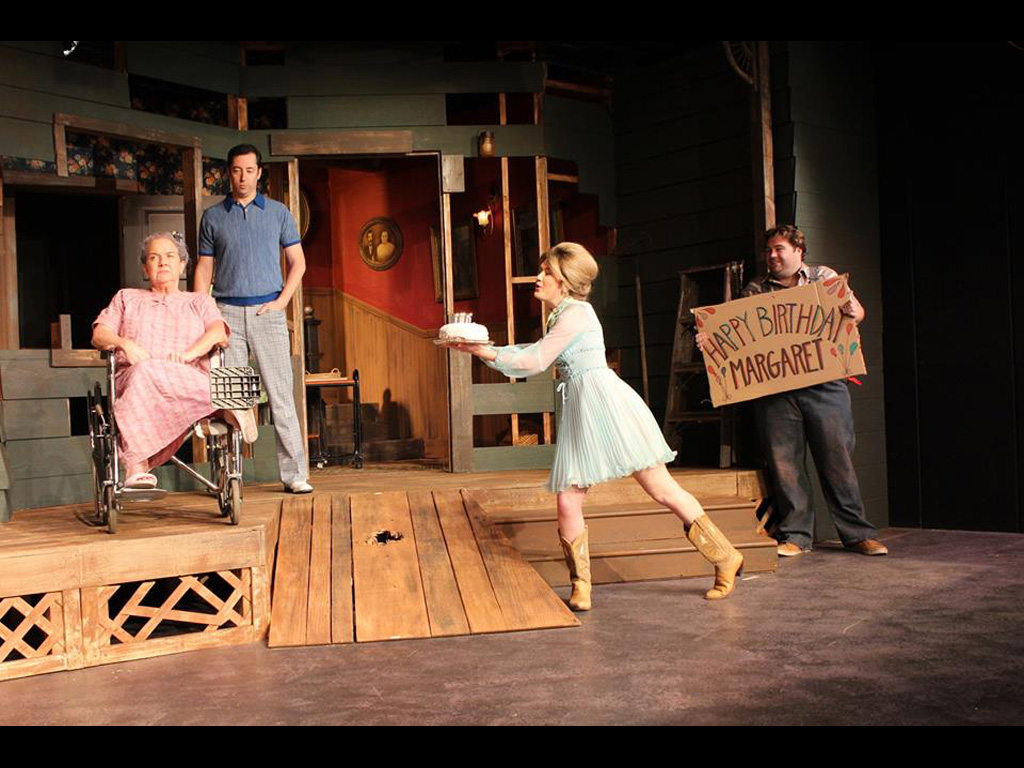 "There is magic happening at Theatre West with Verdigris, I cannot urge you enough to go and see this play, it is truly fantastic in every way it is possible for a play to be!" - NoHoArtsDistrict.com
"Jim Beavers Verdigris is a truly amazingly well written piece of theatre. Theatre West and Director Mark W. Travis gathered some of the finest talent around and gave this play a real honest and passionate heart. It will make you feel so many emotions – including lots of humor – and it will be something you will remember – and talk about – long after you leave the theatre." - The Geek Authority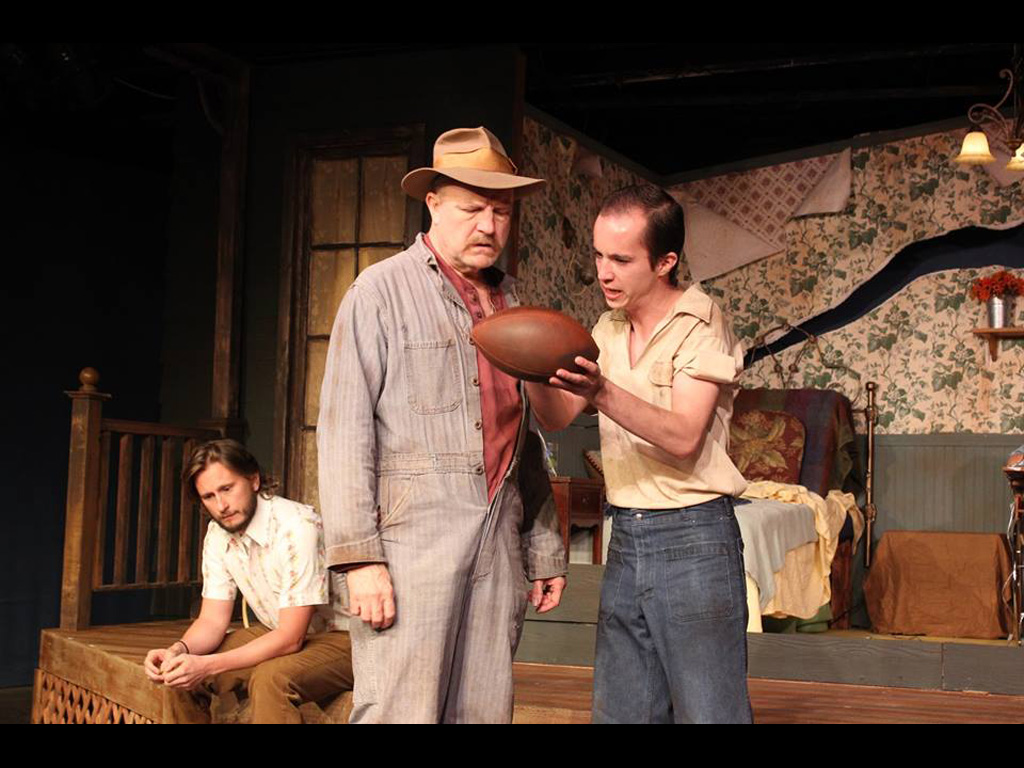 "It's been said that if Tennessee Williams had been writing about the west, he might have come up with Verdigris. I would have to agree. Verdigris is as close as a modern writer might come to the kind of poetic emotional mine field Williams so thoroughly waded and hurdled in his works. Writer/Actor Jim Beaver exquisitely squeezes the heart of it, for sure." - Gia on the Move
Thank You to all the Kickstarter Backers!
---
COMPANY MEMBERS
@SPNEurope
Abbe Longman
Adam Harris
Adelaid Luhman
Adele Sheets
Adrian Winter
Adrienne
Adrienne Sourbeer
Agnes Tomorrow
AK Paula
Akiko Abe
Alan K. Rode
Alena Karkanias
Alexis Carpenter
Alexis Kerlinger
Alexis Minsloff
Alicia Armas
Alicia Marie
Aline Guilot
Alisa Heflin
Alisha L Sigley
Alison Berg
Alithia Gavile
Allyson Callahan
AlopexPalefox
Alyssa Anne
Alyssa Gowin
Amanada Velderman
Amanda Bolton
Amanda Dumovich
Amanda Heersink
Amanda Kaczmarek
Amanda Moreno
Amanda Neils
Amanda Sowards
Amanda Toomey
Amber
Amber Davis
Amber Kohlenberg
Amiee Gibbs
Amy
Amy
Amy Austin
Amy Barcala
Amy Behringer
Amy Caise
Amy Duggan
Amy Manning
Amy Poirier
Amy Rushton
Amy Schmitz
Amy Waltz
AmyinSydney
Andrea Mayton
Andrew Parks
Angel Vega
Angela
Angela
Angela Ghataora
Angela Harris
Angela Horner
Angela Taylor
Angelique Landrum
Angi Dennett Taylor
Angie Lander
Aniela Schaefer
Anke Wegel
Ann Gersteuer
Anna Goodall
Anne Egelhof Ritchie
Anne Kirn
Anne Leyden
Annette Paluh
Annette Ward
Annie
Arden T. Lewis
Ari Liikamaa
Ariel A. Dawn
Arnoldo Mendes Neto
Ashley Blake
Ashley Davis
Ashley Faith
Ashley Franks
Ashley Pitts
Ashley Rae Solon
Ashley Sunday
Ashtin Odoy
Ashton Snyder
Aubrey Sessions Gokey
Axel van der Velden
Azzurra Mariottini
Babs Allred
Barb Moermond
Barbara Rew
Barbro-Katrin Didriksen
Becca Dinger-Tedder
Becca Kraft
Becki Errington
Becky Gilreath
Belenda Kemp
Bella Maake
Belle
Benjamin Ngiam
Bennet Marks
Bethan
Bettina Katzenberger
Beverly Keeton
Billie Jasso
Blaise Hartman
Blake Jenner
Bob Harrison
Bob OHara
BookGeekGrrl
Brancey Montgomery
Brandy Reed
Brandy Strait
Breana Goodwin
Brenna Biggi
Brian Ward
Brianna
Brianna Hurtado
Bridgette Perrers
Brigita Orel
Brihana Davidson
Brittany Bella
Brittany Gaerlan
Brodie Evans
Bruce & Sarah Alexander
Caitlin Bellinger
Caitlin Coughlin
Caitlin Stumpf
Caitlyn Henderson
Cam Dow
Cara H
Carla Ann Burwitz
Carla Irwin
Carlamaria Mata
Carol D
Carol Levin
Carol Louise Macintosh
Carol Pearce
Caroline Barnette
Caroline Moore
Caroline Wos
Carolyn Hohnke
Carolyn Wessling
Carrie Shedlock
Casey Bauer
Casey McKenzie Smith
Cassie Gilmon
Cat Goolsby
Cateland White
Catherine McGinley
Catherine Stead
Catherine Taylor Breen
Cathy Byrne
Chad Hantak
Chantal Desnoyers
Chantal Epskamp
Char-lene Knox
Charity Hendrix
Charity Owensby
Charlene Ricci
Chelsea Hyman
Cheri Ziegra
Cherish Blake
Chris Casey
Christine
Christine A. Lake
Christine Newman
Christine Patterson
Christine Peters
Christopher Banks
Christy Raz
Chunk
CJ McNair
Claire Cowan
Claire McGowan
Clare
Claudia Meinhardt
Claudia Rollins
Cláudia Wolff Apolloni Mendes
Clay Renfroe
Colleen Thomas
Connie Artero
Connor Warner
Consuelo Sanchez
Corky King
Cottet-Dumoulin Emile
Courtney Bolton
Courtney Gaudet
Craig E. Douglas
Cris Morgan
Cristina Anadon
Crysal Shourds
Crystal
Crystal B.
Cyndie-Lea Wang
Cynthia Pittman
Cynthia Poch
D. Burton
Dan Cauldwell
Dan Houghton
Dan Magaha
Dan Paul
Dan Pritchett
Dana Hunt
Dana Krawchuk
Daniela Anderson
Danielle Simmons
Darcy Richardson Miller
Dave Goldstein
David Basford
David Gavin
David Macy-Beckwith
David Nofire
David Shirley
David Speakman
David Tombesi-Walton
David W Dirling
David Williams
Dawn Chisholm
Dawn Lasky
Dawn Stiens
Dean Winchester
Deanie Gauntlett
Deborah Cowdrey
Deborah Magness
Deborah S. Stevenson
Debra K. Gallagher
Dee Dee Dube
Dena Porter
Denise Baker
Denise Mill
Denny Taylor
Derek J Lang
Derek Martin
Deva Schafer
Diana Pisani
Diana Thomas Watkins
Diane Gar
Diane Malstrom
Dimetrij Mc'Cloude
Dinah McClurg
dixiehellcat
Dolores Chavez
Donna
Donna
Dyann Burian
E
Eaman Tawachi
Eden Paul
Eleana Miriam
Elise Caitlin
Elissa
Elizabeth Buzard
Elizabeth G
Elizabeth Haberlin
Elizabeth Larson
Elke Makowski
Ellen Boucher
Ellen Cover
Ellen Permentier
Ellie Darcy-Alden
Elsie Duarte
Emese Makfalvi
Emily
Emily Flack
Emily Johnson
Emily M
Emily Moore
Emily Rose Wilkinson
Emily Tufeld
Emma Goldstone
Emma Jane Phillips
Emma Vincent-Winchester
Eric Benson
Eric Karvonen
Erica Dodd
Erica Sales
Erika Levy
Erin Haggarty
Erin Kirk
Erin Sanderson
Erin Schauer
Erin Spence
Erin Ward
Essi Rantala
Estefania
Fae Morgan
Fanny Maunier
Felicia Romagnoli
Fiona Gillon
Foo-Ling Yu
Frank Rodgers
Garret Dillahunt
Gary Grider
Gemma Lawrence
Geraldine Sandoval
Gerry Weaver
Ginny Milling
Glad Guardado
Gloria Erin Atwater
Gloria Shuri Henry
Greg Sayer
Gregory Davis
Gretchen McKee Ball
H Newcomb
Haley Ratica
Haley Rust
Harika Beste Ökmen
Hayley Gray
Heatheer Goebel
Heather Blair
Heather Carmody
Heather Hartwig
Heather Kelley-Thompson
Heather McMahon
Heather McNear Arellano
Heather Oliver
Heather Shields
Heather Sigler
Heather Thomas
Heidi Tandy
Helen Anne Baird
Hellen Bright
Hilary Glazer
Hillary Van Ness
Hiroko Fujita
Holly Conrad
Holly Marie
Holly Page
Holly Welford
Holly Williams
Holly Wilson
Hope Juber
Howard Green
Ida Christine Bøeng
Iorna Bowman
Isabel Gonzalez
Iseult Champion
Ivan Yakubovich
J
Jack & Kayla Lukehurst
Jack Prendergast
Jaime Killion
Jaime Winchester
James M Hay
James Sheleheda
Jami Buckely Schenkel
Jamie
Jamie Gardner
Jamie Hardwick
Jamie Witham
Jan Dunn Livingston
Jane Herman
Jane Jenab
Jane Nuttycombe
Janet Darmanin
Janet McDannald
Janet Pyers
Janice Klein
Janine Buhnerkempe
Janna Axline
Jaqui
Jason Inman
Jason Pitchford-Todd
Jeanette Handling
Jeanette Moya
Jeff Doucette
Jeff Lieske
Jeff Palmer
Jeffrey Peterson
Jen Rene Fukuzawa
Jen Rowland
Jenessa Rogers
Jenn Farrell
Jenni Powell
Jennifer Allen
Jennifer Aponte
Jennifer Cupp
Jennifer Flemming
Jennifer Gentsch
Jennifer Iden
Jennifer MacDonald
Jennifer Martin
Jennifer Riccio
Jennifer Skees
Jennifer Sutherland
Jennifer Tarr
Jennifer Taylor
Jennifer Tse
Jenny Mount
Jerrhonda White
Jessica Barnes
Jessica Conger
Jessica Lumby
Jill Beesley
Jill Pokrivka
Jill Shaw
Jilly Goss
Jim Beaver
Jo Cossor
Jo Garfein
Joan Kapuscinski
Joan Schmidt
Joanie
Joanna Dyer
JoAnne McCluer
Joany Kane
Jodie Cooper
Jody Worth
Joel Barnes
John Christian Revheim
John Cygan
John Leed
John Mount
John Overath
John R Strange
John Ward
John Yielding
Jonathan Looper
Jordan
Jordan Pittmon
Josh Funneman
Joshua Durrant
Jowen
Joy Regullano
Judith Robillard
Judy Lozano
Judy Race
Jule Heikki Krause
Julia Eason
Julie Copeland
Julie Copping
Julie Howard
Julie Oliver
Justin Kazmark
Kaara Moyers
Kaaren Rada
Kaelen
Kait Roberts
Kalen Finley
Kara Sunday
Karen
Karen
Karen Adie
Karen Broderick
Karen Elder
Karen Kondazian
Karen Ratay
Karen Ried
Karina McCullough
Kat
Kat Player
Katarinna (yes 3 n's)
Kate
Kate Holmes
Kate Kehoe
Kate Kuchler
Katherine Kelley
Kathi Seymour
Kathie Barnes
Kathleen Eeg
Kathleen Herzog
Kathleen Kuipers
Kathy Daley
Kathy Hayman
Kathy Huelsemann
Kathy Kulpers
Kati Nunn
Katie Cox
Katie Jo Cox
Katrina Griffiths
Kaurie
kayla ammons
Kazumi Zatkin
KC McAuley
Keith J Gayda
Kelley Carter
Kelli
Kelly
Kelly Fisher
Kelly Jones
Kelly Nichols
Kelly Rose
Kelsey Jordan
Keltie Morrow
Ken
Kendall Mayer
Kendall Thorman
Kendra Hockenberry
Kerina
Kerri D'Ambrosio
Kerry Glover
Kevin W. Kaller
Khai Krumbhaar
Kiera Mortenson
Kilian McMahon
Kim Dawson
Kim Page
Kim Pelot
Kim Rooney
Kimberly Patton
Kimberly R
Kimberly Valliere
Krista Martin
Kristin Bodreau
Kristin Goetz
Kristin L
Kristine Volmar
Kristy McPhereson
Kumutha Lane
Kyea
Kyle De Ram
L. Anna Lenz
Lacee Aderhold
Laetitia
Larry Bowman
Larry F Scott
Larry Poindexter
LaSalleUGirl
Laura Andrews
Laura Bozeman
Laura Doe
Laura Evans
Laura Ferejohn
Laura Milkalucy
Laura Murray
Laura Webb
Laurel Johnson
Laurel Phoenix, C Ht.
Laurel Phoenix, C Ht.
Lauren
Laurie Moore
Laurie Verlardi
Leah Cevoli
Leah Cohen
Leah Cornish
Leanne
Lee Morgan
Leslie
Leslie Dedona
LeWayne White
Lexi Hladik
Lianne Castile
Linda
Linda Palmer
Linda Schmid
Linda Underhill
Linda Young
Lindsay Hartman
Lindsay Warren
Lisa
Lisa Blanc
Lisa Bucci
Lisa Edmonson Tully
Lisa M Shamblin
Lisa M. Adams
Lisa Peterson
Lisa Riefer
Lisa Smith
Lisa Trompke
Lisa W. Lindblom
Liz Bodie
Lori Bearden
Lori Brueggemann
Lori Oberg
Louise Baxter
Lovisa Håkansdotter Wallin
Lydia Au
Lyn Palmer
Lyn S
Lynda Lung
Lynda Surran
Lynn Lamders-Dickinson
M W Schwartz
Machell Allman
Mack Thompson
Madeleine Marsh
Magadalena Juan Estelrich
Maghee Cain
Maie Harrell
Mairi Rodgers
Mandy Schnaare
Mara Copeland
Mara Crim
Marchia Abokie
Marcia Secaur
Maria Chappell
Maria Lumb
Marie Cashel
Marie Huffman
Marilyn A Case
Marit Raidma
Mark A Hall
Mark Matthies
Mark Tinker
Marketta Murray
Marsha Meek
Marsha Mylius
Marsha Robertson
Martin Arnold
Martine Holen Askildt
Marvin Holland
Mary Byers
Mary Dominiak
Mary Hillman
Mary Parker
MaryBeth Yates
Matt Ritchie
Matthew Beacham
Matthew Weekley
Meaghan Shea Malashewski
Megan Derr
Megan Smith
Megan Welch
Meghan Cooper
Meghan Milewski
Mehrac Aliyari
Melanie Mathov
Melanie Mayer
Melissa
Melissa Burke
Melissa Dwyer
Melissa Fugiero
Melissa Glenn Bratcher
Melissa Haney
Melissa Mital
Melissa Swanson
Michael Dallaway
Michael Helms
Michael Lane
Michael Sauter
Michael Schlesinger
Michael Titus
Michele
Michele Semin
Michele Williams
Michelle
Michelle Geary
Michelle Kennedy
Michelle Kisner Pace
Michelle L. Young
Michelle Pyper
Michelle Riendeau
Michellle Palser
Mickey Gammill
Mikaela Barre
Mimi Chen
Mindy Kinner
Miranda Daniel
Missy Hodge
Misty Carlisle
Misty Delporte
Misty Lemons Artist
Moira
Monica Ramsey
Morgan Kollin
Mrs Diana L. Sharp
MW Schwartz
Nadia Romanov
Nadya
Nalsey Tinberg
Nancy Meacham
Nancy Richardson
Nancy West
Nanea Hoffman
Natalie Brown
Natalie Hughes
Natalie Peachey
Nathalie Auoja
Neil Eckersley
Nic Smallwood
Nichole Crawford
Nichole Hoag
Nicky Bickerton
Nicole DiBenedetto
Nicole St. Pierre
Nicole Thompson
Nikki Bond
Nikki Crosby
Nikki Moore
Noemi Mueller
Nova Grove
Olivia Sedlar
Oren Shai
Pamela Hall
Pat Skipper
Patricia Brinthaupt
Patricia Krejcik
Patricia Lee
Patrick Casey
Patty S. Jensen
Paul Reeves
Paula Shablo
Paulina Logan
Paulo Hermosura
Penni E
PeterJason
PharoComics
Phillip Edgerly
pittiplatsch
邱雅
Rachael Jameson
Rachel
Rachel
Rachel
Rachel Anne Burnstein
Rachel Conatser
Rachel Davis
Rachel Doyle
Rachel Eilert
Rachel Greenfield
Rachel Harsin
Rachel Jack
Rachel Kravitz
Rachel Kyker
Rachel Miner
Rachel Thomas
Rachelintheoc Thompson
RackOninNC
Rebecca Bouse
Rebecca Sims
Rebecca Y
Regina Sanders
Resa Sterle
Rhiannon Lloyd
Rhona Medina
Richard Guzman
Risa JB
Rita Stelzer
Robby McChargue
Robert G. Watson
Robert J. Hardy
Roberta
Roberto Bertini Renzetti
Robin Giangarra
Rocio Clue
Roman Wyden
Romana Hohenberger
Rona Benson
Ronald Martin
Rosalind Combes
Rosann Donovan
Rose Gaglio
Rose Light
Rose Mendonca
Roxanne Shearer Koogler
Ryan Bibeault
Ryan Davies
Ryan Pecsenye
Ryan Visser
Saara Kallio
Sally Redd
Sam Randall
Sam Winchester
Samantha Brown
Samantha M Derr
Sandra Fitzgerald
Sandy Kirchner
Sandy Tomezik
Sara Anderson
Sara Carman
Sara Cease
Sara Guajardo
Sara L
Sara Maier
Sara Michelle Pyper
Sara Pyper
Sara Richard
Sara Volosky
Sarah
Sarah Brunelle
Sarah Burnhope
Sarah Forde
Sarah Gorman
Sarah Joseph
Sarah Lister
Sarah McCutcheon
Sarah Peppers
Sarah Shepherd
Sarah Thatcher
Sarah Tilton
Sarah-Jayne
Sb Tweetme
Sean
Sean Cunningham
Seth LaRue
Shadowsinflight
Shane Wallace
Shannon Bowen
Shannon Mitchell
Sharon Colbert
Sharon Repport
Sharon Stephens
Shauna Forrister
Shawn DeLoache
Shawn Durkan Strait
Shawnda Whittaker
Sheelagh Semper
Sheena Murray
Sheeryn RK
Sherry Schumacher
Shirley Kendrick
Shirley Petersen
Shweta Barapatre
Sideny Brown
Siobhan Collier
Slobhan Henderson
Snarkodile
Sonia McWhirt
Sonya Kirsch
Sonya Walker
Spencer Graham *
Spirit White Eagle
Stacey and Kerry Gillard
Stacey Czepiel
Stacey Dineen
Stacey Ricard
Stacey Whittington
Stacie Rayner
Stefani Baker
Stefania Versani
Stefanie Lehr
Stefie Morgan
Stepahnie Franz
Stephanie Hughes
Stephanie Larson
Stephanie Pauley
Stephen Isert
Steve Hochberger
Steve Jones
Studio Whale
Sue Blalock
Sue Carter
Sue Palm
Sue Sheerin
Supernatural Crossroad
Susan Clark
Susan Gordon
Susan Jordan
Susan Ladigo
Susan Mullen
Susan Nylander
Susan Radant
Susan Schrader
Susanna Moy
Sy Parker
Sylwia Wasilewska
Tabitha Kristen
Tabitha Parker
Tamara Diez Gonzalez
Tami Dotter
Tammie Paz-Conley
Tammy A. White
Tammy Cione
Tammy Holman
Tammy Weber
Tanja DePass
Tanya Dawn Visser
tara
Tara Horak
Tareena Langford
Tash Bridges
Tasha Duncan
Taylor Munholland
Teela Jones
Teresa Cleghorn
Teresa Jacobson
Teri Sites
Terri Childers
Terrill Lee Lankford
Terry Adams
Tex Norman
TH
The Thrilling Adventure Hour
The Toblowsky Files
Theatre West
Theresa Davis
Therese Norén
Tia Hastie
Tiffany Childs
Tiffany Sibley
Tim Panages
Tim Pedersen
Tina Homan
Tina M. Gilbertsen
Tina Morman
Tina Petersen
Todd Howard
Tom Hutson
Tom Woosley
Tomoko Hoshi
Tony Cheek
Tony Contento
Tori Blackthorne
Tracey Vaccarello
Traci Howard
Tracy Follet
Tracy Fulstow
Tracy Primmer
Tracy Schneider
Tresia Hyder
Trice Turner
Trina Leapley
Trinity Houston
uhmlyeah
underscore3
V. E. Duncan
Valarie
Vanessa Crosbie
Veronica Highley
Veronica Ramirez
Vicky
Vicky Bonnell
Victoria
Victoria Bailey
Victoria Eicher
Victoria Martensson
Vivian Cruz-O'Doherty
W. Allen Muller Jr
Wally Fiebiger
Wendel Meldrum
Wendy Gibson
Wendy Jones Prouse
Wilson Crawford
Yancey Strickler
Yolanda Rivera Holcz
Yvette Kelley
Yvonne Sawicz