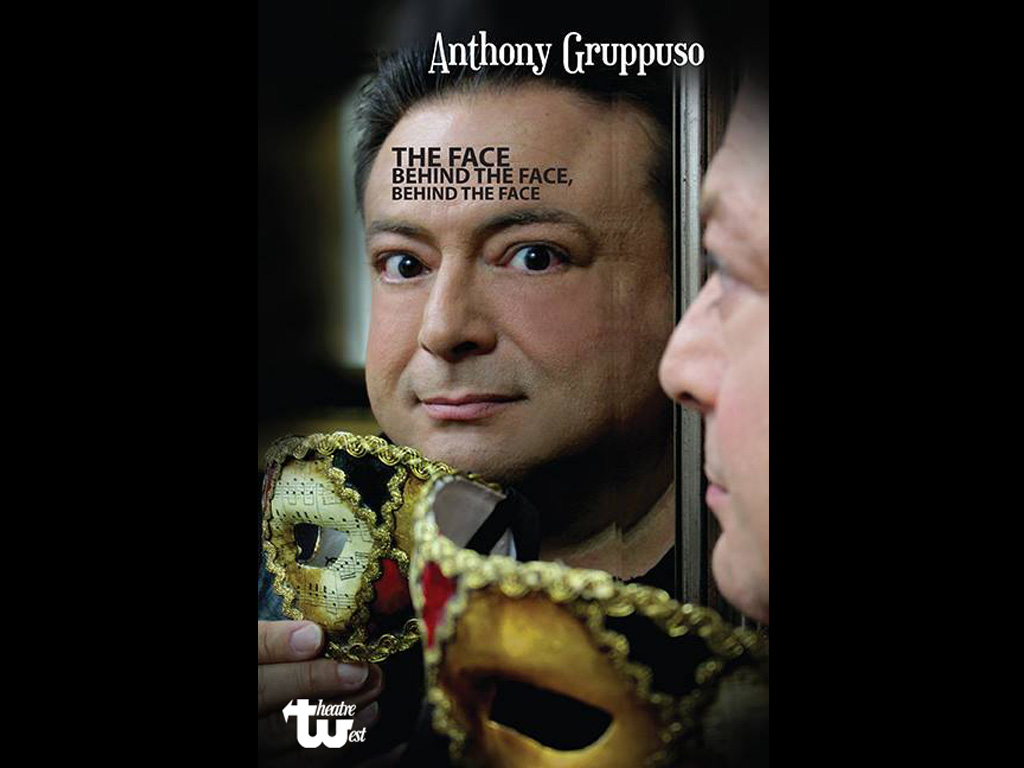 THE FACE Behind The Face, behind the face
A One Man Musical Event
This enchanting evening follows Anthony as he visits his unseen shrink to understand ad dissect his life, career, family and undying love and enthusiasm for musical theatre. A journey through the Broadway canon featuring popular favorites, lesser known gems and original songs.
Sundays in October at 7pm
Directed by Calvin Remsberg | Produced by Dina Morrone and Benjamin Scuglia
Musical Direction by John Dickson
Review NoHoArtsDistrict
Theatre West Presents "THE FACE, Behind The Face, behind the face"
Running October 1 through October 29, Sunday's at 7pm
There are far too few musicals playing in LA, so it was with great excitement that I attended the opening night of Anthony Gruppuso's musical romp through the sometimes tortuous life of a hard-working musical actor.
The plot is thus; in an attempt to cure his depression and at the insistence of his wife, Anthony bravely seeks solace with a psychiatrist. As a way to explain his somewhat unusual life, he takes the doctor and his mesmerized audience on a little trip down musical memory lane.
Anthony's career has taken him from New York to Chicago and Los Angles in search of that one transformative role. He ruminates on call back after call back after reading for producers and as he tells his tale he sings…and oh can he sing.
We get a taste of "Oliver," "The Little Mermaid," "Pagliacci" and even a little bit of "Hairspray."
The honesty with which Antony shares his world is poignant and touching. His father's doubt, his family's concern and even his children's love is all laid bare as he tries to find his way through his own tricky psychosis.
What all this amounts to is a wonderfully entertaining show, full of pathos and originality. Anthony, with the help of the brilliant Jon Dickson who accompanies him so skillfully on piano, manages to communicate perfectly the tremendous heartache of being a performer. With all that self-doubt, rejection and pain, it's a wonder anyone survives with their mind intact. Thankfully, Anthony Grupusso has and to his credit, he seems to be far from giving up. Luckily for us!!
If you love musicals and heartfelt, biographical exposes about the toughest business in the world then get your tickets fast…. This terrific show won't be long at the fantastic Theatre West and I highly recommend that you see Anthony's "THE FACE, Behind The Face, behind the face"
"Gruppuso takes a look at an actor's life in his entertaining, gorgeously sung one man show… he's got what it takes to keep an audience thoroughly entertained just Him, Himself and He… " - Steven Stanley, StageSceneLA

"The Face Behind The Face Behind Face features a terrific performance by Anthony Gruppuso." – Mary Mallory, The Tolucan Times

"… expressively reveals his true calling for the stage through his glorious singing and acting…" – Mary Mallory, The Tolucan Times

"…magnificent tenor voice…" – Mary Mallory, The Tolucan Times

"Gruppuso's singing shows a great range and emotional timbre, with long, sweet high notes, pleasing phrasing and wistful sensitivity." – Mary Mallory, The Tolucan Times

"… blends gorgeous singing with delicate staging in a touching story of one man's life…" – Mary Mallory, The Tolucan Times

"I highly recommend that you see Anthony' "THE FACE, Behind The Face behind the face" – Samantha Simmons-Ronceros, NoHo Arts District

"The honesty with which Anthony shares his world is poignant and touching." – Samantha Simmons-Ronceros, NoHo Arts District

"… speaking of terrific, Anthony Gruppuso is nothing short of that in his one-man show called THE FACE, Behind The Face…" – Harrison Held, SceneAroundTown

"Anthony is a fantastic singer and presents a great engaging & poignant one-man show." – Harrison Held, SceneAroundTown

"He's got what it takes to keep an audience thoroughly entertained, just Him, Himself, and He." – Steven Stanley, StageSceneLA

"Gorgeously sung one-man show…" – Steven Stanley, StageSceneLA

"Golden throated star…" – Steven Stanley, StageSceneLA

"He's got what it takes to keep an audience thoroughly entertained…" – Steven Stanley, StageSceneLA

"Anthony Gruppuso has the pipes to sell an aria with the best of them…" – Steven Stanley, StageSceneLA