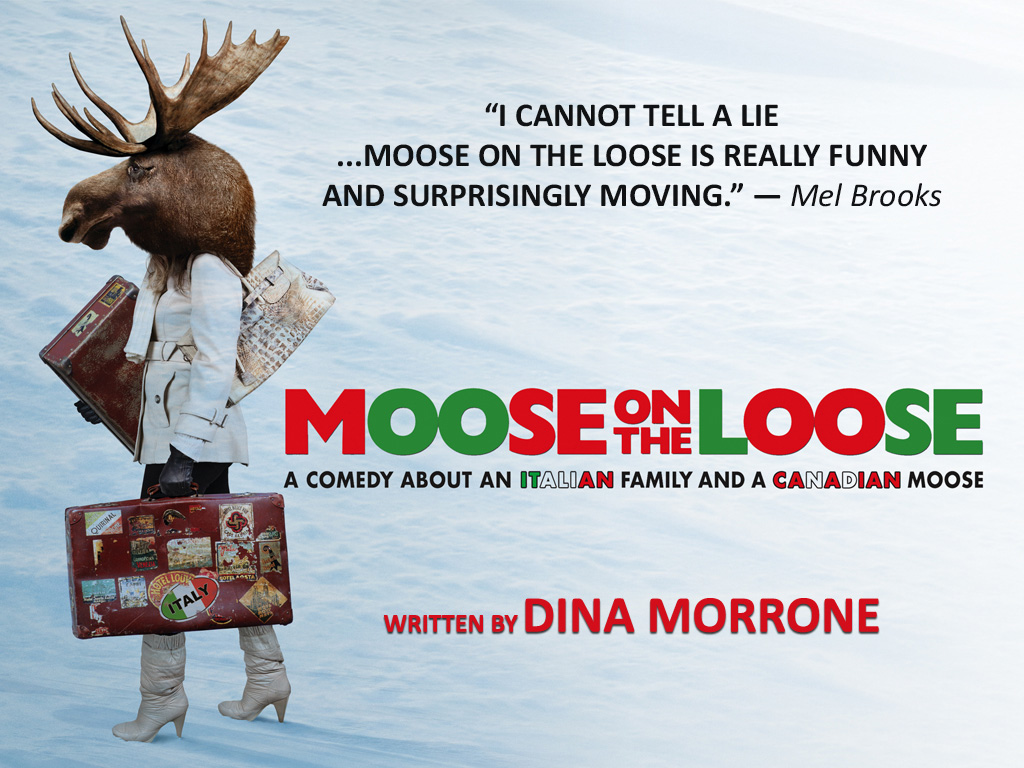 Moose On The Loose
A comedy about an Italian family and a Canadian moose.
When a loose moose wanders into town holding a Molson Canadian beer and gets stuck in the Polish neighbor's camper trailer, four generations of an Italian/Canadian immigrant family from Calabria in Southern Italy soon realize the moose isn't the only one who is stuck, displaced, and confused.
April 14, 2023 – May 21, 2023
Fridays and Saturdays 8pm
Sundays 2pm
ASL Interpreted Performance Friday April 21
Sensory Friendly Performance Sunday April 23
After the Matinee Talk Back Sun. April 16, and Sun. April 30

A Sensory Friendly performance is a theater production that welcomes individuals with sensory needs, including people on the autism spectrum, as well as first-time theatergoers and young children. The show is modified to allow for patron movement, staff and actors are trained to accommodate patron needs, and all patrons are welcome to experience theater in a safe, non-judgmental environment.
*COVID Policy:
Masks are optional in the theatre.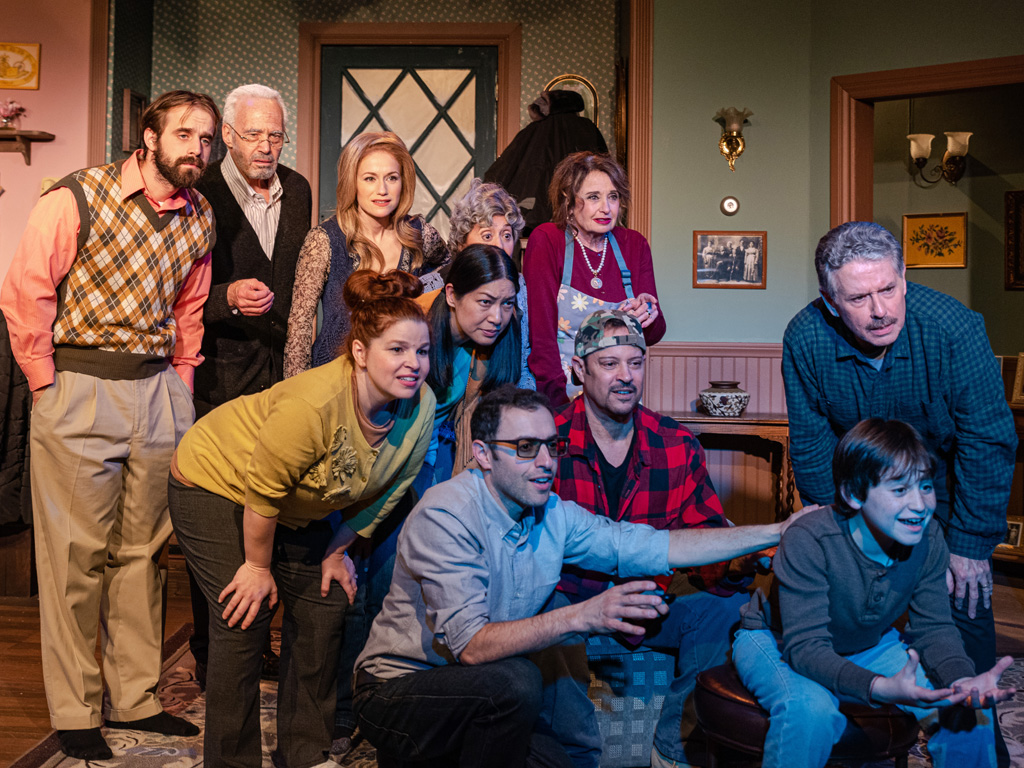 Written by: Dina Morrone
Directed by: Peter Flood | Produced by: Dina Morrone & Benjamin Scuglia
With:
Deanna Gandy ● Stuart W. Howard ● Laura James ● Cecil Jennings ● James Lemire ● Meg Lin ● Nick McDow Musleh
Constance Mellors ● Erica Piccininni ● Richard D. Reich ● Rick Simone-Friedland ● Darby Winn ● Ari Wojciech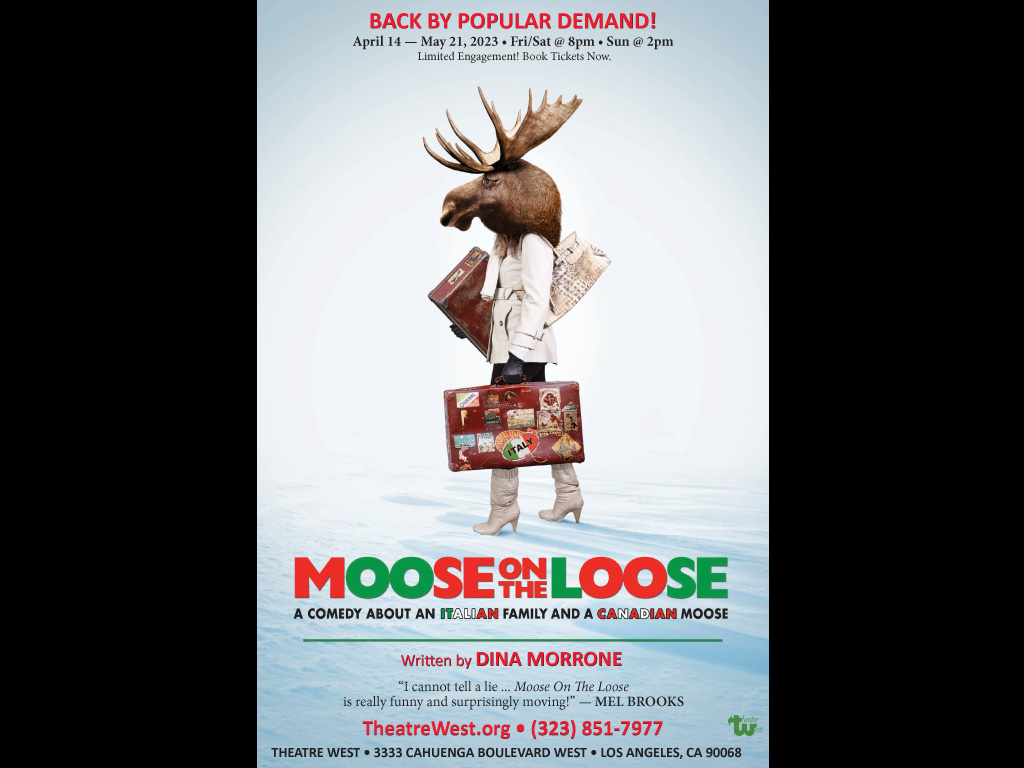 - "I cannot tell a lie... Moose On The Loose is really funny and surprisingly moving!"
- Mel Brooks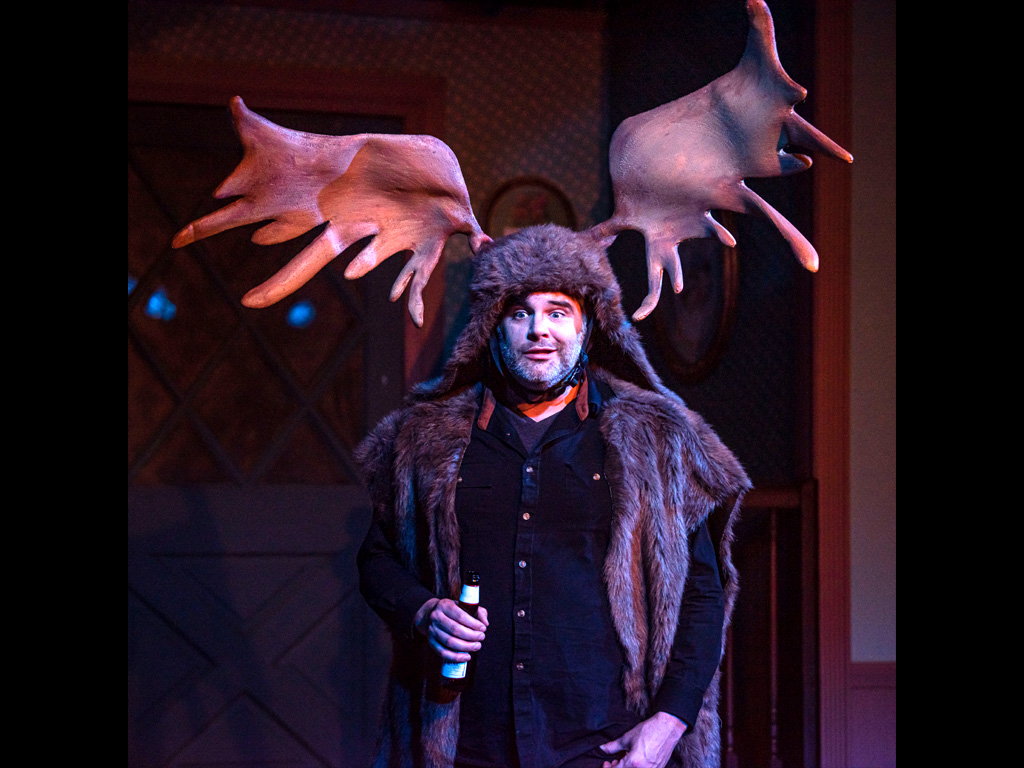 Set Design: Jeff G. Rack | Lighting Design & Sound Design: David. P. Johnson | Costume Design: Mylette Nora | Stage Manager: Liv Denevi
Public Relations: Philip Sokoloff | Managing Director: Eugene Hutchins | Graphic Design: Doug Haverty | Technical Consultant: Malcom Wilson
Assistant Stage Managers: Chelsea Marshall, Scottie Nevil | Front of House Manager: Anne Leyden
Box Office: Michael Van Duzer | Office Assistant: Bonnie Kalisher-Dukes
Theatre West Managing Director: Eugene J. Hutchins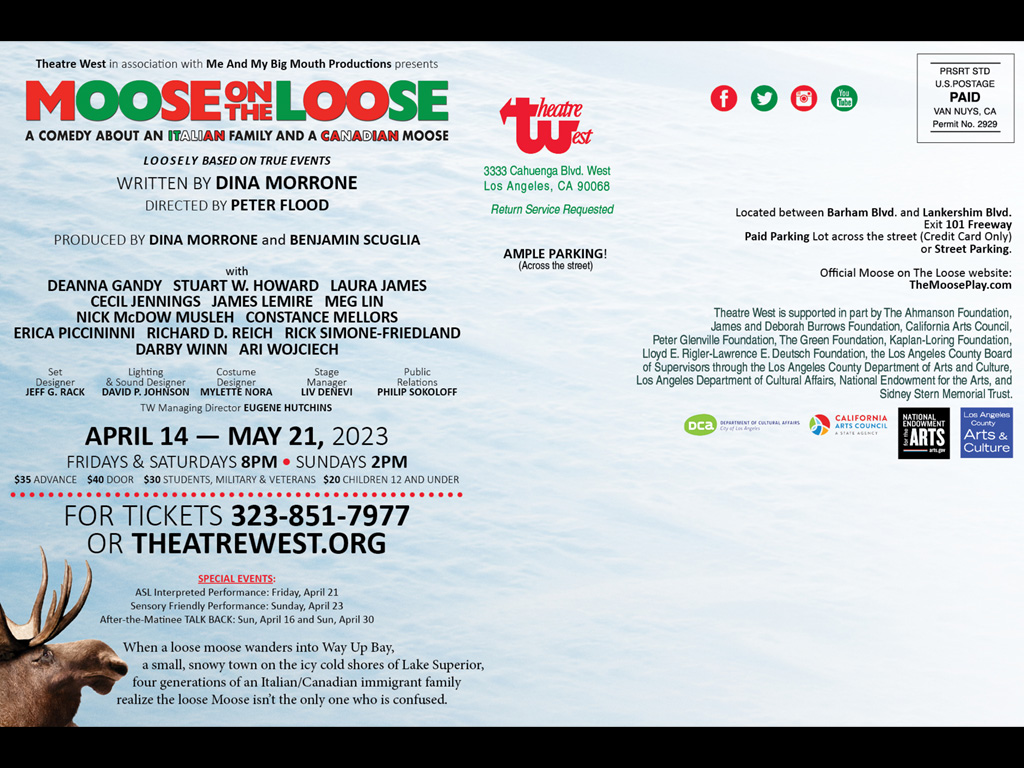 ---
Press & Reviews

Press Release
"RECOMMENDED. TOP TEN.
While thoroughly enjoyable, Moose on the Loose provides more than justlaughs,
but also comfort and a reminder of what is truly important."
- J. Commodore, Stage Raw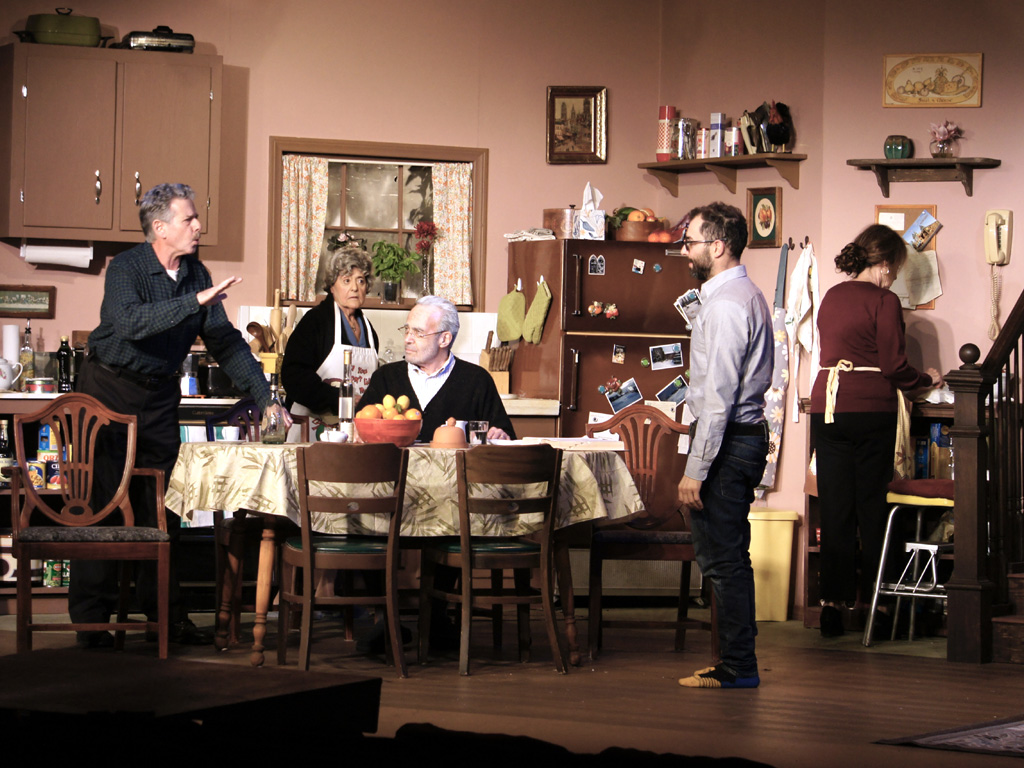 "WOW!... Outrageously funny!...
Morrone fills the stage with an abbondanza of amore and family warmth, richly rendered characters,
and truth-is-stranger-than-fiction events designed to fill hearts as full of love
as Theatre West is filled with two hours of virtually non-stop laughter."
- S. Stanley, Stage Scene LA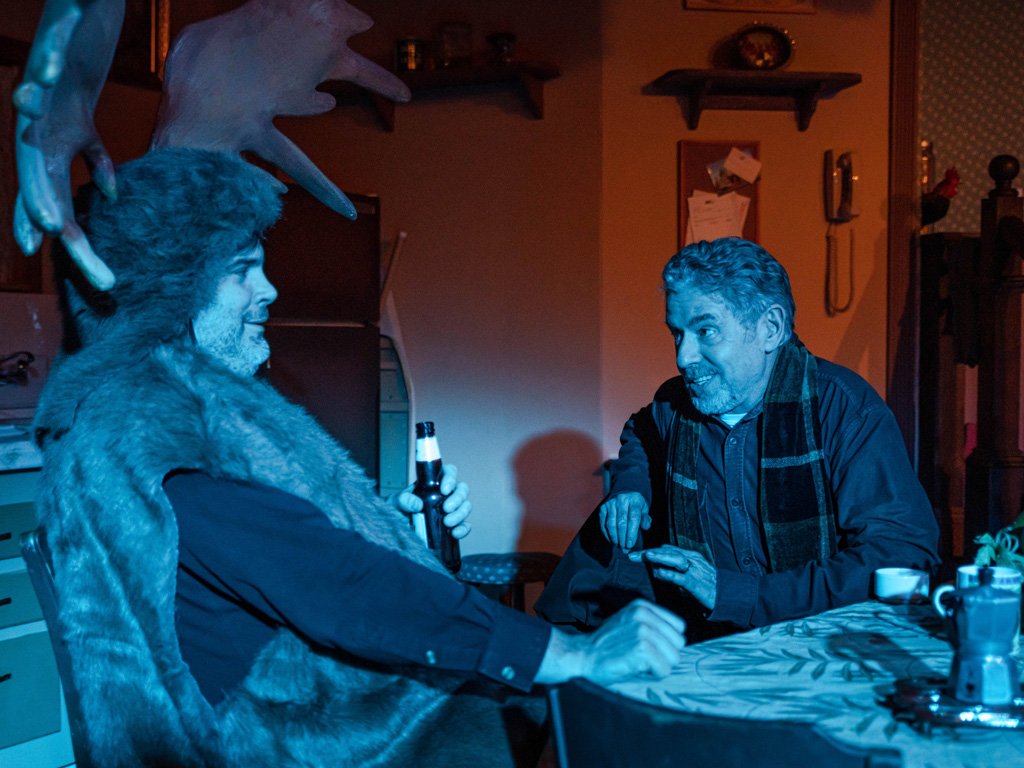 "WOW…
As laughter-and-love-packed a comedy as I've seen in ages."
- S. Stanley, Stage Scene L.A.
"Masterfully written…A truly funny play…A joyous deep dive…The best of offerings for its audience."
- M. Edwards, Discover Hollywood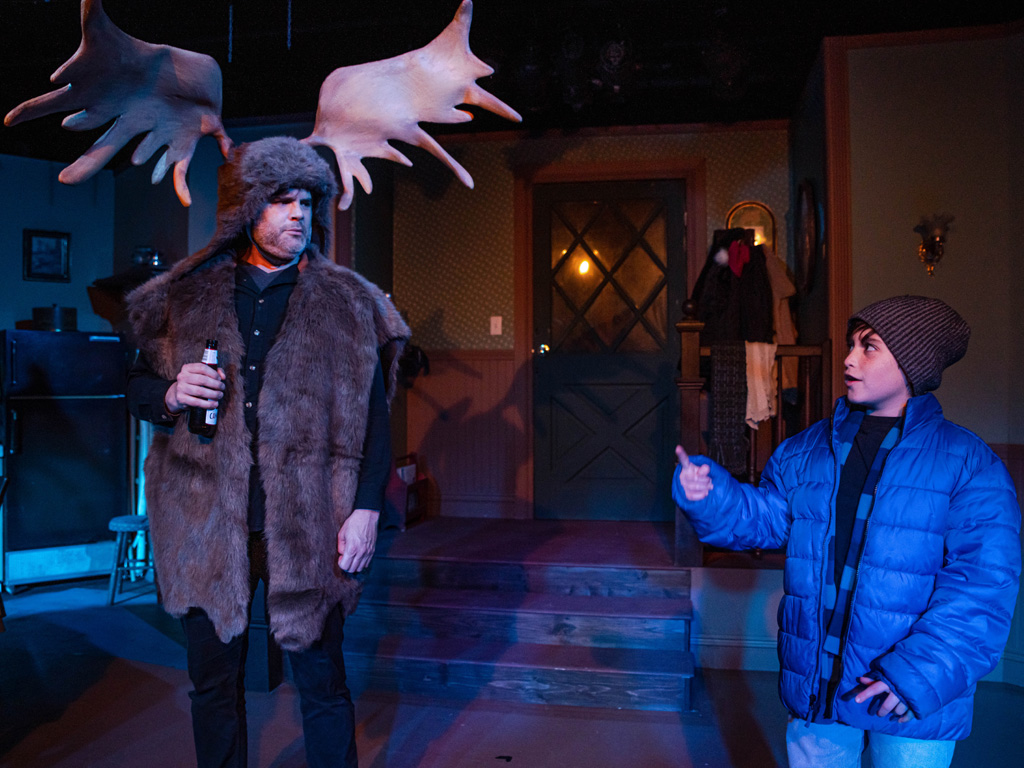 "A hoot and a hit, eh?...Absolutely not to be missed."
- I. Jalali, L.A. Excites
"The characters are specific and recognizable, and the jokes come loud and fast."
- E.A. Vare, The Hollywood Times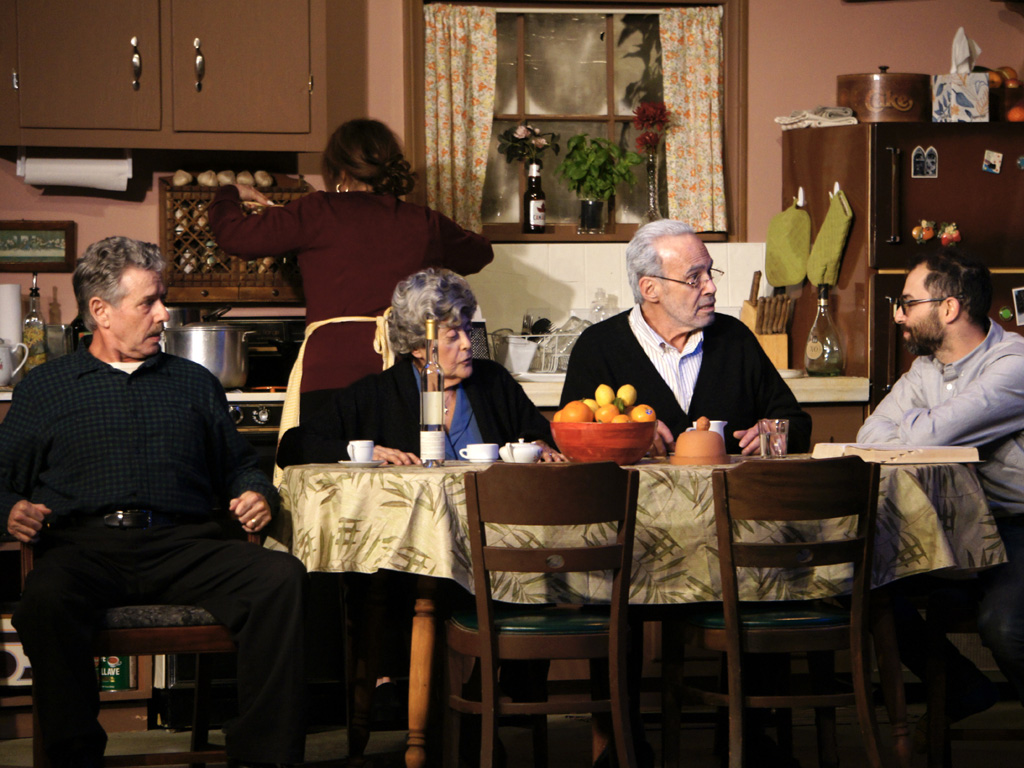 "A tundra of fun."
- B. Schreiber, Medium.com
"A really funny play…The cast is absolutely brilliant… Highly Recommend."
- S. Simmonds, NoHoArtsDistrict.com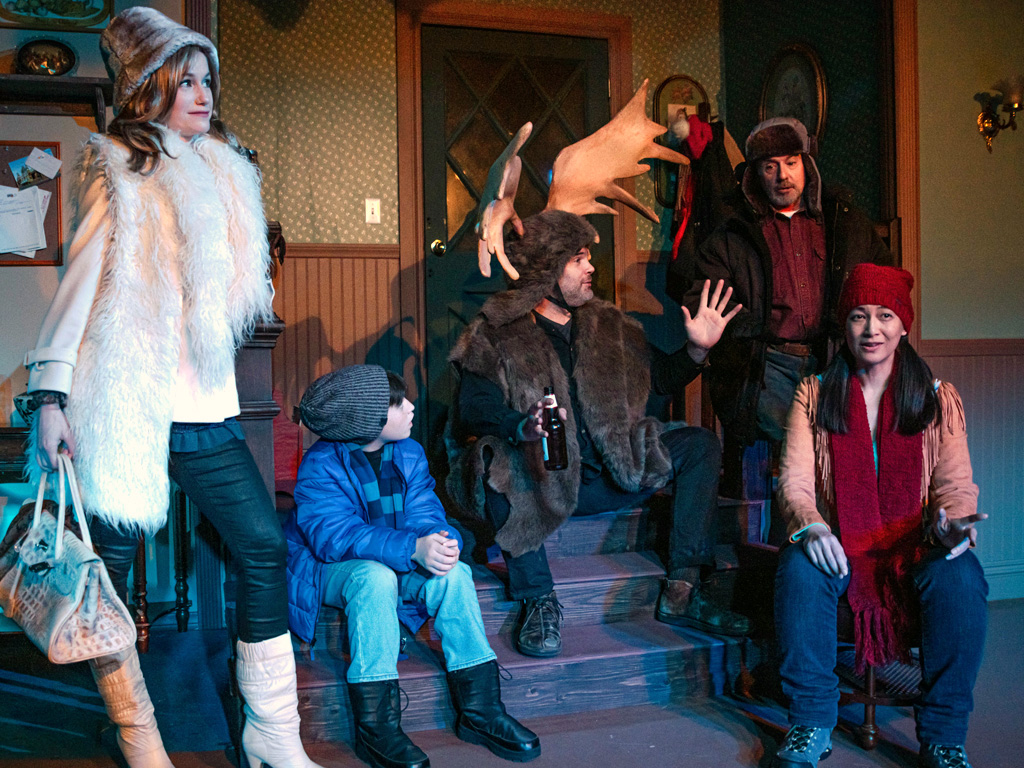 "Plenty of laughs for sure."
- R. Borowy, Accessibly Live
"The cast is uniformly excellent- so much so that it is difficult to pick a standout."
- R. Collins, Beverly Press/Park Labrea News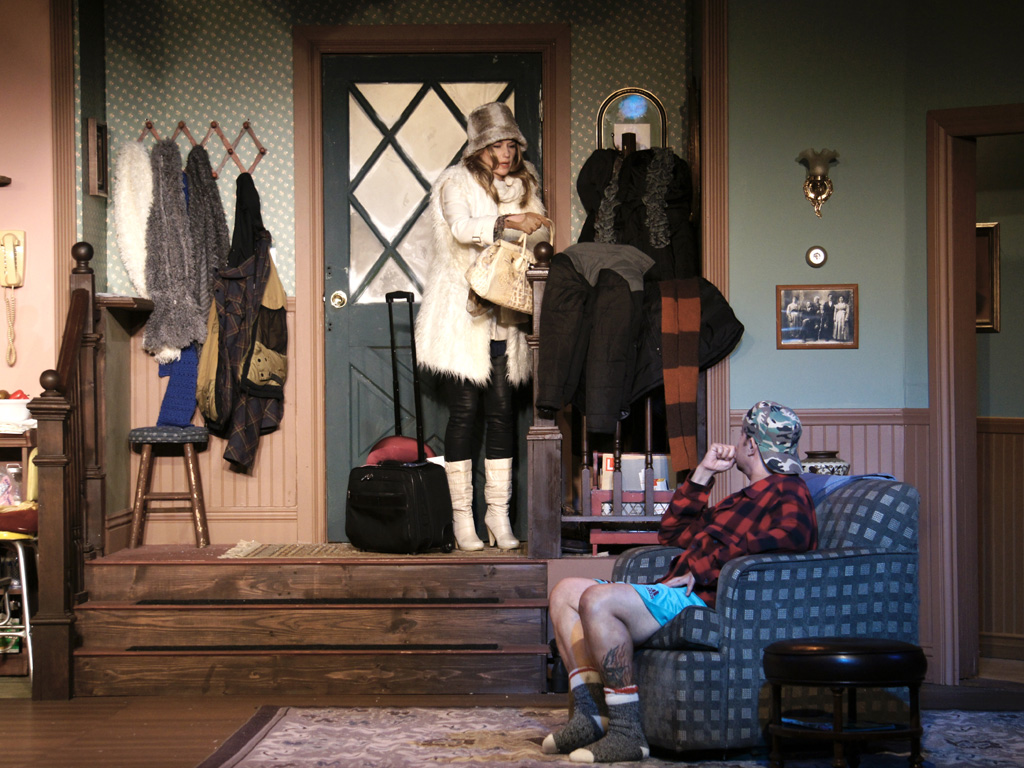 "How excellent it all is."
- K. Salkin, It's Not About Me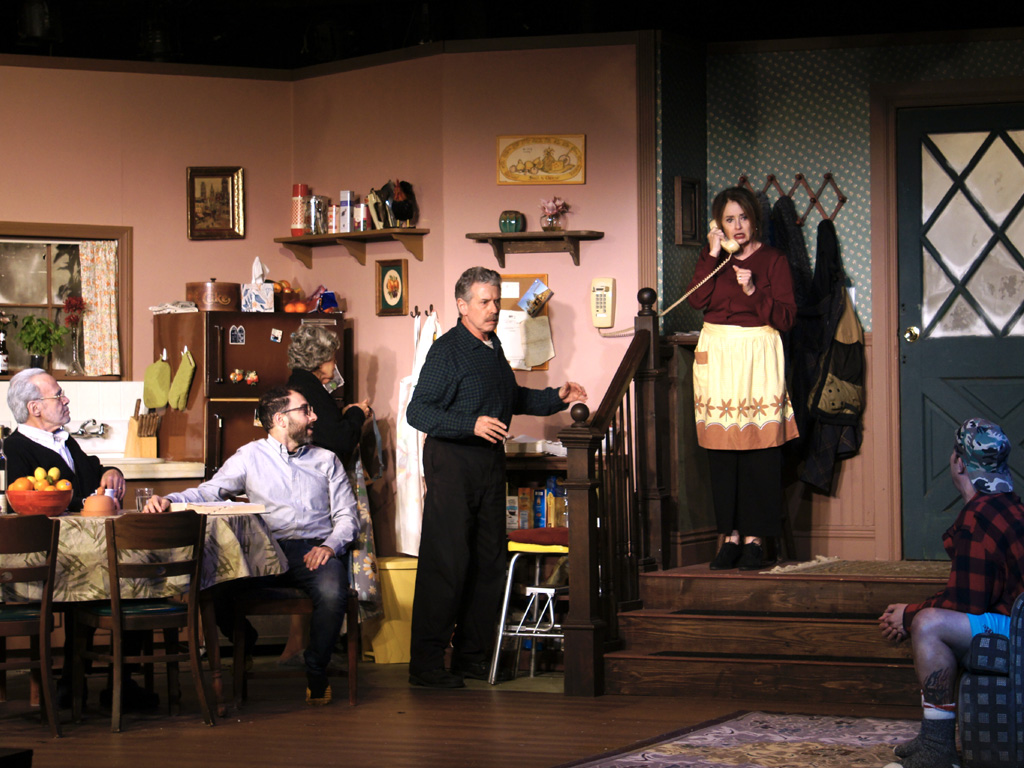 "What's more fun than a sprawling family comedy?
Quirky characters with deep-rooted conflicts take things to the brink, but ultimately love pulls them back.
Throw in a fish-out-of-water topcoat, like Italian immigrants settled in northern Canada, and the stage is set—literally—for fun."
- L. Foti Cohen, Larchmont Buzz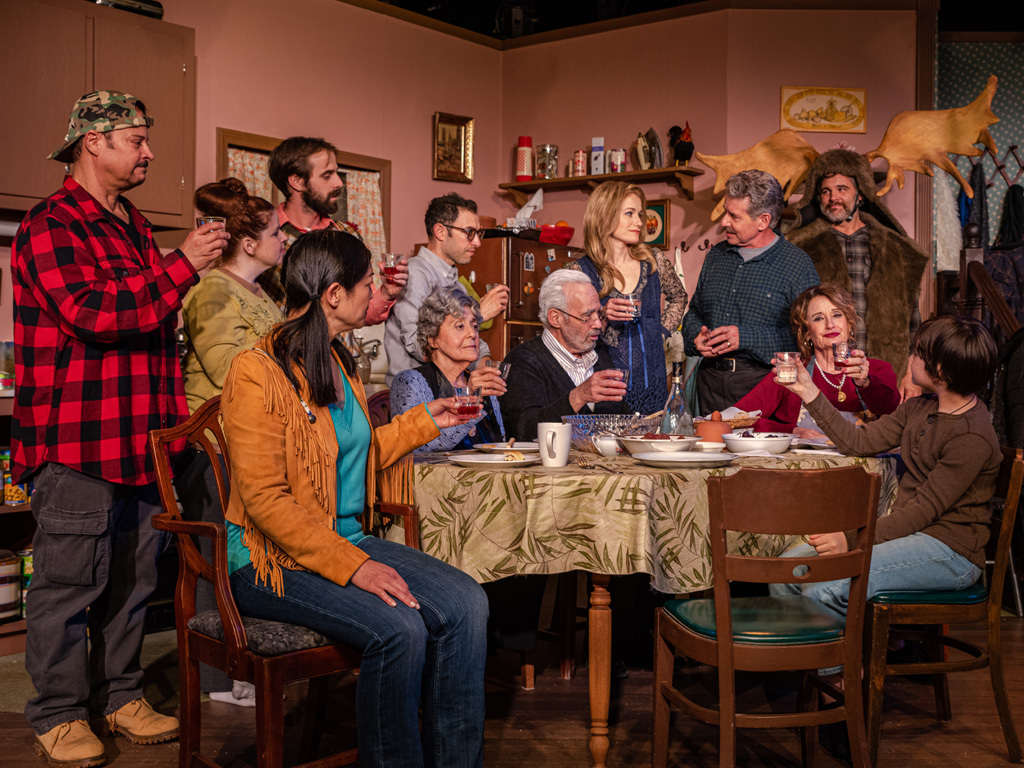 "Playwright Dina Morrone amps up the fun… Satisfying and warm comedy."
- L. Foti Cohen, Larchmont Buzz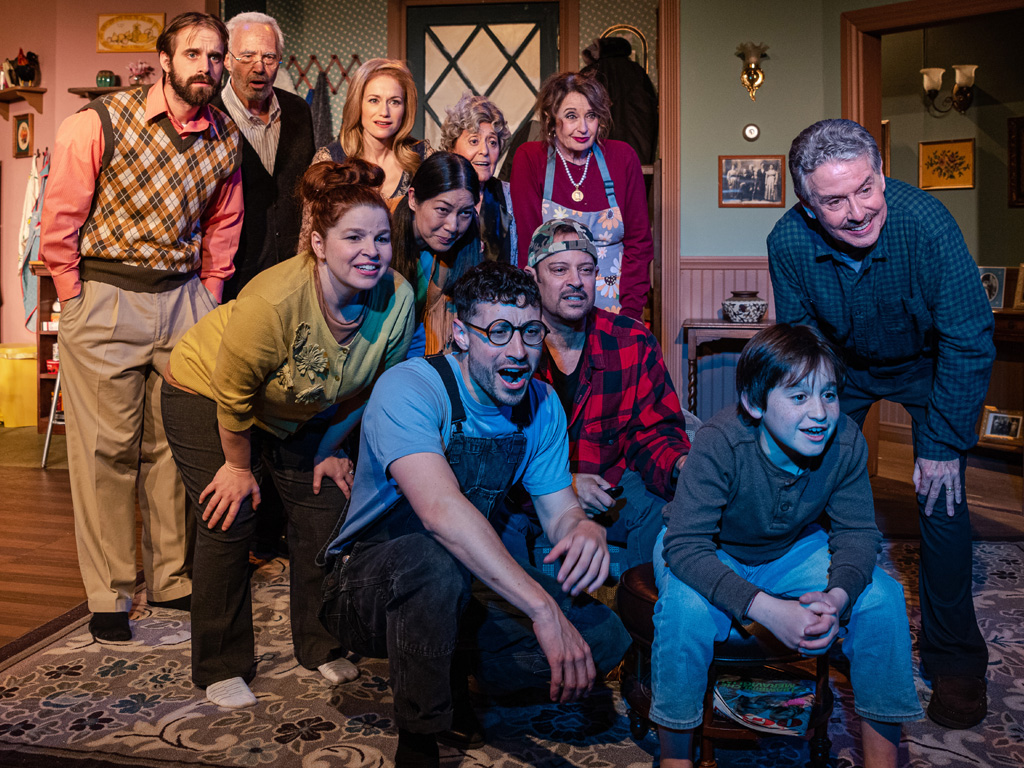 ~

Reviews from previous productions in different theaters in Los Angeles and Canada
"MOOSE ON THE LOOSE: 100% – SWEET"
- BitterLemons.com
"CRITIC'S PICK - 5 OUT OF 5 STARS"
- Broadway World
"If you love ethnic comedies like My Big Fat Greek Wedding or more specifically comedies about Italians such as Buon Natale or Moonstruck,
you will love Moose on the Loose." (Recommended)
- Don Grigware
"…A great night at the theater that I would gladly recommend to all." (Recommended)
– Yahoo On-Line
"Dina must have studied Shakespeare at some point, because this story line has all of the epic marks of that great playwright."
- Lake Superior News
"Moose On The Loose is a comedy spinning on the questions of who are we, where are we, and where are we going."
- Eye Spy LA
"Dina Morrone's play shines with wit, verve, and good natured double entandres. A very satisfying comedy."
- Italo-Americano & Accenti Magazine
"Moose on the Loose is a heart-warming, feel good play that will leave you smiling and ready to watch it again." (Recommended)
- Jackie Houchin's Reviews
"Call your brother, your crazy aunt or take your Nona to see Moose on the Loose. You will laugh and enjoy the spirit of family."
- The Walleye
"This gentle character-based ensemble piece achieves its unpretentious ambitions, with Peter Flood's direction setting an appropriately breezy tone." (Recommended)
- LA Times
"You want to make people laugh? Bring together elements that don't belong together and give them a situation that doesn't fit and you got a winner!" (Recommended)
- ReviewPlays.com
"What a fun and heartfelt moose it turned out to be."
- SOCAL.COM
"A pleasantly old-fashioned family comedy, affectionately but keenly observed, and deftly directed by Peter Flood."
- LA Weekly
"The large, well-cast group of actors present funny, thoroughly Italian, and tender performances."
- NOHOArtsDistrict.com
"Packs a delightful PUNCH with its extended family comedy."
- Edge Of The Net
"One Feisty Frolic of a play, done up in entertainingly exaggerated Italian style."
- The Source
"I get the humor around Italian immigrant characters and so does Morrone because she nails ever line. And there were a couple of scenes by the patriarch of the family that really choked me up." (Recommended)
- LA Times
"A zany Italian comedy that kept the audience laughing, while exploring each character's passions and deep sense of 'familia'… this one was a lot of fun!"
- The Tolucan Times
"Peter Flood directs this wonderful Comedy. His cast is absolutely ingenious; their characters hilarious, their timing precise." (Recommended)
- Stagehappenings.com
---
Cast and Crew
CAST
Listed in Alphabetical Order

Deanna Gandy (Carmela)
Deanna has been a member of Theatre West for six years. She studied Acting at the Academy of Art University in San Francisco, graduating with her BFA. After graduating, she moved to Los Angeles and was so excited to find her new Theatre Home here at Theatre West. You may have seen her in shows such as SHE is History, Brushes, our monologue series, and most recently, Classic Couples Counseling, where she played Ophelia, to name a few. She has also performed in Storybook Theatre here at Theatre West, where we focus on children's theatre. With Storybook Theatre, she has performed in shows such as The Princess and The Frog, Snow White, and most recently, Little Red Riding hood. She is honored to be a part of Moose on The Loose and hopes you enjoy the show. She wants to thank Dina Morrone for casting and trusting her with the role of Carmela, the entire cast and crew for being amazing to work with, and Nathan Clark for being the most supportive partner a girl could ask for.

Stuart W. Howard (Giuseppe)
LA Theatre: Gus - Bring Back Romance (Theatre West); Milton - Immigrant (Sierra Madre); Friar - Romeo & Juliet (Theatricum Botanicum); Narrator - Glories of Shakespeare (Disney Hall); Bernard - Arcadia, Macbeth - Macbeth (CSU-LA); Tom - Skylight (Fremont Centre); Keller - Miracle Worker (Matrix); George - Virginia Woolf (Hollywood Court); Menelaus - Trojan Women (Getty); Herald - Marat-Sade, Vladimir - Waiting for Godot, Shawn - Playboy of the Western World, Vindice - Revengers Tragedy, Stephen - Otherwise Engaged (PRT); Don Pedro - Don Juan, Charles II - Libertine, various - Iliad, Iago - Othello, Chalmers - Theft, Friar - Canterbury Tales, Ford - Merry Wives of Windsor (Classical Theatre Lab); Napoleon - Back to Methuselah (LA Rep); Duke - Patience (Antaeus); Sir Robert - Ideal Husband (Met); more. Stuart is proud to say his mother is from Lucca, Italy!

Laura James (Pina)
Actor/Teacher/Director
Career spans over 35 years. Films: Raging Bull, And the Band Played On, Losin' It. TV: General Hospital, Y7Y, The Bold and Beautiful etc., Italy(film) /England (Peter Cook's Establishment), Hong Kong (theatre/clubs), E. Africa(British Equity Theatre)/Stage: Old Globe SD, Shakespeare & Co. Shakespeare SF Festival, Tiffany, El Portal, J Anson Ford Theatre, Theatre West, etc. One-woman shows: G Stein's Ms. Furr and Ms. Skeen, Virginia Woolf in her own Words, Simone Beauvoir's, The Woman Destroyed. Actor in numerous productions, including M Mednick's, The Destruction of 4th World, Landscape (Pinter), TW's Moose on the Loose (original). Director: Idyllwild Conservatory, American Academy of Dramatic Arts, Theatre 40, Theatre West. Taught AADA, Columbia Film School, TW Associates, SAG Conservatory. Classical Theatre Lab member. Actors Studio Director-member, Open Fist Member. Laura is proud of her Italian roots. Piccino is her last name, and her family hails from Naples.

Cecil Jennings (Darryl)
Cecil was born and raised in Jacksonville, FL (go jags!) and studied acting at Florida State University. Cecil has been a company member of Theatre West since 2019. Previous characters/productions include Romeo in Classic Couples Counseling and The Wolf in Little Red Riding Hood, The Dead Comedian, Bittersweet Oranges, Strangers in a Lost Land, and wrote and directed, Singers in a Lost Land, presented at WestFest Festival of New Works. You can catch him doing crazy bits with his sketch comedy group This or That. Many thanks to Dina, Peter, and Theatre West. Enjoy the show!

James Lemire (Moose/Chief)
James is originally from St. Paul, MN, and has lived in Los Angeles for 20 years. James was recently seen in the role of Lee in The Group Rep's upstairs production of True West and as Dick Stern in A Clean Brush at Theatre 40. James has also appeared at Group Rep in Christmastime Origins and Tom Lazarus's short play Creative Differences for GRT's outdoor production of Motel 66. Past stage roles include Tom in The Glass Menagerie, John in Tape, Andrew in Spike Heels, Tupolski in The Pillowman, Brad in Orange Flower Water, Henry in Brilliant Traces, and Walker in Two Rooms.

Meg Lin (Honabigi)
Meg (@iammeglin) is a SAG-Eligible actor, writer, filmmaker, and proud member of Theatre West. Prior to working in the industry, Meg was a former K-12 teacher and principal. Her autobiographical solo show, What Am I, Chopped Suey? won the 2022 Hollywood Fringe Festival's ENCORE Producers Award and was featured in BroadwayWorld. Meg also co-wrote, co-produced, and starred in a short film, Victoria's Manor, that has won over five different film festival awards and recognitions, including Best Indie Short Film by the 1st Monthly Film Festival and Best Horror Comedy Short by the Horror Bowl Movie Awards.

Constance Mellors (Maria)
Connie is thrilled to be reprising the role of Maria in Moose on the Loose. She studied acting at the Neighborhood Playhouse with Sanford Meisner and additionally with Stella Adler, and is a longtime member of Theatre West. Recent performances include Patricia Cataldo in Classic Couples Counselling, and Winter Wishes Musical Cabaret. She has a horse, a cat, a dog, and a parrot, and she's proud to say that her Nonni hail from Sicily and Naples. Gratitude and love go out to dear talented friend and creator of "Moose," Dina Morrone

Nick McDow Musleh (Joseph)
Nick has served on the Artistic Board of Theatre West and as moderator of the Shakespeare and Acting workshops. In addition, he is the director, writer, and producer of a film adaptation of Love's Labour's Lost. He began performing Shakespeare at age 13 under director Jon Tracy and has since studied Shakespeare with Aldo Billingslea, Joe Olivieri, Paul Wagar, and Mark Rylance at Santa Clara University and UCLA. Nick created the role of Agent Daniel Baker in the world premiere of Mark Wilding's Our Man in Santiago in 2021 and transferred with the cast Off-Broadway in 2022. TV credits: NCIS: Los Angeles, NCIS, Lie to Me, The Unit.

Erica Piccininni (Gina)
Erica Piccininni got her first break on Broadway, originating the role of Lorraine in the 2006 Tony Award-winning musical Jersey Boys. She reprised the role in the 2014 film version directed by Clint Eastwood. She appeared as "Jaysene" on the TV series Hart of Dixie, "Debbie" in the 2014 film Boychoir starring Dustin Hoffman and has guest starred on such shows as Mad Men, Grey's Anatomy, The Good Wife, The Closer, The Magicians, Lethal Weapon, Code Black and many others. She is a comedy writer, a singer and violinist in the Santa Monica Symphony, and the proud daughter of Italian Immigrants. She is delighted to help share a story that hits so close to home. IG @ericapiccininni Tiktok @ericapiccininni

Richard D. Reich (Rodolfo)
Richard first appeared with Theatre West in 2019 in Starbucks (part of West Fest) and recently appeared in This Almost Joy at West Fest 2022. He has appeared in a number of productions in Los Angeles, including his favorites – Homeward LA at the Iron Triangle, Taboo at the Actors Workout Theatre, A Ferry Tale at Towne Street Theatre, It's a Wonderful Life – The Radio Play at Theatre Unleashed, Golden Boy at The Stella Adler Theatre, Cole and Porter at the Hudson Theater and On the Line at Group Repertory Theater. Film and Television credits include Commando, Dallas, Days of our Lives and Santa Barbara. (SAG-AFTRA)

Rick Simone-Friedland (Bruno)
Rick is an Emmy award-winner known for his work on Married People, Just the Ten of Us, A Year in the Life, Life Goes On, KC Undercover, and the Discovery series Mob Scene. Theatre roles include George C. Wolfe's production of The Me Nobody Knows, Ken Page's production of Elegies for Angels, Punks and Raging Queens, Classic Couples Counseling, and his own critically acclaimed solo show, These People, at LATC. He created the role of Aaron McKinney in Celebration Theatre's GLAAD Awards-nominated production of Revolver. Rick recently completed the horror film Bunnyman 2 and the web-series Sammy Kingsford – Manager To The Stars. Rick would like to thank his Italian grandparents for all the beautiful Sunday dinners! ricksimone.com

Darby Winn (Timothy)
Darby had the pleasure of working on Nickelodeon's new show, The Really Loud House. His episode with air this spring. Darby also has played two different characters on Disney Jr.'s animated hit series, Spidey And His Amazing Friends. Darby just finished playing the role of "Pugsley" in Act-1's production of The Addams Family at the Loft Theatre. He's also played "Mikey Wormwood" (Matilda's brother) in Act-1's production of Matilda at the Road Theatre.

Ari Wojciech (Joseph)
Ari Wojciech acts in Los Angeles while producing other artists' films or plays. The two actors who have had the most profound effect on his craft are Graham Shiels and Desean Terry. He is eternally grateful to them and Johnnie Hobbs - his tap dance instructor. When he's not acting or producing, he writes. He's working on a screenplay about a sperm donor who can't get it up. It's going really well. During his time off, he "surfs" at Sunset Point, consumes too much self-help content and over caffeinates. Find more of his bullshit at ariwojciech.com. Lastly, he'd like to thank his mother and father for being the giving trees he never deserved and Allie Rae Treharne & her cat, Vincent, for their boundless inspiration.
CREW
Not in Alphabetical Order

Peter Flood (Director)
Twenty-plus years of story experience at Walt Disney Studios, Universal Pictures, Paramount, Sony SPE, Miramax & National Geographic Films. Prior to that – twenty-plus years in New York & regional theater as a director, script doctor, acting teacher and coach to celebrity and non-celebrity actors. He is a member of the Screen Editor's Guild, a lifetime member of the Actors Studio, and co-moderator of its Play Development Unit in Los Angeles. This is Peter's second encounter with Dina's MOOSE, the first an exercise in survival, the second a reminder of all that is good in the play.

Dina Morrone (Playwright-Producer)
Winner, Valley Theatre Award, best solo show The Italian In Me, based on a meeting with Federico Fellini; runner-up, 2022 BroadwayWorld.com. Jan/2023, a reading of her new solo show, My Uterus, a womb with a view. Editor/contributing writer for socially conscious lifestyle, The Eden Magazine, and interviewed the likes of Louis Gossett Jr, Blair Underwood, and Gina Lollobrigida, to name a few. VO credits include Avatar 1&2, Guillermo Del Toro's Pinocchio, Luca, Dune, The Bay Guys, etc. video games, commercials, award show announcer, etc. Previously produced productions: Sunday Night Solo Series, Portraits 2 Solo Shows, SOLOpalooza 2.022. Dina encourages all to watch feature films on the big screen and theatre LIVE! dinamorrone.com & mooseplay.com (AEA, SAG-AFTRA)

Benjamin Scuglia (Producer)
Benjamin has been a member of Theatre West since 2014 and recently appeared in several virtual productions with the Blushing Pilgrims, the company's Shakespeare troupe. As a playwright, he was a Top 30 Finalist for the Samuel French Off-Off Broadway Short Play Festival (2015) and a Top 12 Finalist for the Playbill Virtual Theatre Festival (2020). His play The Man Who Saved Everything received its acclaimed world premiere at Theatre West in 2018 and earned six Valley Theatre Awards nominations, winning for Best Sound Design. In 2022, Benjamin made his Off-Broadway debut as a producer with Mark Wilding's Our Man in Santiago. Twitter: @500Turtles

Liv Denevi (Stage Manager)
25-year-old Angeleno, Liv Denevi, is honored to join the Moose Family as Stage Manager! She's incredibly thankful for cast and crew who make it a pleasure to come to work each day. Italian on her father's side (Genoa), rehearsing this show served as a touchstone to her family who she misses dearly.
Other works include; Stage Manager for Lloyd Schwartz's Classic Couples Counseling at Theatre West (directed by Nick Musleh), ASM for both NYC and LA's production of Our Man In Santiago, and ASM for Garry Michael Kluger's Thorn in the Family Paw.

Jeff Rack (Set Design)
Jeff has designed many shows on this Theatre West stage, two of them being Moose on the Loose. Other designs include Requiem for a Heavyweight, Seascape, The Fantasticks, Petrified Forest, Gaslight, Dancing at Lughnasa, and Lion in Winter. Jeff recently designed Our Man in Santiago for T-West, which he rebuilt when it went to New York. He has won or been nominated for multiple Ovation Awards in creating designs for over 300 plays from Santa Barbara to Edinburgh, Scotland. Jeff would like to thank his Theatre West family and his wife, Christine, for their support. For more info on Jeff, go to ArcaneTheatreworks.com.

David P. Johnson (Lighting & Sound Designer)
David has been a member of Theatre West for twenty years and has served multiple stints on the Artistic Board of Directors while being a driving force behind Storybook Theatre. A multiple award-winning writer, director and actor, David credits Theatre West as both a huge inspiration and creative home. A winner of the 2018 Valley Theatre Award for Best Director of a Children's Production (Sleeping Beauty), David's original musical Sally Spectre the Musical was also a finalist for the prestigious Richard Rodgers award. He is thrilled to work with Dina - illuminating and sounding out this production and wishes the cast and crew a glorious run! sallyspectre.com (AEA, SAG-AFTRA)

Mylette Nora (Costume Designer)
Ovation Award and NAACP Theatre Awards for best costumes, listed in the honors edition of The Cambridge Registry of Who's Who Among Executive and Professional Women, works worldwide consists of television, film, video, and stage, and was seen nightly on The Tonight Show with Jay Leno and now You Bet Your Life with Jay Leno and Kevin Eubanks, and weekly on Jay Leno's Garage. The famed artist Synthia St. James noted Mylette as being the inspiration for her world-renowned painting Ensemble, which graced the cover of the best-selling novel Waiting To Exhale by Terry McMillan. Mylette's designer lines are doggie wear, FromTheHeartDoggieWear.com, heirloom dolls, My Mind's Eye, and now face mask by, Mylette!

Anne Leyden (Front of House Manager)
Actor, Singer, Writer, Producers, Anne Leyden spent Fall 2022 in NYC associate producing Our Man in Santiago originating here at TW! Some favorite roles include; Violet in Bring Back Romance, Bernice - The Musical Comedy Murders of 1940. Andrea - Family Only, Anne - One Woman Gone Wrong. Anne received rave reviews and a Scenie Award as Edith in TW's revival of The Women. So many plays so little space …TV and Web credits include: Grey's Anatomy, Private Practice, Serial Bill, Waiting for Moore. Gabriel's Fire, Quantum Leap.

Philip Sokoloff (Public Relations)
Philip has been Theatre West's publicist in residence for 21 seasons. As L.A.'s most active theatrical publicist, he represents over 100 live attractions and independent feature films annually. Also, an actor, he has appeared on Theatre West's stage in A Perfect Evening, Pop. 7, The Petrified Drunk and two of Ray Bradbury's plays, In Charge of a Bicycle and Falling Upward.

Doug Haverty (Graphic Design)
Doug has designed for theaters and performing arts worldwide; including creating 500 package designs for Universal, Warner Bros., EMI, Sony, etc. for the likes of: James Brown, David Cassidy, Lucie Arnaz, Petula Clark, Amanda McBroom, Tom Wopat, Sam Harris, Melora Hardin, Dixie Carter, Weird Al, Jefferson Starship and more. Doug has supplied event graphics for the LAJS, ASMAC, Thalians, LAPD, LAFD, Grammys, and co-designed the coffee table book: Ukulele: A Visual History.

Eugene Hutchins (Theatre West Managing Director)
Previous arts management positions with Barak Ballet, Los Angeles Master Chorale, MUSE/IQUE, New York City Opera, Chautauqua Opera, and The Pearl Theatre Company. Formerly, a professional stage director, producer, production stage manager and choreographer for more than a hundred opera, theatre and dance productions across the United States, including engagements with A Noise Within, Lyric Opera San Diego, Opera North, Opera San Luis Obispo, Syracuse Opera, Opera Theatre of St. Louis, and many more. He has written and secured more than $2M in grants for arts organizations. EugeneH.com.
Chelsea Marshall: Assistant Stage Manager

Joe Nassi: Gun Wrangler, Fight Captain
Coming out of the wonderful arts community in Seattle, Joe has been fight directing (as well as acting, directing, writing, and just plain entertaining) all up and down the west coast. Joe choreographs violence for stage, screen, and immersive environments. He teaches the theatre community how to use firearms and other weapons safely, with confidence, in a way that furthers the story being told. A longtime member of Theatre West, Joe's fights are familiar to audiences, most recently in the original comedy Classic Couples Counseling and the off-Broadway hit, Our Man In Santiago.

Malcolm Wilson: Technical Consultant
Malcolm recently graduated from the UCLA Theater program, where he studied lighting design and concept rendering. Since joining Theatre West last summer, he has played a key role in updating the theater's technical capabilities and supervised the technical aspects for numerous productions, including Solopalooza 2022, Eisenhower's This Piece of Ground, Winter Wishes, 18 Minutes of Fame, and the recent production, Moose On The Loose. Malcolm also designs lights for plays and musicals across Los Angeles, including schools and theatres such as Theatre West's most recent filmed production: Men, Money, and Madness. He hopes you enjoy the show!
Bonnie Kalisher-Dukes: Office Assistant