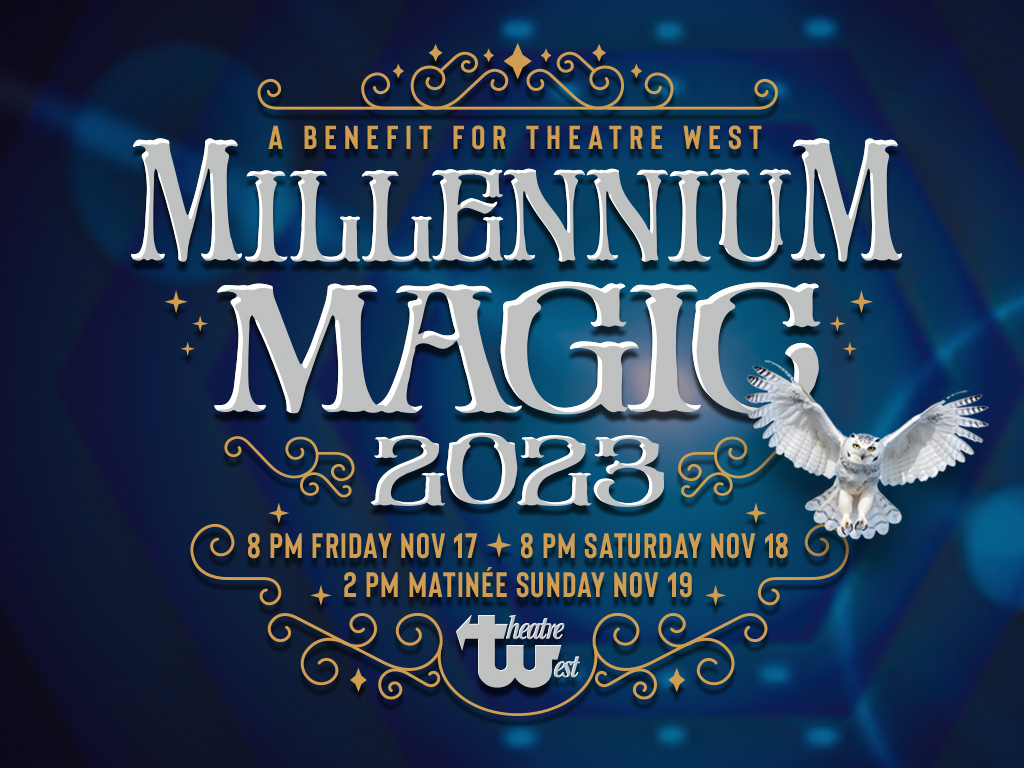 Millennium Magic 2023
Millennium Magic, where you get to see some the Worlds Top Magicians in a rare Public Performance!
November 17th-19th
Friday & Saturday 8pm
Sunday 2pm
Tickets: $40
$50 for Premium Seating near the stage
$25 Children 16 and under
Children under age six are not admitted unless the production is advertised for younger audiences.
Regardless of age, everyone must have a ticket and be able to sit quietly through the performance.
Theatre West's annual one-weekend-only presentation of wonder and Illusion. Featuring Magicians you have seen on Television, in Vegas, on Cruise Ships, and at The Academy of Magical Arts World Famous Magic Castle! Different magicians at each performance. Bring the whole family. You don't want to miss this 2023 Fundraiser!
Produced by Jeanine Anderson & George Tovar
Friday, November 17th at 8pm
Kerry Ross ● Shawn McMaster ● John Carney ● Pop Haydn
Saturday, November 18th at 8pm
Charlie Mount ● Michael Rayner ● Jonathan Neal ● Matt Marcy
Sunday, November 19th at 2pm Matinee
Dennis Forel ● Raven and Migz ● Chuck Jones ● David Martinez
Millennium Magic was started by George Tovar, a longtime member of Theatre West and The Magic Castle. In 1999, George came up with the idea to ask some of his magician friends if they would donate their time and talent to do a fundraiser for Theatre West. The fundraiser was so popular and successful that he made it an annual event.
Several years later, George was cast in a play that went on tour, and he left L.A. for a few years. Jeanine Anderson was approached to take over producing the fundraiser because she is also a Magic Castle member and a member of Theatre West. When George returned to L.A. and Theatre West, they agreed to co-produce and co-host.
All the funds raised at the Magic Show will go towards Theatre West's mission to continue serving artists and the community. The funds help Theatre West, an L.A. theatrical gem that has been creating art on stage for 61 years - fifty-one of those years in the exact location on Cahuenga Blvd. West near Universal Studios.
The show is suitable for all ages except babies and toddlers.
---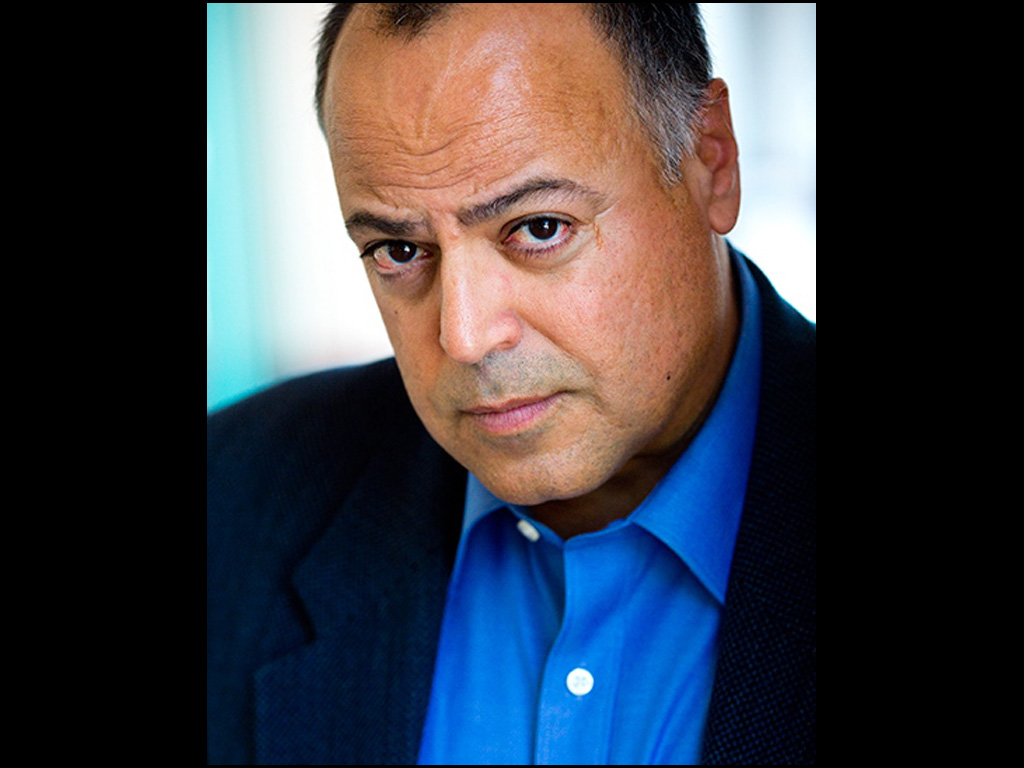 George Tovar – Magician / Actor
Tovar was one of the three original magicians hired to perform when Terry Commons first decided to expand his concept and have other magicians perform at Mystique Dining along with himself. Tovar has performed at all of Mystique's venues since 2010.
In his teens, Tovar was amongst a chosen few selected to be a member of The Magic Castle's Junior Program. Tovar then went on to become a regular performer at the world-famous Magic Castle for over 40 years and is a past nominee for "Magician of the Year" honors in the Magic Castle's Parlour of Prestidigitation.
Tovar also regularly performed at Las Vegas's Caesars Magical Empire during its tenure from 1996-2002.
When not working for Fortune 500 companies or for private events, he has traveled the world working on cruise lines such as Royal Caribbean and Crystal Cruises.
Tovar is also an actor, which came in handy as he starred as magician Buzz Maxwell in the play "Triple Espresso," which toured nationally and in Europe to great acclaim.
He has also been able to blend his talent as an actor and magician with his magical appearances in such TV shows as "Alias," "Murder She Wrote," "Arliss," "Chicken Soup for the Soul," "Colombo," "The Great Magic of Las Vegas" and commercials for Burger King, Sears, and many others.
Maybe this connection to movies and television is why Tovar is in such demand in Hollywood. He has done his magic for most of the big studios and a practical who's who of major stars from TV, movies, and the sports world.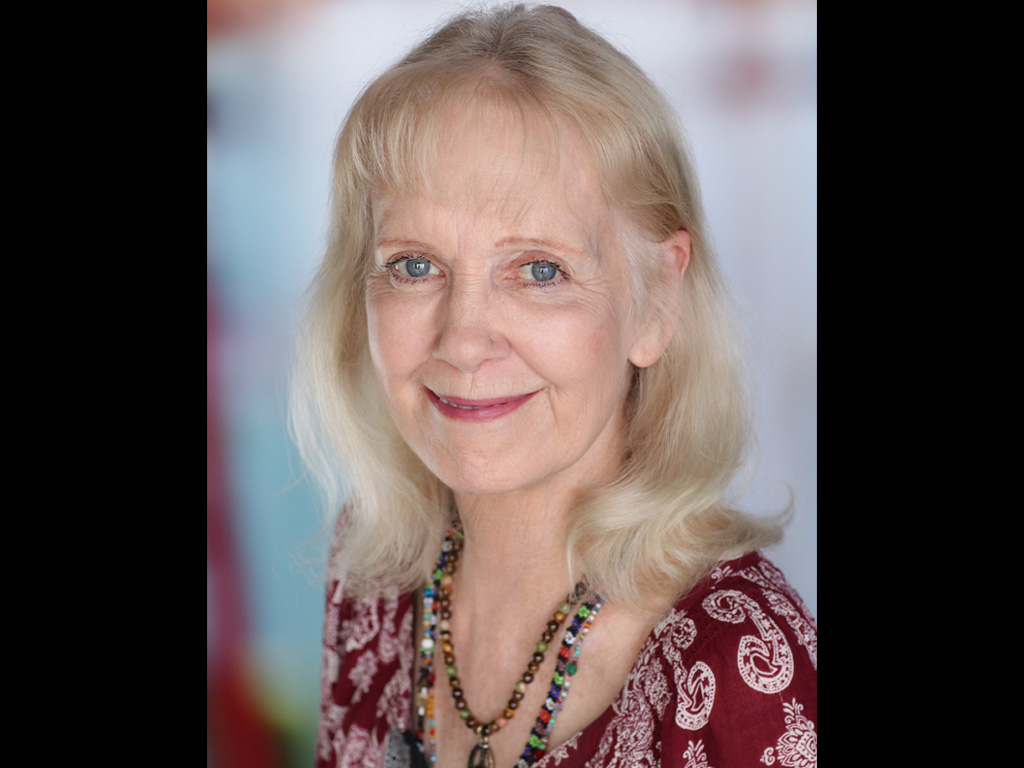 Jeanine Anderson – Magician / Actor
Jeanine Anderson started working at the front desk of the Magic Castle shortly after moving to Hollywood from the Midwest to pursue an acting career. There she met a young George Tovar and many other world-famous magicians. Eventually she began learning magic herself and performing for children.
In 2020 Jeanine became a member of Theatre West where she has performed in many plays including "Mornings At Seven" where she worked with Betty Garrett and Marvin Kaplan as well as other wonderful cast members.
She co-wrote, co-produced and acted in the award-winning web series "Kaplan's Korner" available on YouTube. On Television she had a recurring role on "Glee" as the waitress at Breadstix, she also recurred on "True Blood" and has had guest roles on numerous other shows.
She has also worked in some Independent films including 2 written and produced by Marvin Kaplan and is now filming "Cowboy Killer A Love Western" where she plays Operator Carla.
She has served on the Board of Directors at Theatre West and is currently serving on the Board of the Kaplan/Loring Foundation.