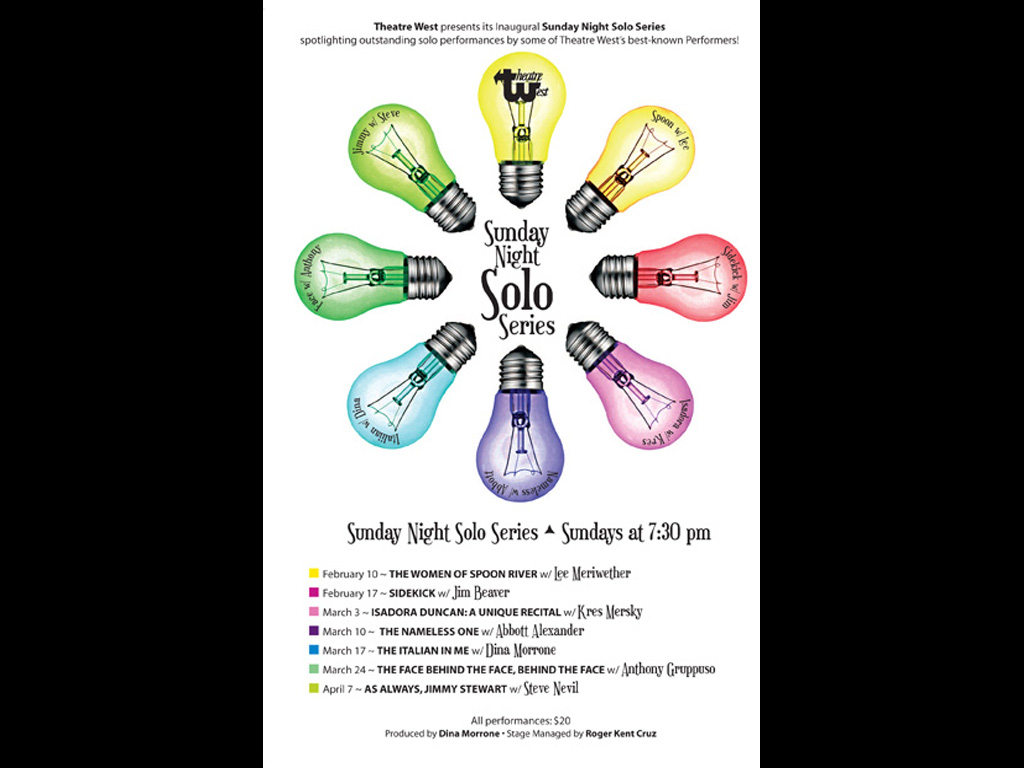 The Sunday Solo Series
Theatre West presents its inaugural Sunday Night Solo Series,
spotlighting outstanding solo performances by some of Theatre West's best known members
Sunday Nights at 7:30
February 10th - April 7, 2013
Produced by Dina Morrone
Solo Performances By
Lee Meriwether • Jim Beaver • Kres Mersky • Abbott Alexander • Dina Morrone • Anthony Gruppuso • Steve Nevil
---
Show Schedule
February 10

The Women Of Spoon River
With
Lee Meriwether
Lee reprises her show, which was a hit at the New York International Fringe Festival. She portrays characters from Edgar Lee Masters' poems in "Spoon River Anthology," including some not covered in other dramatic adaptations of Masters' book. Lee herself is well-known to Theatre West audiences, as a former Miss America, the first feature film Catwoman, and a regular on nine TV series, from "Mission: Impossible" to "Barnaby Jones" to "All My Children." leemeriwether.com
~
February 17

Sidekick
With
Jim Beaver
Jim performs his show originally commissioned by the Actors Theatre of Louisville. He portrays Buck Lucas, an old-time cowboy, the real deal who later became a sidekick and then a star in the old Republic Pictures' B-westerns. Jim's a familiar face to many for his roles on TV, especially in "Deadwood," "Justified," "Supernatural," "Breaking Bad," and "Torchwood."
~
March 3

Isadora Duncan: A Unique Recital
With
Kres Mersky
Kres portrays Duncan (1878-1927) who is credited as the creator of Modern Dance and who was the subject of much controversy owing to her revolutionary views on art, women's freedoms, education and love. The L.A. Times has called Kres's performance, "pure poetry." Kres also received critical acclaim for her show "The Life and Times of A. Einstein" in which she played Einstein's personal secretary. Learn more about Kres' and her work at kresmersky.com.
~
March 10

The Nameless One
With
Abbott Alexander
Abbott portrays the vaudevillian of the title, in a show with dazzling displays of magic, mentalism and illusion. Familiar to Theatre West audiences from his roles in shows like "Falling Upward" and "Drunk and in Charge of a Bicycle," he also appeared recently on the TV series "The Killing."
~
March 17

The Italian In Me
With
Dina Morrone
Dina Morrone in "The Italian in Me." The Italian-Canadian actress takes us on her adventures as a young woman who moves to Rome with grandiose dreams of working in the Italian film business. Her days are filled with countless animated yet fruitless encounters with perverts, priests and producers. When all hope seems lost, she meets the Master himself, the late great Federico Fellini. Dina was selected as one of the Top Ten Actresses for her role in "The Italian in Me". She also wrote and acted in one of Theatre West's biggest hits in recent years, "Moose on the Loose." dinamorrone.com
~
March 24

The Face Behind The Face, Behind The Face
Directed by Calvin Remsberg
With
Anthony Gruppuso
Musical Direction: John Dickson
Anthony is a man of many faces, as any actor needs to be. In order to sort through them all, he pays a visit to his psychiatrists's office to examine his life, his careeer, his family, and his passion for musicals. This show features songs both well loved and less well known from the Broadway canon, and takes the audience on a journey to some rather unexpected places. AnthonyGruppuso.com
~
April 7

As Always, Jimmy Stewart
With
Steve Nevil
Steve has toured the country with his show in tribute to the late, great James Stewart, an American hero both in movies and in war. Steve personally knew and worked with James Stewart and here portrays him in later years as he reminisces a legendary life. Familiar to Theatre West audiences from shows including "Falling Upward" and "The Fantasticks," he also recently appeared on the TV series "House, M.D.."