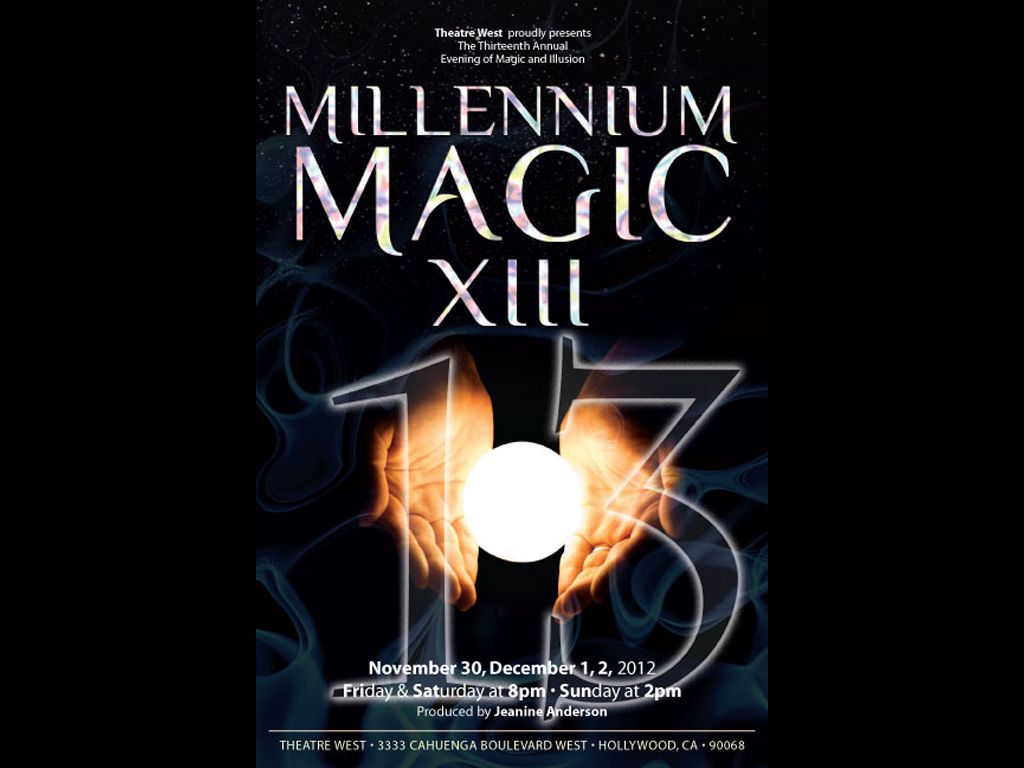 Millennium Magic XIII
A Cavalcade of Award Winning Top Acts from The Magic Castle
November 30th - December 2nd, 2012
Produced by Jeanine Anderson
Jeanine Anderson was for many years the official hostess of the Magic Castle. She is also an actor, playwright, children's magician, and longtime member of Theatre West. As host and producer of the popular annual event "Millennium Magic," she will joined onstage by some of her magical friends from the Magic Castle for three amazing performances.
This array of great talents from the world of magic is the thirteenth annual presentation of this popular show. The line-up of magicians will vary at each performance, so one could attend all three dates and see three different programs. As of this writing, the roster of performers will be as follows:
Friday, November 30 at 8 p.m.
Lorenzo Clark ● Mike Elkan ● Brent Geris ● Max Maven ● David Zirbel
Saturday, December 1 at 8 p.m.
Abbott Alexander ● Jonathan Pendragon and Company ● Lorenzo Clark ● Joseph Tran ● David Zirbel
Sunday, December 2 at 2 p.m.
Dave Cox ● Mike Elkan ● Whit Hayden ● Fernando Velasco ● Joel Ward
Scheduled performers appear subject to availability and may be subject to change. As this is a one-weekend-only engagement, no complimentary admissions will be available. Prospective attendees are advised to order tickets in advance, as previous performances of "Millennium Magic" have sold out.